"The Group's companies are respected for their capabilities and services, and the Group is well positioned for the expected upturn in the commodity cycle in the medium to long term."
Henry Laas, Murray & Roberts Group Chief Executive

ACKNOWLEDGING OUR SUCCESSES AND THE ROAD AHEAD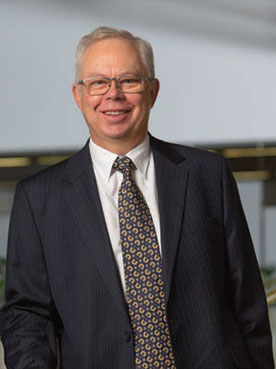 It's been six months since my last note to you, where I penned some thoughts on the long and proud heritage we all share by being part of the Murray & Roberts family – 115 years (young) this year! It's important to reflect from time to time, but without losing focus on where you'd like to be in the future. In this article I'd like to do a bit of both. However, this time I won't dwell in the past too much, as we have an exciting future to look forward to.

Before I delve into the details, I would like to acknowledge Cobus Bester, who in December 2016 announced his retirement as Group Financial Director after a tenure of almost six years, and more than a decade of service to the
Group. Cobus and I took over the reins in July 2011 and we have together addressed many challenges from our past and steered the Group into a new direction. Cobus' acumen as Financial Director is proven by the fact that at our annual and interim results presentations, we hardly receive any questions from the floor – an anecdote I always refer to in jest at our results presentations. Cobus will continue in his role until a successor is appointed and thereafter he will take on a temporary assignment in the Group. I would like to thank Cobus for his service and partnership during our tenure together – it's been a privilege to work together.
ACKNOWLEDGING OUR SUCCESSES
Settlement agreement with the South African Government
In October 2016, we and six other South African engineering and construction companies, reached a settlement agreement with the Government of the Republic of South Africa, mitigating the companies' risk to potential claims for damages from identified public entities, arising primarily from the fast track settlement process launched by the South African Competition Authorities in February 2011. A key outcome of concluding this agreement is that it will enhance the companies' relationship with Government,
which we acknowledge is critical in the current economic climate. This agreement also signifies the Government and companies' commitment in promoting sustainability, transformation and development in the construction sector.

Settlement of all Gautrain development period disputes
In November 2016, the Bombela Concession Company (on behalf of the Bombela Civil Joint Venture of which Murray & Roberts is a 45% shareholder) and the Gauteng Provincial Government, agreed to a comprehensive settlement of all disputes relating to the development period (construction period) of the Gautrain Rapid Rail Link project, bringing an end to multi-year protracted legal processes. Due to the extended time, significant costs and uncertain outcomes involved in these legal processes, both parties
agreed to explore an amicable settlement of all development period disputes. In terms of the agreement, the Gauteng Provincial Government agreed to pay an upfront amount of R980 million and a further payment over two years of a capped amount of R294 million. This is the final settlement of all construction-related disputes and I believe the settlement is in the best interest of all stakeholders.

Sale of the Infrastructure & Building businesses
As mentioned before, this decision did not come easily, nor quickly. It was subject to debate at Board level for more than two years. Although the deal is not yet finalised, we are near to closing out the transaction. It was a momentous decision for the Group, and we believe in the best interest for both the Murray & Roberts Group, as well as for the Infrastructure & Building businesses. We do recognise the emotional attachment of our people to its legacy, most visibly expressed in the iconic infrastructure and building projects it has delivered over several decades. However, the Group's strategic direction is now firmly focused on selected global oil & gas, metals & minerals and power & water market sectors. We believe that this focus and strategic direction allows the Group to be more responsive and relevant to our clients, while simultaneously enhancing shareholder value over the long term.

I would like to thank the executives who worked tirelessly to make the above transaction/agreements a reality, especially Cobus Bester, Group Financial Director and our corporate finance and legal team.

LOOKING FORWARD
As the saying goes, we live in interesting times. When taking a look at the macroeconomics of the natural resources markets in which we operate, we see that these global markets have been depressed for the last few years and we expect difficult trading conditions to continue in the short to medium term. We also know that the current financial year will be more challenging than the past year, but we have full confidence that our strategy will position us well for when the markets recover.

Our vision is to be, by 2025, a leading multinational group, which applies its project life cycle capabilities to optimise fixed capital investment.

Considering the above macro market prospects, let me provide you with some context on our three business platforms:

Oil & Gas – The most material factor still affecting the Group's profitability today, is the substantial decline in the Oil & Gas platform's earnings following the significant drop in the oil price during the second half of calendar year 2014. Hardly any new international capital project opportunities came to market, as global energy producers delayed or cancelled major Greenfields projects and deferred Brownfields expenditure to preserve cash. The platform is facing a challenging short to medium-term future and prospects will only improve when oil companies again start to invest in new projects. The market has contracted substantially and competition is fierce for any available work. However, the platform is comprised of companies with leadership teams who are experienced and respected and I believe that as soon as the market turns favourably, the platform has a bright future.

Underground Mining – The platform continues to perform well in a challenging global commodities market, which I believe is a vote of confidence in the breadth of expertise which the Cementation brand is known for. There is a large medium-term investment pipeline of new underground projects in regions where the platform has a presence, while mining companies' ongoing infrastructure replacement spend continues to present opportunities to sustain the platform's business. The platform is well positioned globally in the world's leading commodity geographies: Africa, Australia and the Americas and is a contractor of choice to blue chip clients. The platform is now undertaking contract mining services in all these geographies, some of which were secured after engineering and constructing the shafts on these mines. We believe that the market for new Greenfields projects will return in the medium term and this will bolster the current Brownfields projects available in the market.

Power & Water – The prospects for power projects are positive, especially in South Africa, and the platform is well positioned to secure work in the coal, solar and future gas-to-power sectors. Opportunity remains strong, but the market is very competitive as more companies target this market. The platform also continues to service complementary markets, such as construction and shutdown work for Sasol Limited in Secunda and Sasolburg, and is establishing a water business with a focus on desalination, innovative municipal wastewater treatment technologies, industrial modular water treatment plants and acid mine drainage.
IN CONCLUSION
We are strategically growing the presence of our business platforms in the chosen geographic regions and market sectors, with the overall objective to increase the value they should return to our shareholders.

The natural resource market sectors are cyclical and the Group will trade through this difficult period. The Group's companies are respected for their capabilities and services, and the Group is well positioned for the expected upturn in the commodity cycle in the medium to long term.

As we look towards the coming year and the difficulties we will no doubt face, our belief in Engineered Excellence will be especially important in ensuring we continue to focus on improving our performance.

I look forward to working together with you this year!