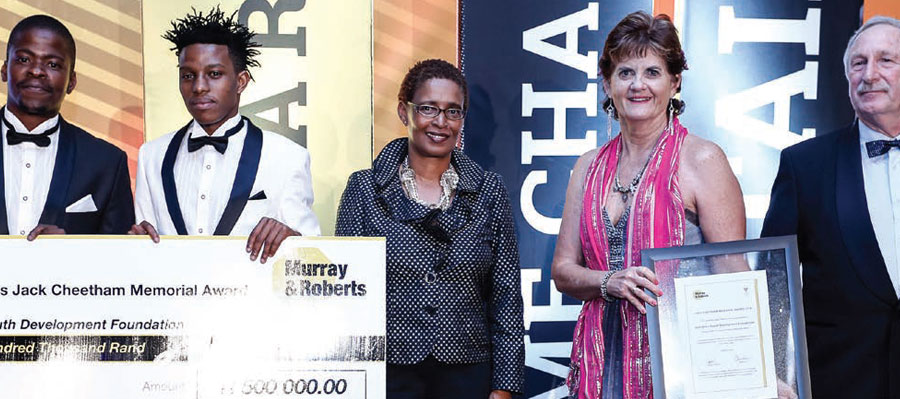 "These awards have had tremendous impact on the beneficiaries over the past 35 years and now we celebrate another six finalists who use sport to nurture and inspire young people in their communities. We are excited about the potential that can be realised in our youth through the additional support the awards provide"
Henry Laas, Murray & Roberts Group Chief Executive

JACK CHEETHAM AND LETSEMA AWARDS
Sail Africa Youth Development Foundation and Rowing South Africa were each awarded first place at the 35th Jack Cheetham and Letsema Sports Development Awards, hosted by Murray & Roberts in association with SASCOC.

Sail Africa Youth Development Foundation were the winners of the Jack Cheetham Award, which recognises sports development projects transforming the lives of able-bodied young South Africans. The foundation exposes previously disadvantaged youth to the sport of sailing and provides opportunities for careers in the nautical
sciences and maritime industry. Participants of the project have previously represented South Africa at world sailing events.

First place in the Letsema Award went to Rowing South Africa for their Rowing for the Disabled programme. The Letsema Award is presented to sports development projects for people with disabilities. Rowing for the Disabled has a mass outreach programme for both indoor and outdoor rowing, which continues to produce elite athletes,
several of whom have participated in the Paralympic Games.

The runner-up in the Jack Cheetham Award was National Archery in Schools Programme – South Africa, which uses the sport of archery to promote participation in outdoor activities, while developing life skills. Third place went to CODAH Cycling Club. The club provides support to vulnerable and orphaned children through an outreach
programme that includes a feeding scheme, basic life skills and cycling training.

The Letsema Award runner-up was the Northern Cape Sports Association for the Physically Disabled. The association provides opportunities for people with physical disabilities to participate across a wide code of sporting activities. Third place in the Letsema Award went to Frances Vorwerg School for learners with special needs, for their sports programme. Through the sports programme, the school has seen improvements in their learners' self-esteem, confidence and scholastic subjects.

Henry Laas, Murray & Roberts Group Chief Executive, says, "These awards have had tremendous impact on the beneficiaries over the past 35 years and now we celebrate another six finalists who use sport to nurture and inspire young people in their communities. We are excited about the potential that can be realised in our youth
through the additional support the awards provide."

Each of the 2016 finalists was so impressive that choosing one winner per category was a challenge for the adjudication committee. The committee uses a number of criteria in the adjudication process, these include the reach of the project, impact on the communities as well as inspirational leadership and all our finalists had these in
abundance.


THE 2016 JACK CHEETHAM AWARD FINALISTS:
Sail Africa Youth Development Foundation
Sail Africa Youth Development Foundation was established in 2007 and is the development project of Sail Africa. The overall objective of the Foundation is to expose youth to the sport of sailing as well as to careers in nautical sciences and the maritime industry. The Foundation has forged strategic partnerships with the KZN Department of Education to identify and attract urban and rural schools to the programme as well as aligning their training programmes to support curriculum around nautical sciences and
maritime studies.
Approximately 80 learners per term are engaged on the development programme with all learners afforded the opportunity to participate in national and international events. Youth that have mastered the basics of sailing are then passed onto yachting clubs, where they are supported in high performance training. Several youngsters from the
Foundation have gone on the represent South Africa in world events.
National Archery in Schools Programme – South Africa
National Archery in Schools Programme (NASP-SA) uses the sport of archery to uplift the youth and promote participation in responsible outdoor activities while developing life-long skills.
NASP-SA is the development project of 3DI Target Africa which is affiliated to the Federation of Archery in SA. NASP introduces the sport of archery, facilitates and implements archery programmes, facilitates training and participation in competitions, develops infrastructure needed for the sport and identifies and trains coaches. One of the development programme archers is one of the top 16 archers in South Africa and was part of the NASP-SA national team that competed in the Africa and World Championships in 2015. NASP was the first runner-up for the Jack Cheetham prize in 2012.
CODAH Cycling Club
CODAH Cycling Club is a project of the Children of Destiny at Home (CODAH). CODAH is an NPO operating in Hammersdale, KZN and was established in 2007. CODAH provides support to orphans and vulnerable children living in impoverished environments through an outreach programme which includes a feeding scheme, life skills training, sports and basic skills development. The programme reaches approximately 900 children, with almost 300 of them being orphans.
CODAH recognised the need for sport for the children and established a development cycling club in 2014. Supported by KZN Cycling, the club engages boys and girls between the ages of 3 and 20 and to date they have 300 children in the programme. There are currently 40 participants that receive high-performance training, supported by KZN Cycling.
THE 2016 LETSEMA AWARD FINALISTS:
Rowing South Africa – Rowing for the Disabled
Rowing for the Disabled is a project of Rowing South Africa and has achieved great success. It is an inclusive sport in that rowers can participate and train as exclusively disabled rowers but they are also able to compete with and against able-bodied rowers. Rowing South Africa has a mass participation programme including both indoor and water rowing programmes and had elite para-rowers, with two crews having qualified to participate at the Paralympics in 2016.
Rowing for the Disabled was awarded the runner-up prize at the 2012 Letsema Awards.
Northern Cape Sports Association for the Physically Disabled
The organisation was established in 1979 with the aim of improving opportunities for people with physical disabilities to participate in sport and promotes sport for physically disabled people at both a junior and senior level through development and elite training programmes.
They work primarily with schools for learners with special needs through which they are able to expose learners to sport, create opportunities for learners to try out for several sports, identify learners with potential and then provide extensive coaching for learners who are able to participate in high-performance training programmes. The organisation reaches a large number of beneficiaries through its mass participation programme at schools and has approximately 60 athletes that participate at a competitive level. They offer training in several sporting codes including table tennis, boccia, athletics and swimming, wheelchair tennis, powerlifting and cycling.
Frances Vorwerg School Sports Programme
Frances Vorwerg is a school for learners with special needs, primarily accommodating children with cerebral palsy but also those with ADHD.
There are currently 405 learners enrolled, ranging in age from 3 to 18 years and the school promotes a holistic education, offering academic, skills and sports development programmes. Included in their sporting activities are swimming, athletics and soccer. Archery was introduced two years ago and has become the fastest growing
sport at the school.
The school has seen physical improvements in posture and strength as well as improvements in maths and reading, receiving instruction and self-esteem through the sport of archery. The archery club has achieved recognition from Archery South Africa and receives invitations to participate in both club and provincial level events.
Please visit
www.jclawards.co.za
for more information and to view the photo gallery.