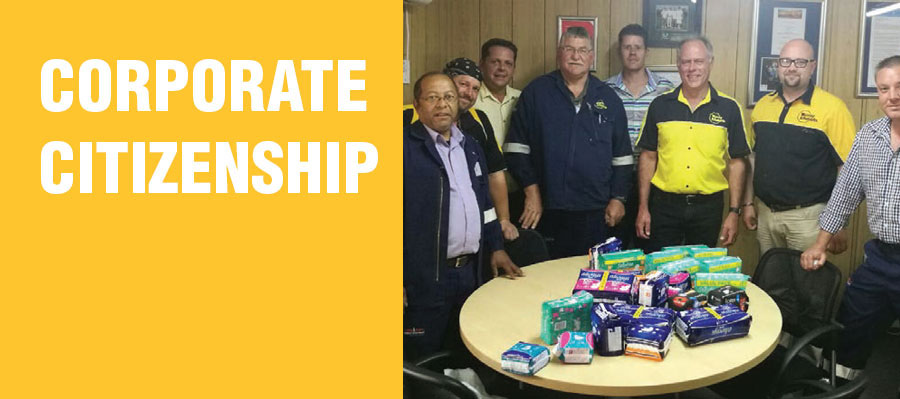 LET'S KEEP GIRLS IN SCHOOL – A MURRAY & ROBERTS FORUM FOR PROFESSIONAL WOMEN INITIATIVE

For many young people, the start of puberty is a challenging time. This is especially true for young women who may have little knowledge about what is happening to their bodies and are unable to afford sanitary protection, something that most of us take for granted.

Lack of sanitary protection, embarrassment and shame lead to a decline in school attendance for these young women.

In support of the 16 Days of Activism Against Gender-Based Violence campaign, the Murray & Roberts Forum for Professional Women initiated a sanitary product collection drive to be distributed to schools in need within the communities in which the Group works. The forum also hosted Dignity Dreams at the Douglas Roberts Centre to raise awareness of the important work they do.

The business of Dignity Dreams is centred on five pillars:
• Provide reusable sanitary wear to girls who can't afford it;
• Provide age-appropriate information regarding menstruation and hygiene;
• Establish and support women-owned micro-businesses;
• Make men and boys part of the conversation, the empowerment of girls needs the inclusion of their peers; and
• Be kind to the environment, a disposable sanitary towel takes hundreds of years to decompose.

Thank you to the many employees who donated sanitary products to the collection drive and to those who made much-needed cash donations to Dignity Dreams.

A special acknowledgment goes to the Murray & Roberts Power & Energy team, led by Patrick Metswe, for their generous donation.

The Murray & Roberts Power & Energy Secunda project also deserves mention. The ladies issued a challenge to the men to collect money for sanitary products and then, to go and purchase the products themselves. A challenge that they accepted, well done gentlemen for getting involved!

You can find out more about Dignity Dreams at
www.dignitydreams.com.