Sustainability
Awards
Road engineering expert wins JD Roberts Award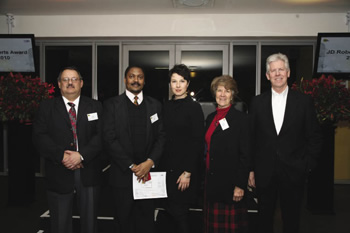 Chris Rust, Strategic Research Manager, CSIR; Dr James Maina, 2010 JD Roberts award winner; Carien Botha, Innovation Executive, Murray & Roberts; Sue Leuner, daughter of JD Roberts; Brian Bruce, Chief Executive, Murray & Roberts
Transport infrastructure engineer, Dr James Maina of the CSIR, is the 2010 recipient of the prestigious JD Roberts Award.
Maina is recognised nationally and internationally for outstanding research towards finding solutions for large and detailed problems in his field of expertise.
Through their research, Maina and his Council for Scientific and Industrial Research (CSIR) team predict how road structures will perform over a period of time. This information enables road owners to perform proper design, rehabilitation and maintenance planning, taking all variables into account.
Maina last year became the CSIR's first black chief researcher, which is the highest ranking within the CSIR's research career ladder progression. His outstanding leadership in the advancement of science, engineering and technology is clear within the CSIR, as well as in his participation in numerous national and international professional bodies.
ENHANCING QUALITY OF LIFE
Now in its 30th year, the JD Roberts Award is sponsored by Murray & Roberts and held in partnership with the CSIR. Instituted by Murray & Roberts in 1980 in remembrance of one of the Group's founding fathers, Dr JD 'Douglas' Roberts, the award recognises and promotes competitive and environmentally-sustainable solutions to human dilemmas and encourages scientific research into technology that will enhance the quality of life of all South Africans.
Douglas Roberts was a doyen of the construction industry in South Africa, well known for his innovation, entrepreneurial flair and passion for seeking and trying new techniques and ways of doing things. It is in this spirit that the JD Roberts Award is presented annually, recognising talent and research within the CSIR.
Maina is the project leader of a multi-year, multi-million rand project on the improvement of the South African pavement design method (SAPDM). The project is in support of external research and development contracts funded by the South African National Roads Agency Limited (SANRAL).
INTERNATIONAL RECOGNITION
Putting his expertise to practical use, Maina has developed a number of computer software packages, one of which is called GAMES (General Analysis for Mutlilayered Elastic Systems). GAMES was originally developed to assist Japanese industry in the evaluation of road and airport road structures. Japan now uses GAMES as a standard tool for determining displacements, stresses and strains on roads, and even airports. It was used in expansion projects at the second largest airport in Japan, the Tokyo International Airport.
GAMES has also been used in projects at two airports in Namibia and one in the Eastern Cape for determining the load bearing capacity of airport road structures. Locally, GAMES will also be used as the analysis engine for the new SAPDM.
Maina's work, based on wave propagation techniques, allows the use of information from laboratory and field tests for road evaluation, leading to a better understanding of the effect of moving vehicular loading. This is very important for road and airport road rehabilitation work where more accurate and realistic properties of road layers will be obtained by using optimisation algorithms with wave propagation techniques.
Over the past decade, Maina has published more than 60 research publications, in both Japanese and English, in scientific journals and in the proceedings of local and international conferences. He has also produced a reference book and several commissioned publications.
Letsema Bokamoso reaches maturity

In December 2005, Murray & Roberts established the Letsema Broad-Based Black Economic Empowerment share ownership scheme, which introduced four broad-based trusts as 10% shareholders in Murray & Roberts. One of the trusts, the Letsema Bokamoso General Staff Trust, was established to encourage a culture of share ownership in Murray & Roberts and create a sense of inclusion amongst all employees of the Group and to further align the interests of the employees of the Group with those of its shareholders.

14 125 Murray & Roberts South African operating company employees were each granted 300 Murray & Roberts shares and full ownership rights in Murray & Roberts, including the right to dividends and to vote.

What happens next?

After 18 December 2010, these shareholders will have the right to either sell their shares and receive the cash proceeds on the sale or transfer the shares into their own brokerage account.

Murray & Roberts will be communicating to all qualified shareholders on these options and also on how to advise the trust of the option they wish to take during the last four months of 2010.

If you have any queries please contact Molebedi Trust Limited, the Letsema Bokamoso General Staff Trust administrator, on 0861 393 633.

Thokozani Mdluli

Q&A

Previous experience: Group Manager Health, Safety and Wellness at ArcelorMittal South Africa

How did you prepare yourself for your new role? After extensive experience in the petrochemical, aluminium and steel industries I thought it was time to make a contribution in construction and mining.

Have you achieved any important milestones since you started? It's too early to claim victories but I am very encouraged about the robust discussions we have had with the Limited Board on health and safety. The future looks good.

What are the key challenges in your area of responsibility? To instil a health and safety culture in a high pressure environment is a challenging process. It requires a lot of leadership and I think we can do it.

What drives you? My passion for life. Being able to make a difference in life.

What are your key interests after-hours? Simple things like wildlife, laughing with friends and family, and soccer.

Who has had the greatest influence on your life? My parents – they achieved great things against all odds.

PENSIONER NETWORK

The annual Murray & Roberts pensioner roadshow, organised by Group Benefits, provides a valuable opportunity for pensioners to receive feedback on the performance of fund investments and the pension increase.

Johannesburg based pensioners (pictured) used the opportunity to network with former colleagues and friends.