Historic Projects
Bloukrans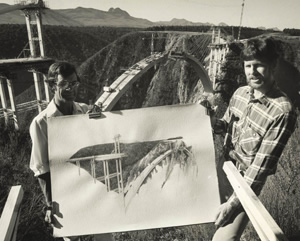 A younger Brian Bruce, project manager at the time, holds up a
painting of Bloukrans Bridge by industrial artist, Peter Rodgers (left)
Our Legacy
Looking back at major historic projects that have contributed to the reputation Murray & Robert has developed over the years as a leading world class contractor.
The Bloukrans Bridge was one of three Garden Route bridges constructed by a consortium of Murray & Roberts and Concor for R25 million (2010: R320 million).
This proved one of the most demanding and technically complex contracts Murray & Roberts had ever worked on – from a design as well as construction point of view. A tremendous amount of work went into the design of the temporary stage structure which was more complex than the permanent stage.
Bloukrans was constructed by the free suspended cantilever system. That is, every fourth segment – each averaging 5,25 metres in length – was tied back by the BBR suspension cables. This was the first time that the BBR system of prestressing was used for this application.
At the time of construction, the Bloukrans Bridge was the largest concrete arch bridge in Africa and the fourth largest in the world. The arch alone, has a mass of nearly 12 000 tons!
The Bloukrans Bridge was opened in June 1983 after being completed five months ahead of schedule.
Pictured at the Bloukrans site are (from left): Ian Mcinnes, steel fixer, prestressing general foreman; Brian Bruce, project manager; Graeme Brodrick, chief engineer; Dave Lang, chief planner; Paul Meyer, senior engineer; Andy Sommerville, works manager

HIGHLIGHTS

The 451 metres deck at Bloukrans was completed three years after the start of the contract and an incredible 26 weeks ahead of the original schedule
The Bloukrans Bridge received both the Fulton Award for Excellence in the use of concrete and the SAICE Eastern Cape Branch Award in 1983