Operations
Clough
Boosting Gas Output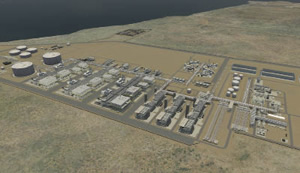 Greater Gorgon gas fields
The Greater Gorgon gas fields, off Western Australia's Pilbara Coast, contain more than 40 trillion cubic feet (Tcf) of gas, representing some 25% of Australia's total known gas resources. The Gorgon Project is the largest resource project in Australia's history and will be adding 15 million tons of LNG a year to Australia's current annual output of approximately 20 million tons in a phased manner between 2014 and 2015.
Clough, as a key member of the Kellogg Joint Venture – Gorgon (KJV-G), has been awarded by Chevron Australia the engineering, procurement and construction management (EPCM) contract for all downstream facilities on the project.
The onshore facilities will consist of three 5 million ton per annum LNG trains, gas processing and treatment facilities, product storage and offloading, complete offsites, utilities and accommodations. The EPCM contract also includes a 300 TJ/d domestic gas plant. The design of the facility features improvements in greenhouse gas emissions performance, including improved waste heat recovery and the injection of reservoir carbon dioxide into the subsurface.
FACT FILE
GORGON LNG PROJECT
Client: Chevron Australia Pty Ltd
Location: Barrow Island, Western Australia
Contract Value: AUD$2,7 billion (Clough 20%)
Joint Venture: Kellogg Joint Venture – Gorgon
Contract period: September 2009 – Present
Safety Performance: Manhours: 5 309 945
LTIFR: 0
The EPCM effort is planned as a fully modular construction strategy to minimise impact on the island during the construction phase, and is being conducted from two main operating centres located in Perth and London, with support from global centres in USA, Singapore, Indonesia and Japan.
Along with these unique and one of a kind design items, KJV-G has implemented a quarantine compliance plan for the project on, and on behalf of Barrow Island, which has been rated world class by the Western Australian Government Environmental Protection Agency (EPA) in a 2009 EPA decision document.
Global procurement and numerous international fabrication yards will be used to supply the key components of the project and KJV-G personnel will manage these global sites, including the critical supply chain management and logistics processes using key supply bases in Western Australia.
Early construction activity is well underway to ensure that the proper infrastructure and marine logistics capability is established and over five million man hours have been completed without a Days Away From Work (DAFW) incident. Major contract and procurement commitments to the approximate value of $14 billion were secured to mid-June 2010.
A work force in excess of 3 500 personnel will construct and commission the facilities over three years.
Australian participation is an important aspect for the project and it is anticipated that over 40% of the project spend will occur in Australia.