OPERATIONS - INFRASTRUCTURE & BUILDING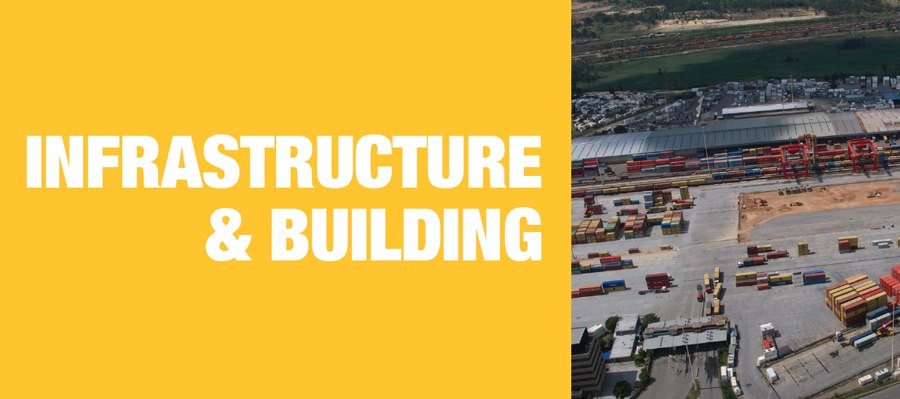 NEW CONCRETE TECHNOLOGY LAYS FOUNDATION FOR GREEN BUILDING TECHNIQUES
There could be no stronger statement about Murray & Roberts Construction's innovative approach to sustainable building technologies than applying this to the world's largest inland port.

Transnet's City Deep Container Terminal in Johannesburg recently underwent a major revamp that required the 144 000 m2 facility to be resurfaced and expanded by an additional 2 000 m2. A key stipulation in the contract was to recycle more than 10 000 m2 of the original surface concrete in the new build to meet Transnet's sustainability objectives.

"We are proud to say that, with the client's buy-in, we exceeded this requirement by processing more than 35 000 m2 of the old concrete and almost 65 000 m2 of layer works," says Jerome Govender, Platform Executive for the Infrastructure & Building platform. "The true innovation, however, was using a revolutionary new geopolymer concrete and high volume pulverised flue ash (HVPFAC) concrete to surface the terminal, thereby raising the sustainability bar to even higher levels."

This unique approach to sustainable building technologies was given credence earlier this year when the City Deep Container Terminal project was named runner-up in the Nedbank Capital Sustainable Business Awards' Infrastructure and Renewable Energy category. Giving even greater substance to this recognition is that the category winner, the Tshedimosetso House in Pretoria owned by Growthpoint Properties, was developed by Murray & Roberts.

HVPFAC relies on a relatively new technique that combines a high percentage of flue ash recovered from coal burnt in power generation plants with small amounts of Portland cement to produce a concrete that has clear environmental benefits.

"HVPFAC has in the past been considered inferior to conventional concrete, but our processes and technological advancements have shown that this is no longer the case," explains Govender. "The compound significantly reduced water consumption, improved workability, minimised cracking and enhanced durability, demonstrating that new technologies can compete favourably with materials that had become industry staples."

Geopolymer concrete, on the other hand relies on using industrial by-products to form a solid binder that has similar characteristics to standard Portland cement concrete. Using this technique, CO2 emissions are reduced by up to 90% while the concrete also has improved resistance to fire and aggressive chemicals.

"We firmly believe that the application of these technologies point to the future of construction methodologies. These are particularly relevant to South Africa given the focus on carbon emissions and the introduction of a carbon tax," says Govender. "Of course, it also takes foresight from our clients to adopt these technologies, and Transnet needs to be commended for allowing us the leeway to show how they could benefit."



MURRAY & ROBERTS INFRASTRUCTURE AWARDED CONTRACT BY TRAC
Murray & Roberts Infrastructure has been awarded a 22 month contract by Trans African Concessions (TRAC) for upgrade work on the strategically vital N4 toll road connecting South Africa with Mozambique. The N4 toll road stretches for 570 km from the Solomon Mahlangu off ramp near Pretoria to the Port of Maputo in Mozambique and includes six toll plazas.

The scope of work involves increasing the carrying capacity of an 18 km section of the toll road by constructing a new doublelane eastbound carriageway with associated infrastructure such as a bridge overpass at the Klein Olifants River and various other structures, as well as the rehabilitation and reconfiguration of the existing section of the N4 to a new three-lane westbound carriageway.

"Murray & Roberts Infrastructure will construct a new dual carriageway in an easterly direction. Upon completion of the new eastbound carriageway, the existing westbound carriageway will be converted into a three-lane carriageway," says Eric Wisse, Managing Director of Murray & Roberts Infrastructure.

In addition, the contract includes construction of a new bridge, the extension of an existing bridge, minor rehabilitation to existing bridges and construction of six large on-site culverts and associated drainage works.