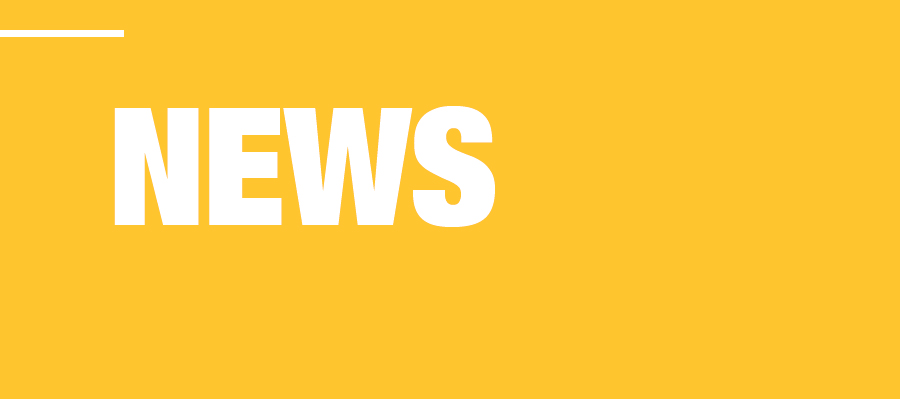 "The Group CE Health, Safety and Environment Recognition Awards recognise employees, teams and companies in the Group that demonstrate outstanding practices that support the health and safety vision and goals of
Murray & Roberts." Henry Laas, Group Chief Executive

2014 GROUP CE HEALTH, SAFETY AND ENVIRONMENT RECOGNITION AWARDS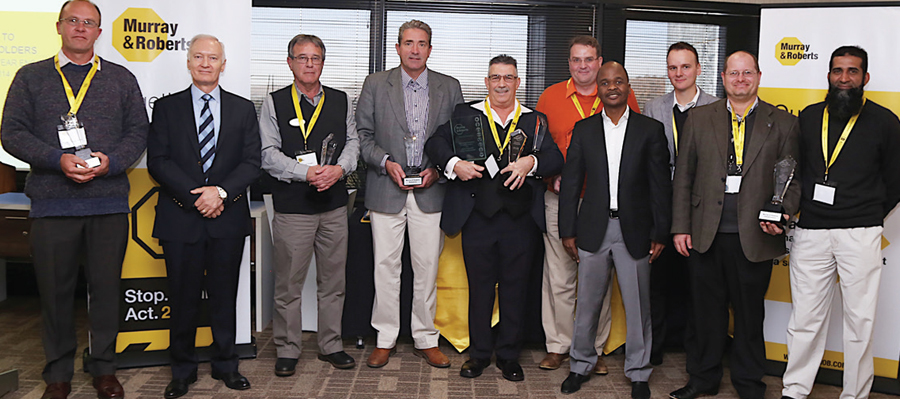 MURRAY & ROBERTS INFRASTRUCTURE AWARDED CONTRACT BY TRAC
TOKKIE HOLMES, MURRAY & ROBERTS CEMENTATION
FY2014 HSE EMPLOYEE OF THE YEAR
Tokkie Holmes has an excellent safety record in underground mining. Tokkie and his team work in a high risk environment and have accumulated 1 921 injury-free shifts. His passion for safety is evident to clients and colleagues who hold him in high regard.

NEELS BECKER, MURRAY & ROBERTS MIDDLE EAST
FY2014 HSE LEADER OF THE YEAR
Neels Becker has a passion for people and safety. His ability to foster a culture of safety has led to a significant improvement in HSE performance with achieving 25 million man hours without a lost time injury in May 2014.
NIEL FOURIE, MURRAY & ROBERTS INFRASTRUCTURE
FY2014 HSE LEADER OF THE YEAR
Niel Fourie has been instrumental in the improvement of HSE performance at Murray & Roberts Infrastructure. Niel has a nocompromise attitude towards health and safety, which has resulted in a steady improvement of the division's HSE performance over the past five years.

GROUP HEALTH, SAFETY AND ENVIRONMENT ACHIEVEMENTS
The Group reached a number of milestones and achievements over the past six months. Says Thokozani Mdluli, Group HSE Executive, "The outstanding HSE achievements, across the Group, have been made possible by every employee's commitment to Zero Harm and demonstrates that working safely is a possible and reachable goal."

A selection of the Group's achievements are listed here:
• Murray & Roberts Middle East Mafraq Hospital Project in Abu Dhabi achieved 32.4 million man hours without a LTI in January 2015
• Kusile Power Station Project (MRPE Self-Managed) reached 5 million man hours worked without a LTI in January 2015
• Genrec achieved 2 million LTI free man hours followed by 1 year without a LTI in February 2015
• Medupi Power Project achieved 1.5 million man hours without a LTI in January 2015
• Murray & Roberts Infrastructure D327 Road Upgrade Project successfully protected endangered Camel Thorn (Acacia erioloba) trees while mining material in the area.

CEMENTATION STRIKES GOLD AT THE 2014 CANADA'S SAFEST EMPLOYERS AWARDS

Cementation's contribution towards developing a strong safety culture within the company and within the underground mining industry has earned recognition from a Canadian occupational safety publication.

Cementation Canada received the 2014 Canada's Safest Employers gold award in the Mining and Natural Resources category. Working safely is a value Cementation wants every employee to embrace at both work and home. Excellence in safety is a cornerstone of the company's mission statement and the first to be listed under
corporate values.

Roy Slack, President of Cementation Canada said: "We are very honoured to receive this award which recognises a foundational aspect of our organisation, that being that we truly care about our employees. This award has been earned by our employees, who come to work every day committed to keeping themselves and their co-workers safe."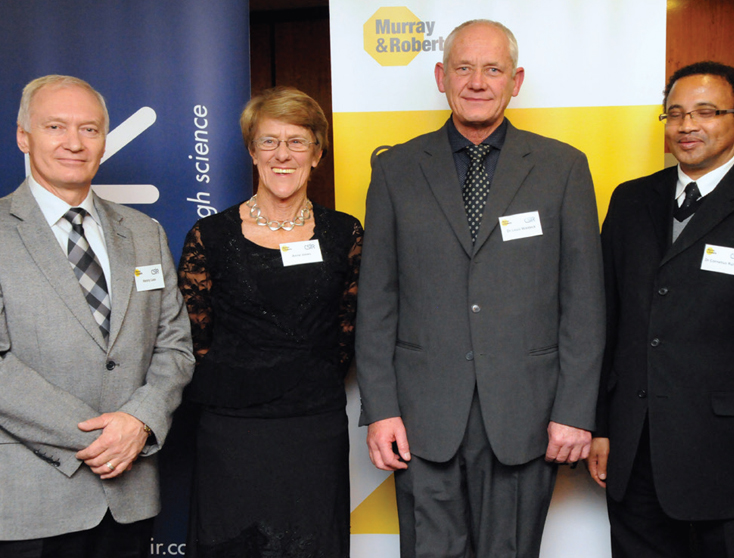 URBAN PLANNING RESEARCH EXPERT RECEIVES 2014 JD ROBERTS AWARD
The 2014 JD Roberts Award was presented to Dr Louis Waldeck at a ceremony hosted at the CSIR International Convention Centre.

Dr Waldeck leads the Urban Simulation Component of the Integrated Planning and Development Modelling project. Dr Waldeck's system allows for the modelling of a city and the behaviour of residents in choosing, amongst others, a place to live and travel routes. This information is used for high level decision making in the development of a city.

The fi nalists' research presentations are adjudicated based on the relevance and potential improvement to the quality of life of people in South Africa; the innovation, uniqueness and distinction of the work; the potential uptake and practicality of the research in the relevant sector and the potential impact of the research.

"All three fi nalists presented research of a very high calibre and determining a fi nal winner was a challenging process" says Andrew Skudder, Sustainability Director at Murray & Roberts and member of the adjudication panel. The fi rst runner up was Dr Joseph Anochie-Boateng and second runner up was Dr Dirk Conradie.

The JD Roberts Award recognises the signifi cant contribution made by researchers to improving global competitiveness of South African industry. It is also an occasion to pay tribute to the memory of JD Roberts and the association between Murray & Roberts and the CSIR

JD ROBERTS' DAUGHTERS COMPETE AT FINA WORLD MASTERS CHAMPIONSHIPS IN MONTREAL
Sue Leuner and Anne Jones, daughters of the late JD Roberts, competed at the FINA World Masters Championships in Montreal, Canada last year. FINA is the world governing body for the six aquatic disciplines of swimming, diving, water polo, synchronised swimming, open water swimming and high diving.

The FINA World Masters Championships is its biggest competition and every two years welcomes adult athletes from all over the world. 2014 was the 15th edition of the competition.

Sue won fi ve freestyle medals in the 75 to 79 age group, including gold in the 100m event – 58 years after winning an Olympic bronze at the Melbourne Games.

Sue and Anne were encouraged to participate in sports by their father. "Our father was an absolute sports fanatic, he taught us to surf among many other sports," said Anne.

Anne, a swimming coach at Roedean School in Johannesburg, loves swimming. "In a pool, you feel ageless," she said.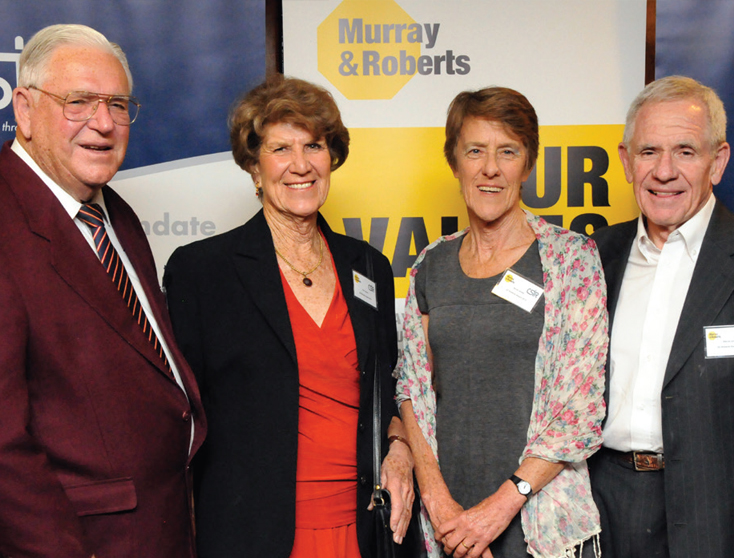 GENREC AWARDED BEST CORPORATE CITIZEN
Genrec received an award from the City of Ekurhuleni for the Best Corporate Citizen and Partner on Youth Development.

Genrec has employed 28 youngsters who are part of the Ekurhuleni Youth Development drive. They receive a minimum salary, paid by Ekurhuleni, whilst being employed at Genrec for a period of one year. These are mostly people with a tertiary education who have battled to fi nd jobs due to a lack of work experience.

"Genrec gives them an opportunity to gain the necessary work experience required to apply for permanent employment, contributing to community and social development." says Mike Borello, Managing Director, Genrec.