OPERATIONS - ENERGY & INDUSTRIAL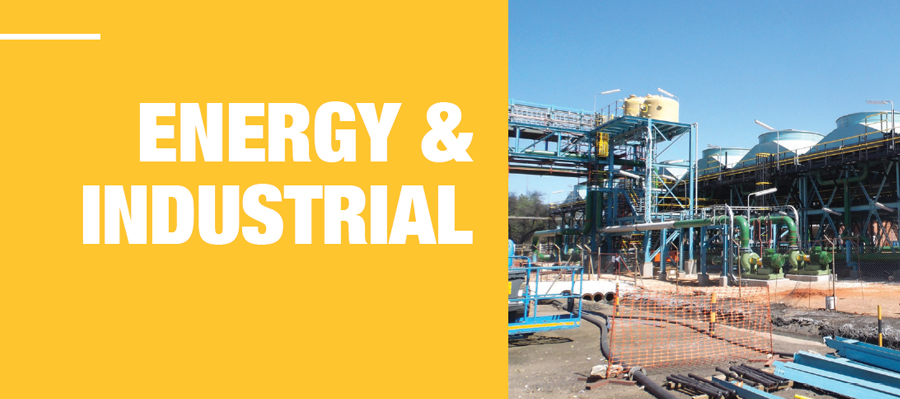 THE FUTURE LOOKS BRIGHT FOR THE ENERGY & INDUSTRIAL PLATFORM
With an expanded engineering and operations capability, the future of the Energy & Industrial platform is full of possibility.

The platform is in the final stages of acquiring an electrical and controls systems engineering business. This acquisition will provide an opportunity for the platform to offer complete Electrical and Control Systems project services and compete in another segment of the Engineer, Procure and Construct market.

In October 2014, the platform acquired Aquamarine Water Treatment, a company offering complete customised water solutions.

Harry Singleton, Operations Executive for Murray & Roberts Water says, "Aquamarine will facilitate the company's entry into the equipment and technology supply and operations and maintenance segments of the value chain, as well as providing installation capabilities for containerised modular water plants.

" Murray & Roberts Water also recently completed the FEED phase at the Newmont Water Project in Ghana and will shortly begin the Engineer, Procure, Construct and Manage phase of the project.

The platform has also added to its order book in recent months. Murray & Roberts Electrical & Control Systems won a R200 million contract at Husab Mine in Namibia. When complete, Husab will become the second largest Uranium mine in the world.

Murray & Roberts Power & Energy, in addition to receiving a letter of intent for the Takoradi Port Tank Farm in Ghana, has won a R205 million contract for the Sasol Volatile Organic Compounds project.

The platform's Joint Venture with Worley Parsons, which provides Operations and Maintenance services to the power market, has been successful in contracting work for private power station clients across borders. The Joint Venture recently completed its third outage for Pongola Sugar Mill and is confident of winning work directly with Eskom.

The platform's Employee Relations Model which was developed and piloted at Kusile has made significant progress. Says Frank Saieva, Platform Executive for the Energy & Industrial platform, "The Employee Relations Model has positively affected all aspects of the site, significantly contributing to the Murray & Roberts Power & Energy Kusile project achieving a milestone of 5 million man-hours without a lost time injury, which is a world class achievement."

Although the challenges ahead are clear, the platform has a committed and motivated team and is focused on achieving excellence in its performance aspirations this year.



MURRAY & ROBERTS TO PARTNER WITH NAMIBIA TRAINING AUTHORITY TO DEVELOP CRITICAL SKILLS
Murray & Roberts has begun a collaboration with the Namibia Training Authority (NTA) in developing critical skills needed to boost the country's economic development programme.

The group signed a memorandum of understanding that will see it offering NTA trainees and trainers internship programmes, on-thejob training and opportunities to be part of the Murray & Roberts organisation.

The programme will be open to welders, pipe fitters, boilermakers, riggers, electrical, instrumentation and general construction trainees. Speaking at NT A's offices, Mile Sofijanic, Managing Dir ector of Murray & Roberts Resources & Industrial and Electrical & Control Systems says: "We are exceptionally proud to partner with the NTA
and are committed to this process."

Gavin Taylor, Managing Director of Murray & Roberts Namibia comments: "The company's continued presence in Namibia for over 50 years is testament to our commitment to being part of the fabric of Namibian society and working in a sustainable way. We are committed to providing opportunities for the upliftment of Namibian nationals."
MURRAY & ROBERTS RESOURCES & INDUSTRIAL TO APPLY ITS EXTENSIVE EXPERIENCE TO TSUMEB SULPHURIC ACID PLANT
Murray & Roberts Resources & Industrial has been appointed to undertake civils, structural, mechanical, plate work and piping works at the new sulphuric acid plant at Dundee Precious Metals' Tsumeb smelter in Namibia.

The construction of the gas cleaning system and sulphuric acid plant at Tsumeb will see the processing of off-gases from the smelter and its converters, which yield high arsenic content copper. The acid plant forms part of the Namibian government's mandate to bring the smelter in line with international environmental standards, reducing emissions which will improve the working and living conditions around the smelter.

A total of 6 700 tonnes of steelwork will be erected on site, of which 2 500 tonnes is allocated to structural steelwork, 600 tonnes to tank work and the remaining 3 800 tonnes will be used for the mechanicals, piping, platework and ducting.
Murray & Roberts Resources & Industrial is subcontracting to Outotec on this project. Outotec is a sulphuric acid plant designer with operations in Africa, Europe, Asia, Australasia and the Americas.