Major projects
2010 PROJECTS UPDATE
GAUTRAIN
Construction on the Gautrain project is well underway following the achievement of a number of important milestones:
May 2006
Initial works commenced including the relocation of utilities, road upgrades, demolition of identified buildings and installation of site offices.
September 2006
Commercial negotiations with Gauteng Province were concluded.
December 2006
Traffic diversions to redirect traffic away from the Rosebank Station construction site in the Rosebank CBD were implemented.
January 2007
Bombela Concession Company finalised negotiations with Standard Bank and Rand Merchant Bank for the funding of Bombela's R3,1 billion commitment to the Gautrain project. All public and private partners are now onboard to ensure the delivery of Gautrain.
February 2007
Four multiple storey buildings situated on the corners of Smit, Wolmarans, Eloff and Joubert Streets were imploded to make way for the Park Station Precinct.
Work is currently underway on the sinking of access shafts for tunneling in Dunkeld and Sandton and there has been progress at the Marlboro Portal which will provide access for tunneling under
the N3.
REDEVELOPMENT OF DOUGLAS ROBERTS CENTRE
Imagine If… just by walking though a door you are greeted with a tactile representation of the imagination and vision that makes Murray & Roberts great.
Over the past 10 months the Bedfordview landscape has undergone a dramatic transformation with the construction of the new Murray & Roberts five story parkade. This modern, steel clad structure forms part of an exciting project which includes a substantial redevelopment of the Murray & Roberts head office, referred to as "DRC".
Once completed, DRC will offer staff and visitors alike:
Secure parking for 488 vehicles
A well appointed, welcoming reception area
Modernised common areas, including lifts, ablutions and stairs
New, fully equipped meeting rooms
An ultra modern canteen facility.
An information drive entitled "Imagine if…," which aims to keep staff and visitors apprised of the project's progress, was implemented at the beginning of the redevelopment process. By launching various mini campaigns throughout key stages of the redevelopment of DRC, Murray & Roberts has endeavoured to ensure that everyone at head office feels part of the "Redevelopment Team" and that the excitement and anticipation of the final product is retained.
"As a global brand, our aim is to produce a building that showcases our international standing whilst retaining a modern yet distinctly South African flavour," says Carol-Ann Wolmarans, DRC Redevelopment Project Manager.
While the redevelopment of DRC is scheduled for completion in April 2008, the parkade will be ready for occupation on 12 March 2007.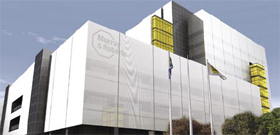 Artist's impression of a renovated Douglas Roberts Centre
2010 STADIUMS
Cape Town Stadium: Murray & Roberts, in joint venture with Wilson Bayley Homes, has been appointed preferred bidder for the new Cape Town Stadium in Green Point.The multi billion Rand 68 000 seater stadium will be constructed on a portion of the Metropolitan golf course in Green Point. It will be 55 metres at its highest point and will require 130 000m3 of concrete, 390 000m2 of formwork, 12 000 tons of reinforcing steel, six million bricks and extensive finishes including a fabric façade.A unique feature of the stadium will be a steel cable tensioned glazed roof. The project is scheduled to commence early in March 2007 and will involve a 34 month programme from the date of handover to ensure completion in time for the 2010 Soccer World Cup.
Extensive value engineering exercises are currently underway with the project consultants and the City of Cape Town to reduce costs.
Peter Mokaba Stadium: Concor, in joint venture with HOCHTIEF and Motheo, has been appointed preferred bidder for the new Peter Mokaba Stadium in Polokwane.This multi million Rand 45 000 seater stadium will be constructed close to the existing stadium in Polokwane. On a footprint of 200m x 250m, construction will require 55 000m3 of concrete, 162 000m2 of formwork, 10 000 tons of reinforcing steel, 5 million bricks and extensive building finishes. The primary roof structure elements will comprise four, long span, tubular steel trusses supported on four slip-formed "Baobab" legs positioned in the corners of the stadium.
The project is scheduled to commence early in March 2007 and will involve a 25 month construction duration from the date of site handover to ensure completion well in time for the 2010 Soccer World Cup.
Extensive discussions are currently underway with the client, Polokwane Municipality, and their professional team, to finalise the contract and scope.