A winning deal
Since Murray & Roberts acquired 100% of Cementation Canada in 2004, the company has excelled in its financial and safety performances, while maintaining strong client and employee relationships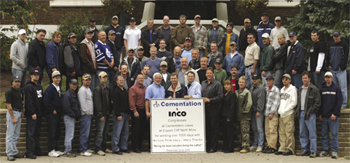 Cementation team from CVRD-INCO North Mine site in Sudbury, Ontario,
celebrating 1 000 days with no lost time injuries in September 2006. Safety
statistics now show that this team has worked for over 1 170 days without
a lost time injury
Located on the north shore of Lake Nipissing approximately 350km north of Toronto, North Bay is home to Cementation Canada, a company that carries out mine contracting and engineering work throughout North America. Working with some of the world's premier mining companies on current and completed projects from Mexico through to the high Arctic, Cementation Canada is recognised as the most active shaft sinking contractor in North America's mining sector.
In recent years the company has also garnered recognition beyond the mining industry as North Bay Business of the Year in 2005 and inclusion to the list of Canada's top 100 employers for 2007.
Cementation recognises that success requires a skilled and knowledgeable group of people. Attracting and retaining the best people in the industry has been the foundation of the company's success.
With such a strong focus on treating employees well, it is no surprise that safety maintains a high profile in the company's culture. Cementation Canada has become one of the leaders of North America's mining sector in low injury frequencies. In recent months, two sites have celebrated over 1 000 days with no lost time injuries; Xstrata Nickel's twin shaft Nickel Rim South project and the lateral development project at CVRD-INCO Limited's North Mine.
The company's prime business is mines. However, with a strong multidiscipline engineering group in-house, Cementation Canada has design build capacity which goes beyond design work to include concept and feasibility studies. The philosophy behind this approach is that earlier contractor involvement will result in significant added value through accurate cost estimates and designs that are ultimately more constructible. This approach and concept has proven very successful for the Canadian company and its clients.
The Kidd Mine D #4 Shaft Project which was recently completed is a good example of this approach. The internal Shaft Project feasibility work was carried out by Cementation, after which the company was successful in securing the detailed design and shaft sinking contract.
Nickel Rim South twin headframes designed by
Cementation Canadawas

Roy Slack, President of
Cementation Canada

The contractual arrangement Canadawas established as an alliance contract. The internal shaft, which reached

a final depth of 3 013 metres below surface, is the deepest shaft in the world outside South Africa, and the deepest base metal mine in the world.

Cementation Canada also operates the largest raise boring equipment in North America. The Robbins 123R machine, which is owned by RUC, is currently reaming a 5.5m diameter ventilation shaft over 640m in length at the Red Lake mine in Northwestern Ontario. The Robbins 97R machine, owned by Cementation, is also operating at the same property.

Cementation Canada has proven to be a valuable member of the Murray & Roberts Group. Since the acquisition, the company has more than doubled its volume and bottom line earnings. Future prospects are enhanced by a strategy to develop long-term relationships with key clients.