Acquisition & disposal
STRONGER
MAJOR PROJECT CAPACITY
From Left: Darrell Caister, Steve Walker and
Tadhg Bergin
Kansanshi Mining,
Zambia
Murray & Roberts has acquired 80% of the shares in privately held Wade Walker with effect from 1 February 2007. The transaction was approved by the Competition Tribunal in January.
The remaining 20% of the shares will be acquired from the current owners in terms of a performance contract covering the next three years.
Wade Walker is a medium-sized Gauteng-based electrical and instrumentation engineering contractor serving the South African and regional industrial and mining sectors. The business worked alongside Murray & Roberts on a number of major projects before the acquisition and will strengthen the Group's existing mechanical, electrical and instrumentation capacity.
New market opportunities driven by increased global demand for natural resources, industrial products and energy have strengthened the order books of Murray & Roberts MEI and Wade Walker. While Wade Walker will operate as a self-standing business within Murray & Roberts to retain the strong reputation and brand identity it has developed over 20 years, it will work in close partnership with Murray & Roberts MEI on major projects such as the new Natal Portland Cement clinker plant and the Voorspoed diamond mine.
In addition to these projects, Murray & Roberts MEI is currently working on the expansion of the Mufulira plant for Mopani Copper in Zambia, the Sappi Saiccor expansion, structural steel erection on Sasol's PP2 project, Tata Steel's ferrochrome plant in Richards Bay and Eskom's peaking plants in Atlantis and Mossel Bay.
Murray & Roberts acquires reputable E&I business
Wade Walker has established a strong presence in Africa and is working on the Kansanshi copper mine in Zambia, the Bogoso mine sulphide expansion in Ghana and the Frontier copper mine in DRC. The company is also installing a diamond sorting plant on the De Beers Peace for Africa ship which mines for diamonds off the African west coast.
Steve Walker will continue in his role as MD of Wade Walker, supported by his directors,Tadhg Bergin and Darrell Caister. Murray & Roberts executive Edwin Hewitt has been appointed chairman and MEI MD, Simon Mordecai-Jones, a director.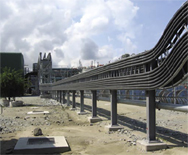 Western Limb Tailings Retreatment Project,
Rustenburg
WHEELS FOR THE WORLD
Murray & Roberts has disposed of its remaining 50% share in Borbet South Africa (Pty) Limited to Borbet Gmbh. Borbet Gmbh, a company incorporated in Germany and one of the top suppliers of alloy wheels to car manufacturers in Europe, entered into an investment arrangement with Murray & Roberts in 2003 to provide Borbet South Africa with access to international markets.