Awards
AGAINST THE ODDS
Prize money increases to R500 000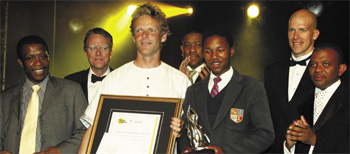 Nemato Rowing Club receiving the 2006 Jack Cheetham Award. (left to right) Tim Modise (MC), Rod McKinnon (President of Rowing South Africa), Jan Blom (Nemato head coach), Thabo Leshilo (Editor of Sowetan), Athenkosi Hlekani (Nemato club captain), Donovan Cech (SA Rowing Olympic medalist), Moss Moshishi (President of the SA Sports Confederation and Olympic Committee)
The 2006 Murray & Roberts Jack Cheetham Memorial Award was presented to the Nelson Mandela Township (Nemato) Rowing Club at a gala event in Sandton on 12 September. In partnership with the South African Sports Confederation and Olympic Committee (SASCOC) and Sowetan newspaper, Murray & Roberts selected the Nemato Rowing Club in recognition of the excellence and inspirational leadership in its development programme. Nemato Rowing Club is a member of Rowing South Africa (ROWSA), which is affiliated to SASCOC and is ROWSA's flagship transformation project. It was recently upgraded to a fully constituted club due to the sustainability it has achieved.
Operating from Nelson Mandela township close to the Kowie River in the Eastern Cape, Nemato Rowing Club teaches young children from disadvantaged communities the highly technical skill of rowing and has established a development programme to produce the first black South African Olympic rower. The programme introduces young male and female rowers to competition in stages, from provincial to national and ultimately to World Championships and the Olympic Games. Competing at the Eastern Cape junior championships earlier this year, two Nemato rowers, Mbulelo Nelson and Hlumisa Yekani, won gold medals in their individual sculls finals.
Under the inspirational leadership of Jan Blom, who has coached world champions in Holland, the club's "first the child, then the sport" approach ensures that participants experience a bigger world than the impoverished environment many of them are trapped in. Talented children are selected to participate in an holistic programme of life skills, school monitoring, early intervention and physical development. A skills development programme undertaken with partners such as Swimming South Africa and Rhodes University, offers swimming lessons, internationally recognised rowing coaching courses, first aid courses, sports management learnerships and on-the-job learning, ensuring a sustainable foundation for the future of each participant, whether or not they succeed as rowers.
Nemato focuses on disadvantaged youth, but accepts some children from the more privileged school in the community to break down barriers and normalise relationships. It also plans to extend its reach into adaptive rowing for people with disabilities. The young South Africans who participate in this programme are offered an experience that will set their paths in life.
"Nemato Rowing Club is achieving excellence in the sport of rowing and is also using rowing as a vehicle to transform the lives of young South Africans. With additional resources, we believe that the programme will have an even greater impact," said Sean Flanagan, executive director of Murray & Roberts and convener of the panel of judges.
The award, which includes a floating trophy and prize money of R150 000 for the winner, was presented by South African rowing Olympic medalist, Donovan Cech.
In a surprise development at the awards event, Murray & Roberts CE Brian Bruce announced that Murray & Roberts had decided to increase the winner's prize money from R150 000 to R500 000, payable over five years in amounts of R150 000 in the first year, R100 000 annually over the next three years and R50 000 in the fifth year, with all payments subject to review, audit and regular progress reports. This will make the winning projects sustainable and strengthen their impact on sports development.
Initiated by Murray & Roberts 26 years ago, the Jack Cheetham Award recognises the special qualities of Jack Cheetham, a former director of the company and the inspirational captain of the South African cricket team in the 1950s, who was able to instill in young people the belief that they could win. In recent years, the award has targeted sports development projects, focusing on individuals or teams that have the potential to be champions.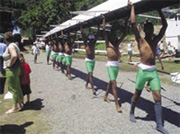 The Nemato Boys under 19 eight squad on their way to the water at the Mayor's Plate Competition
"We have been impressed by the development leverage achieved by previous winners and this extended award will also be offered to the 2005 Jack Cheetham winner, Giants Gymnastics," Brian said.
The Black African Club hockey development programme was selected as the runner up and awarded prize money of R50 000. An affiliate of the South African Hockey Association, this project has made an important contribution to the development and upliftment of black African hockey clubs in some of the most impoverished areas of South Africa.
Under the dedicated management of Gary Dolley and a national team of volunteers, the project empowers identified clubs to improve their administrative capacity and compete in local leagues. Partnership is an important element of the project's success and it is aligned with government's mass participation programme as well as municipal districts. Many of its participating clubs have formed partnerships with primary schools where they are encouraged to address the social development of participating children.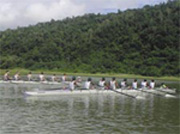 The Nemato Boys eight squad at the start of a race in the Schools Boat Race
A WINNING STREAK
Since it won the 2006 Jack Cheetham Award in September, the fledgling Nemato Rowing Club has impressed the South African rowing community with excellent performances in recent junior rowing competitions.
Schools Boat Race
At South Africa's most prestigious junior rowing event in Port Alfred, Nemato competed against A level Boys Eight squads and came second, beating four other boats.
ZRC Competition
Competing on the Swartkops River in Port Elizabeth, Nemato won three races (Boys under 15 double A level, Boys under 15 single scull C level and Boys under 19 single scull fourth level). The club finished fourth out of seven competing clubs – an excellent achievement for young rowers with less than one year's experience.
Mayors Plate
Competing on the Buffalo River in East London, Nemato won five races (Boys under 15 double A level, Boys under 15 single scull D level, Boys under 15 single scull C level, Boys under 16 four C level and Boys under 19 single scull fifth and sixth level). Nemato girls competed for the first time, with Sibongiseni Buwa coming second in the under 15 single scull B level.