Cover story
TARGET 2010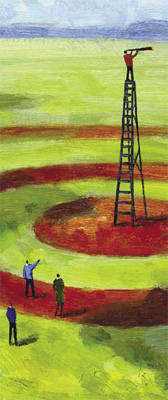 By 2010 Murray & Roberts plans to significantly increase its revenue and earnings, with about one-third of its business generated abroad. Ciaran Ryan asked CE Brian Bruce what the Group will look like beyond 2010
Look for an organisational chart in Murray & Roberts and you will not find one. What you will find instead is a collection of clustered networks, as group CE Brian Bruce calls them. These are self-standing business units operating under strong, decentralised leaders, all pursuing a coordinated strategy that adds value to the Group.
This is quite a departure from traditional business practice. Organisational charts imply a hierarchy of seniors and juniors, of those who give orders and those who take them. Traditional business organisations borrowed heavily from military command structures, where initiative and enterprise are presumed to cascade down from the top. Anyone who has worked on a South African mine understands the importance of such structures. But, they are cluttered with many different job categories and managerial layers and communication is largely a one way flow, from top to bottom.
"With a strong brand and enough projects, we will get the right people"
Murray & Roberts evolved from this kind of traditional business hierarchy to what it is today. In July 2000 Brian Bruce launched Rebuilding Murray & Roberts, a strategy aimed at achieving sustainable earnings growth and value creation after a period of decline in the late 1990s. The success of this strategy is evident in the financial and operational turnaround since 2000, when a new executive team was appointed. The Group subsequently embarked on Globalising Murray & Roberts, a strategy which benchmarks its operations and strategy against the leading construction and engineering firms in the world.
This was flanked by Murray & Roberts 2010, a short-term strategy focusing on the delivery of sustainable value from increased market activity in all the Group's markets.
"After Rebuilding Murray & Roberts wound down in 2006, we needed a new target, and the choice of 2010
– the year of the Soccer World Cup
– was coincidental," explains Brian. "All companies need targets and milestones."
WHAT DOES MURRAY & ROBERTS 2010 MEAN FOR THE GROUP?
"It heralds the next leadership change in Murray & Roberts, since many of the current executive team will reach retirement age following 2010."
The King Report on Corporate Governance for South Africa emphasises the need for succession planning as an essential ingredient in creating sustainable business growth, though in most organisations this does not receive the attention it warrants. Brian says Murray & Roberts is blessed with an abundance of talent, due in part to its policy of pursuing strong, decentralised leadership. The strength of the brand, coupled with a healthy pipeline of orders, acts as a natural magnet for skills.
The quality of an organisation's human capital is the key to competitive differentiation. Murray & Roberts has had considerable success in attracting expatriate South African and other executives from the international construction sector. Many of these have experience in far-flung markets that can now be put to excellent use within the Group as it embarks on its next phase of growth.
The much-publicised skills shortage across the construction and engineering sector is a reality that will not disappear in the near-term. "We lose and replace people all the time, but the so-called 'churn rate' has increased, and this is something we are very concerned about. We tend to be most successful when we have good leaders capable of motivating people. We also made a strategic decision to focus on quality work, where the margins are right, rather than just fill the order book."
Not that Murray & Roberts is afraid of taking risks. Risk is the cornerstone of the free enterprise system, and the job of management is to identify, measure and contain these risks.
After six years Rebuilding Murray & Roberts, there is a new and solid platform for growth going forward. The rebuilding phase involved shedding non-core assets and acquiring new assets that strengthened the core business clusters of Construction & Engineering and Construction Materials & Services. The acquisition of Cementation and nearly 50% in Clough has substantially expanded the Group's geographical reach into some of the world's most exciting markets. Cementation has operations in southern Africa, North America and Australia, and Clough operates out of Australia and South East Asia.
The Group has established a strong foothold in the Middle East market, where its business strategy is to focus on a limited number of mega-projects in partnership with local companies such as Nass in Bahrain and Al Habtoor in United Arab Emirates. The Middle East operations are coordinated from the Group's London office, with a business strategy that is fundamentally different from that pursued in South Africa. There are fewer competitors in these markets, and the scale of projects undertaken is much larger than is the case in South Africa.
Globalising Murray & Roberts will continue up to and beyond 2010. South Africa will remain the home base for the Group, from which it will service the expanding markets of southern Africa.
These will account for roughly two-thirds of the Group's business, with one-third coming from overseas operations. The acquisition of Concor was successfully completed last year, and the company is now being positioned as a major player in the South African infrastructure sector. Concor, like Murray & Roberts, has a distinguished record of building landmark infrastructural projects across southern Africa, and is well positioned for the growth in public sector infrastructure now underway.
"South Africa is where Murray & Roberts is headquartered, and represents the core of what we do. We have established the capacity to tap into whatever the construction economy offers us," says Brian.
The range of group activities spread across multiple sector and geographic zones appears dauntingly vast and complex to the outsider, but there is an elegant simplicity to the Murray & Roberts structure. Each of these activities complements the overarching goal of delivering world class construction and engineering services to the construction economy. They represent an interlinking network of clustered businesses that add value to the Group as a whole. This clustered network business model alows businesses to operate independently of each other, yet subscribe to a set of common values.
"For this to work you need a strong belief system, which in our case is a non-negotiable commitment to sustainable earnings growth and value creation," says Brian. "You also need a driver to change the status quo. In our case, we have sought credibility and greater value from the market than many of our competitors by pursuing premium quality work at higher margins. There is always a risk in doing this, and sometimes we have lost work because we have not been able to secure contracts on reasonable terms and conditions."
Another critical element in the clustered network business model is the need to lubricate the channels of communication in the organisation. "The big challenge for us is how to access our 30 000 people all over the world, and I am not satisfied that we have fully solved this one yet," says Brian.
A number of strategic initiatives have been launched to build better relations between executives, staff and clients. Ask Brian and the CE Discussion Forum open a direct channel of communication between staff and senior executives while Tip-Offs Anonymous, offered by an independent service provider, has been effective in identifying fraud and other irregularities. Two years ago, the Group launched ClientService as an interactive facility to improve the response quality of communication between Murray & Roberts and society. This facility currently processes more than 2 000 calls a month and has recently been expanded to cater for an increased inquiry load.
Of all the challenges facing Murray & Roberts, none is more important than succession planning. The pool of available talent has been strengthened by decentralising management and demanding performance and accountability of executives. With the growth in the project pipeline, the Group has been able to recruit skills from outside the construction and engineering sectors to augment its skills base. A leadership development initiative, headed by Andrew Skudder and driven from the CE's office, ensures Murray & Roberts is adequately prepared for its 2010 objectives and for future challenges beyond 2010 when many from the current executive team will be thinking of retirement.
The bottom line: the future for Murray & Roberts is assured, and a new corps of executives is waiting in the wings.