ZERO IS POSSIBLE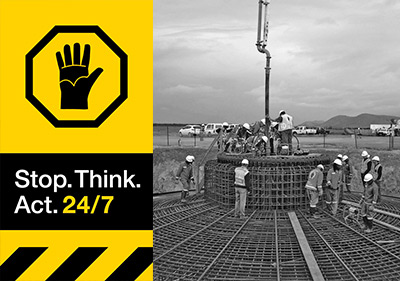 On 17 April, Murray & Roberts completed a full year without a fatal incident. This was a significant achievement and the first in the Group's history. This milestone followed closely on the heels of a record lost time injury frequency rate of 0,81
which was achieved in February 2013.
Commenting on the achievements, chief executive Henry Laas told staff: "This exceptional performance was made possible by all Murray & Roberts employees and subcontractors. On behalf of the Board, I want to thank you for your dedication and hard work towards the achievement of these results. You have demonstrated that Zero Harm is indeed possible at Murray & Roberts and it reinforces our belief that all incidents are preventable.
" Unfortunately, Murray & Roberts has suffered two fatalities in the past financial year since these achievements. On 26 April the Group lost Gil David Macamo in a rock fall incident. David worked as a grout operator for Murray & Roberts Cementation's mining services contract at Lonmin Platinum's Karee 3 Shaft. On 23 May, Simphiwe Tomsana was fatally injured when he was caught between a
moving pipe and a stationary shot blast cabinet at Hall Longmore's Duncanville Plant.

RISING STARS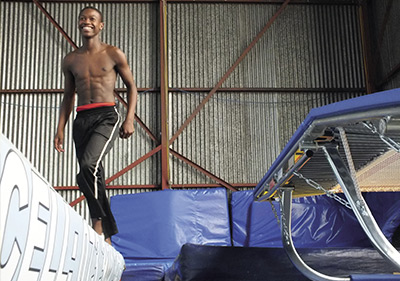 Siphamandla Baku, a gymnast from the Nemato Gymnastics Club has been selected to represent South Africa at World Age Groups (Junior World Championships) in Bulgaria in November. The Nemato Gymnastics Club and the Nemato
Rowing Club have been previous prize winners in the Murray & Roberts Jack Cheetham Memorial Award. The gymnastics club started in 2009 and Siphamandla was immediately identified as a talented tumbler.
The club approached coach Mandy Zoonekynd in Port Elizabeth and recommended that Siphamandla be trained to compete internationally. He won a gold medal in the level 4 tumbling category of the South African Championships in 2012 and was placed first in
trials for the 2013 World Age Groups.