Renewable Energy Projects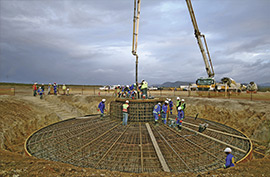 Siemens SWT 2,3 MW wind turbine

Murray & Roberts Construction, in joint
venture with Consolidated Power Projects, has been awarded the civil and electrical works, including construction of a new sub-station for the new 138 MW Jeffreys Bay wind farm.
This is the second largest wind project
to have been awarded in the first round
of South Africa's Renewable Energy
Independent Power Producer Programme (REIPPP). It is located between Jeffreys Bay and Humansdorp in the Kouga local municipality and will involve the deployment of 60 Siemens SWT 2,3 MW wind turbines, each with a rotor diameter of 101 metres. In total, 1 415 MW of capacity was allocated to 28 wind and solar projects after the
first bidding round, with 633,99 MW allocated to wind developments. The 20-year power purchase and implementation agreements for the first round of projects were signed in
November 2012 and Eskom will buy power from the first eight wind farms for R1,14/kWh. A consortium comprising Globeleq, Mainstream Renewable Power, Old Mutual, Thebe Investment Corporation, Enzani Technlogies and Usizo Engineering, as well as a local
community trust is developing the project.

The Jeffreys Bay wind farm is expected to generate 200 jobs during construction and 11 permanent operation and maintenance jobs over the 20-year life of the facility.
The international operations of Murray & Roberts have shone in a challenging year, reinforcing the wisdom of the Group's increasing exposure to growth markets beyond South Africa.
Recycling City Deep
Concor Civils is doing its bit for the< environment by recycling old concrete pavements at the City Deep container terminal in Gauteng.

The recycling is part of its work to upgrade and replace 144 000 m² of cracked, ageing pavements at the container depot – known as the largest dry port in the world as it is hundreds of kilometres from any navigable water.

"We are breaking up and reusing 86% of the old worn concrete pavements at City Deep," says Concor Civils contracts manager Pierre van Vuuren about the project for state transport utility Transnet. "In total we are reusing approximately 123 840 m² of concrete, which would otherwise just go to landfill. This old pavement will be crushed and reused as base and sub-base quality aggregate, categorised in South Africa as Class G3 and G5 pavement layers."

Apart from its clearly positive impact on the environment, by reusing the old pavement, a great deal of money is being saved. "We estimate that it saves about R13,8 million that would otherwise have to be spent on new aggregate and on transport," says Pierre.
Shopping Malls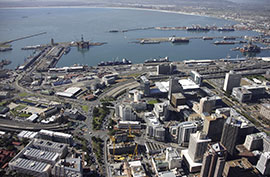 Bay West Mall, Port Elizabeth
Murray & Roberts is the primary contractor for the construction of the R2 billion Bay West Mall in Port Elizabeth which has commenced operations.
The 87 500 m² mall located on the Western side of Port Elizabeth is expected to offer significant economic benefits to the region. It is a joint development between the Billion
Group and Abacus Asset Management.

The project is expected to create about 10 000 direct and indirect jobs during
construction and an estimated 1 500 permanent jobs will be created to staff 250 retail outlets after the mall opens early in 2015. Murray & Roberts Buildings MD Alex Boyazoglu says the mall was a key project for the Group which is also currently involved in the construction of Cape Town's tallest
building, Portside.

Murray & Roberts Buildings commenced work on the construction of the R1 billion Matlosana Mall in Klerksdorp earlier this year. Located at the eastern entrance to the town, the 65 000 m² mall project will create 2 000 jobs during construction and an estimated 1 200 permanent jobs once the mall opens in October 2014.
Developer, Abacus Asset Management, has undertaken to use local contractors and developers where possible.

Project Delivery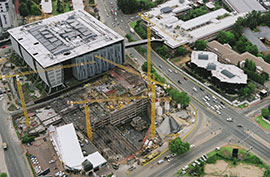 102 Rivonia Road
Murray & Roberts Buildings has put itself to the test. It has undertaken to deliver a complex, state-of-art office
towers project at least three months ahead of the time its competitors estimated it would take. And so far, so
good, on the prestigious 102 Rivonia Road project in Sandton, Gauteng.

"The most impressive aspect about this project is the timeframe. We said we could do it in 19 months, and the market said it would take 22 months," says Murray & Roberts Buildings commercial manager Ernest Stanley. "We started work on 20 June 2012, and
are due to finish construction on 31 January 2014."

But why push themselves to the limit? "We wanted to prove that we could deliver the project within the timeline required by the client. The client wanted the project to be completed as
soon as possible, and we believed this was achievable," he adds of the R578 million development for Eris Property Group and professional services group Ernst & Young. But 102 Rivonia Road is not a simple project. The building design is elaborate and the site is cramped with restricted access, meaning there is very little lay-down area for plant and materials. The shape of the building is unusual which makes the complex design difficult to construct. At its peak, there will be some 1 200 personnel on site.
The 'can-do' approach to looking for solutions and delivering on them has laid the foundation for good working relationships and is contributing towards Murray & Roberts' goal of
becoming the contractor of choice for future projects.
So how is all this being achieved in the tight timeframe? The key, Stanley says, is excellent leadership and an outstanding and dedicated team, as well as extremely detailed planning and
programme management. "We have expanded the programme to detail absolutely every activity and monitor each one carefully." This level of detail is new, and the monitoring approach is novel too. Early delays, along with the nationwide transport strike, pushed the initial schedule out by a full 28 days. "As the end date of the Ernst & Young building is critical for their office relocation, the client approached us to accelerate the works and recover time lost, knowing full well that we had very little float within our programme to accommodate such a request," says Stanley. The only option was a full-night shift with 24/7 crane operating time.
"We promptly implemented a night shift of around 250 workers between October 2012 and March 2013, and this brought the project swiftly back on track," he adds.