CLOUGH BLAZES A TRAIL OF GLORY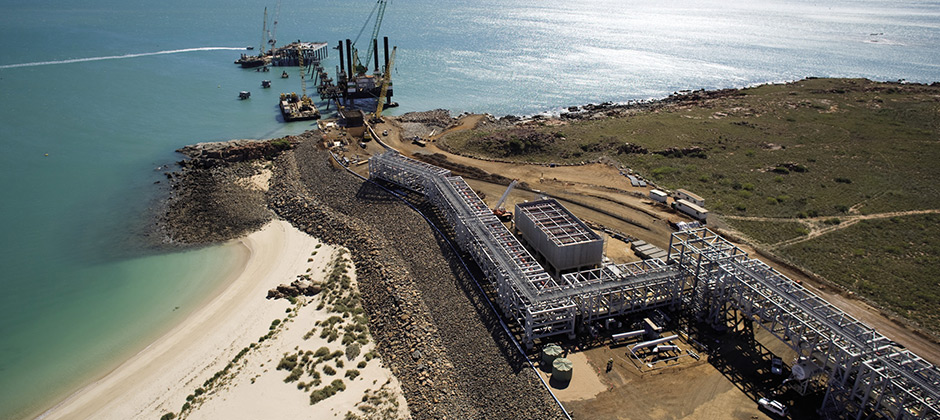 Pluto LNG Jetty Woodside Energy Ltd, Western Australia
Company initiatives focused on delivery of excellence in project execution, cost efficiency and enhanced productivity have resulted in significant improvements in the performances of all of Clough's operations.
The Australian-based construction and engineering Group has structured its business to optimise project delivery and growth across its four business lines of Engineering, Capital Projects, Jetties and Near Shore Marine, and Commissioning and Asset Support. This has positioned Clough to capitalise on the boom in Australia's oil and gas market. In the past year the business has worked on more than 20 major energy and resources contracts across Australia and Papua New Guinea, including major LNG contracts for Chevron's Gorgon and Wheatstone projects, INPEX's Ichthys project, Santos' Gladstone project and QGC's Queensland Curtis project.
DISPOSAL OF FORGE GROUP
In March 2013, Clough announced the disposal of its 36% investment in Forge Group to Macquarie Capital. Clough CEO Kevin Gallagher said Clough would use the proceeds to deliver shareholder value through strategic acquisitions and capital management.

LAUNCH OF INTERNATIONAL COMMSSIONING BUSINESS
Clough has entered into a joint venture with Coens Energy, a Korean oil and gas manpower and logistics firm servicing the world's largest fabrication yards, to launch Clough Coens Commissioning and Completions.
Clough Coens will provide highly specialised commissioning and completions services to onshore and offshore oil and gas facilities, including drilling rigs and fabricated process equipment manufactured in Korea and China.

The joint venture will deliver a new and innovative project management and execution service to enable oil and gas facilities to be commissioned in the fabrication yard, before carrying out necessary hook-up and commissioning services in the final project location.
"Following the successful acquisition of e2o and the award of major commissioning projects in Australia, Clough has become the market leader in Australia for hook-up and commissioning services. The Clough Coens joint venture creates an international commissioning service model that can be exported globally, recognising that the vast majority of fabrication yard commissioning opportunities will be in Korea and China," said Clough CEO Kevin Gallagher.

Clough's group-wide focus on improving its performance has supported strong growth in profits in 2013.
Murray & Roberts plans to acquire 100% of Clough

The proposed acquisition by Murray & Roberts
of the remaining shares in Clough will further
strengthen the Group's position in the key
markets it has identified for future growth.
"We have identified energy (oil, gas and
power) and mining and minerals as the sectors presenting the best medium-term to longterm growth opportunity, and which will most likely enable us to deliver the returns our
shareholders expect," said Henry Laas.

"This proposed transaction is strategically
compelling, consistent with our long-term
growth plans and the next logical step to fulfil
our strategic objectives."

If concluded, the transaction will create a
focused international diversified engineering
and construction business, leveraging
respective capabilities and management
competencies across Australasia, Southeast
Asia and Africa.

Furthermore, it will also create a strong
platform for further expansion of the
Group's international business, increasing
Murray & Roberts' exposure to target market
sectors which are considered to present
long-term growth potential and allowing
Murray & Roberts and Clough to better
leverage Clough's oil and gas capabilities
and expertise into opportunities in Africa.
By acquiring 100% of Clough, Murray & Roberts will secure full control
of its operations, assets, cash flow
and strategic direction and simplify the
corporate and operating structure of the
consolidated group. It is expected that the
transaction would be immediately earnings
per share accretive.

The transaction is subject to:
• Final approval by Murray & Roberts
following due diligence
• N egotiation and execution of a scheme
of implementation agreement between
Murray & Roberts and Clough
• A unanimous recommendation by Clough
independent directors in support of the
transaction following an independent expert
determining that the transaction is in the
best interests of Clough.

Murray & Roberts has had a long association
with Clough since initially acquiring a
shareholding in 2003.