MEN IN THE MAKING

Murray & Roberts introduced engineering as a career option to 20 grade 11 and grade 12 school boys from Jeppe Boys and Rand Tutorial College on 6 May. In support of Tracker's 'Men in the Making' campaign, the boys were addressed by Concor Engineering project manager, Christo Erasmus, who spoke about his journey as a young engineer, and they
were taken on an excursion on the Gautrain.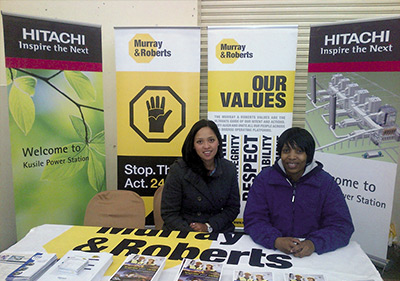 Murray & Roberts hosted a stand at the 2013 Career Expo in Delmas
"As an engineering firm we are always looking for young individuals with the potential to work in this industry."
BAOBAB TRAINING CENTRE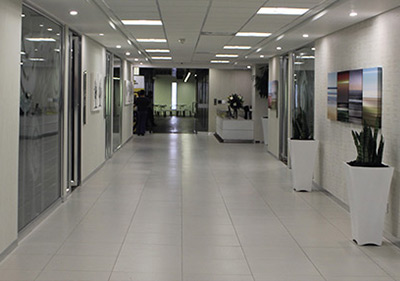 The new Baobab training centre at Douglas Roberts Centre

A conducive space for learning
Murray & Roberts opened the doors to its new Baobab training centre on the ninth floor of Douglas Roberts Centre in March 2013. The training centre combines all corporate and operational training and leadership development activities in one venue at the Group's head office in Bedfordview, and the beautiful contemporary space with elements of African design (including the iconic Baobab tree) lends itself to learning and hosting of key corporate events. The Baobab centre bustles with activity and in July alone it hosted 1 046 people.
Skills development
Murray & Roberts Plant is running a thriving apprenticeship programme aligned with section 13 of the Manpower Training Act 56 of 1981, with about 30 apprentices currently enrolled at various stages of the four-year programme. Four different apprenticeships are on offer: earthmoving
equipment mechanics, auto electrics, boiler making and heavy current electrics.
Clough has re-launched its engineering scholars programme after an eight year sabbatical. Initiated by the son of founder, Harold Clough, the programme has awarded more than 200 scholarships to the brightest engineering students in Western Australia. Clough will award four scholarships per annum to top students in the first and final year of their Masters of Professional Engineering degree with the University of Western Australia.
WOZA WOMEN IN THE WORKSPACE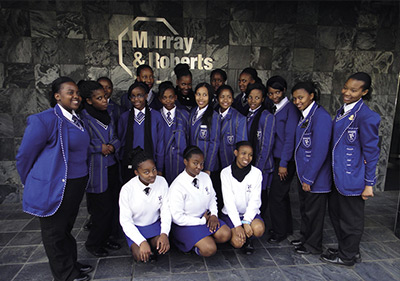 On 30 May, 18 school girls in grades 11 and 12 from the Dominican Convent were hosted by Murray & Roberts in support of Cell C's 'Take a Girl Child to Work' campaign.

The girls experienced Gautrain and as part of a full programme, had an opportunity to interview Concor Engineering project engineer, Sarah Kajula about her career and what it takes to become a mechanical engineer. Commenting on Murray & Roberts' participation in these campaigns, corporate social responsibility manager, Donique de Figueiredo said: "As an engineering firm we are always looking for young individuals with the potential to work in this industry. Since joining the campaigns we have extended our reach, not only to the more rural parts of South Africa but also in Gauteng. We realised that students in the province weren't necessarily aware of what we do as a company, and this has been a great way to show them."