Major projects
South Africa

Gautrain
Murray & Roberts plays a lead role in the Gautrain Rapid Rail Link project, which has been underway for almost two years following commercial close in September 2006. Civil design and construction work is 45% complete and detailed designs for electrical and mechanical systems are ready for implementation. Construction of viaduct bridges commenced during the year and the state-of-art tunnel boring machine commenced tunneling from Rosebank towards Park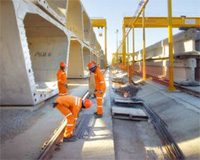 Centre: Tunnelling equipment at Sandton South Shaft Top right: Train maintenance workshop at Midrand depot Above: Precast yard – viaduct segments and bridge beams
Station in January 2008. Work in this section is progressing to schedule, while construction of the section north of the Midrand Depot towards Pretoria has been delayed by late expropriation and release of land.
The airport link from Marlboro Portal to OR Tambo International Airport has also been delayed by unmapped utilities, late release of land and late approval of access to Airports Company South Africa (ACSA) property.
The Bombela Consortium has entered formal negotiations with Gauteng Province to resolve the consequence of these issues and to agree measures for accelerating completion of Phase 1 in time for the 2010 Soccer World Cup.
Major projects such as Gautrain, Green Point Stadium and the Power Stations demand higher levels of management focus than normal construction activities and require a premium allocation of skilled resources.
Murray & Roberts has adopted a management model that ring-fences these projects under parallel Corporate leadership, which in the South African context is the responsibility of Murray & Roberts executive director Sean Flanagan.
Green Point Stadium

The Green Point Stadium project for the 2010 Soccer World Cup has been underway for 18 months since award in March 2007. Construction work is proceeding well on this 68 000 seater stadium and the project is on track to commence erection of the cable tensioned steel and glazed roof in September 2008.

The original 34 month construction period was reduced to 31 months at the request of FIFA, which has subsequently been challenged by ongoing design changes and abnormally inclement weather conditions.

Department of Foreign Affairs building

Work is underway on the R1,3 billion head office complex for the Department of Foreign Affairs in Pretoria. The R1,3 billion structure topped out in August and Concor is scheduled to complete the project in May 2009

Lusip Dam

Concor, in joint venture with Group 5 and Swaziland-based Inyatsi Construction, has successfully completed the upstream components of the LUSI P Dam Project in Swaziland
Thermal Power Stations
Murray & Roberts has secured the contracts for boiler erection and fabrication for the Medupi and Kusile (previously Project Bravo) coal-fired power stations in partnership with Hitachi Power.
The Medupi contract was signed in November 2007 and work commenced immediately on resourcing a management team and securing major subcontractors.
The primary contract is a partnership between Murray & Roberts MEI and Murray & Roberts Engineering Solutions, with fabrication of the structural steelwork by Genrec. Steel ducting will be fabricated in a new facility to be established on site by a new company jointly owned by Murray & Roberts MEI and a 51% empowerment partner
The Kusile contract was awarded in January 2008 and work has commenced on resourcing a management team and securing major subcontractors.
These contracts are collectively valued at R15 billion and will take up to six years to complete.
Murray & Roberts Construction secured the lead contractor role in joint venture with Concor and Grinaker LTA, for civil construction work on the Medupi power station. Under the leadership of project manager Coenie Vermaak about 170 management and senior staff resources have been mobilised and a total staff complement of 2 800 will be on site by the end of 2008. First structural concrete was placed in July 2008. The contract is valued at about R3 billion and although scheduled for completion in 2012, progress is currently impeded by numerous design changes and access problems.
Civil work for the Kusile Power Station is out for selected tender and Murray & Roberts is well positioned to secure further work on the proposed Open Cycle Gas Turbine (OCGT) and the revised Mmamabule Power Station in Botswana.