Excellence
Breaking records
Murray & Roberts company, RUC Mining Contractors, recently achieved a significant milestone in Australian mining
The Kalgoorlie based mining contractor completed work on the largest raise bored hole ever drilled in Australia and ranked seventh largest in the world by volume excavated.
The excavation of this raise (800 metres deep, 5,52 metres in diameter) has set an Australian raise boring record at the St Barbara Ltd Gwalia Mine at Leonora, Western Australia, improving on the previous record set by RUC Mining of 890 metres at a 4,5 metre diameter. The raise was completed in 11 968 man hours without incident.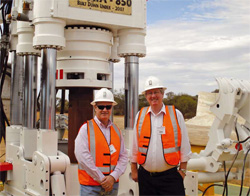 Sean Flanagan, executive director of Murray & R oberts, and George Parker, director of Murray & R oberts Cementation, with the new Strata 850 raise drill manufactured by RUC Mining C ontractors
St Barbara's project manager, Shane McLeay said: "The completion of this technically challenging ventilation raise is an important step in the future of Gwalia Mine which is due to start production in the September quarter of 2008. RUC has completed the raise ahead of schedule and without accident or incident. This result is a credit to all those involved in the project."
The current world record was set by Murray & Roberts in 1986: 1 096 metres at a 6,1 metre diameter in South Africa. Other mining records set by RUC's sister company, Murray & Roberts Cementation, include the largest diameter shaft raise bored (7,1 metres by 180 metres at Sasol's Bosjespruit mine in South Africa); the hardest rock raise bored (lava formation at Kloof gold mine in South Africa) and the longest inclined shaft raise bored (3,5 metres by 755 metres by 70° at BCL in Botswana). The company has also raise bored the largest and deepest shaft in South America (5,1 metres by 775 metres at the Cuiba mine in Brazil).
RUC Mining Contractors, one of the leading mining contractors in Australia, specialises in raise boring, box holing, shaft sinking and incline and horizontal mine development. Recent projects completed have been located in Western Australia, Queensland, New South Wales and New Zealand.
RUC operates the most powerful surface and underground raise bore rigs in Australia. The company recently manufactured the Strata 850 raise drill in its Kalgoorlie workshop. The Strata 850 is capable of constructing underground raise bored holes of up to six metres in diameter and is the most powerful raise borer in the world.
Middle East
Tameer Towers, Abu Dhabi – an artist's impression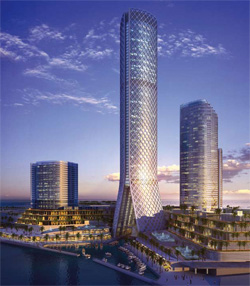 Tameer Towers
Murray & Roberts, with its partners Al Habtoor and Al Rajihi, has been awarded the R13 billion Tameer Towers mixed-use development on the Al Reem Island in Abu Dhabi.
Tameer Towers will comprise a 7-star luxury business hotel, a 73-storey office tower, four residential towers and a central park. It is the largest project, by value, undertaken by Murray & Roberts in the growing Middle East market. It is also one of the largest building projects ever awarded in Abu Dhabi and will be one of the capital's landmark developments when completed in 2011.
Another important feature of the project is that it is the first in the United Arab Emirates to be awarded as an alliance contract in which all parties, including the client, the professional team and the contractor act as one collective team in a fully transparent manner, sharing all project risks and opportunities.
Al Raha
Murray & Roberts Marine was awarded the Al Raha Beach project in Abu Dhabi in 2007. The project is well advanced and has facilitated the formation of a new waterfront, with prime development land stretching over more than 14 kilometres of new coastline.
A key factor in the success of this project is the strong client relationship Murray & Roberts and its joint venture partner Overseas AST, have developed with the client.
Al Raha has opened up a number of new opportunities for similar work in the United Arab Emirates which Murray & Roberts Marine is pursuing on a negotiated basis.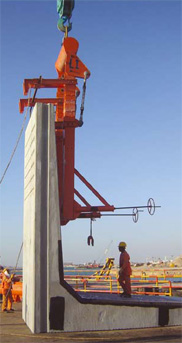 Al Raha Beach Resort, Abu Dhabi