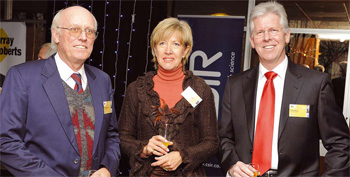 Dr Phil Page-Green and his wife Pam with Brian Bruce
Dr Phil Paige-Green, an acclaimed engineering geologist at the Council for Scientific and Industrial Research (CSIR ), has won the 2008 JD Roberts Award
Dr Phil Paige-Green won the award in recognition of his outstanding research and innovation in the field of transport infrastructure. His work has resulted in the application of products, improved materials usage and specifications for sustainable road construction, all of which have a great social impact.
Paige-Greene, a Fellow at CSIR Built Environment, is currently working on a project worth more than R5 million to develop a cost-effective way of using renewable sources, specifically waste materials, in road binding materials. Given oil shortages, environmental effects of fossil fuel usage and global climate change, various alternative binders needed to be investigated and developed by the CSIR. Consequently, a prototype binder based primarily on materials currently considered waste products has been developed. This material is being evaluated and improved to develop the necessary properties for use as a road binder.
His work encompasses the investigation of roads and transport technology and he has led various projects in 14 countries in Africa, including Botswana, Ethiopia, Ghana, Malawi and Uganda. His research has helped some countries upgrade their road design manuals, while he has also assisted with training guidelines and conducted road improvement investigations and technical audits.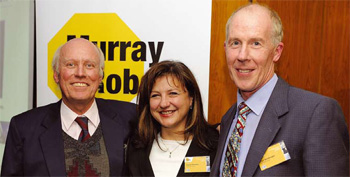 The three finalists of the 2008 JD Roberts Award; Dr Phil Paige-Green,
Louiza Duncker and Paul Nordengen, all of the CSIR
Breakthroughs by Paige-Green include research on tillites (a type of rock), which saw him becoming a world authority on the topic. His later research centred on materials for the construction of unsealed roads, culminating in the development of innovative specifications, deterioration models and construction requirements.
These have been implemented internationally. His work on unsealed roads evolved into the upgrading of such roads to low-cost sealed ones, again to international acclaim.
Paige-Green has won a number of awards for best papers at conferences and currently serves as the Vice-President (Africa) of the International Association of Engineering Geology. He has published more than 90 papers, and contributed two chapters to Engineering Geology of South Africa, Vol 3, the authoritative work on the engineering properties of South African natural materials. He has also authored and co-authored more than 300 contract, research and unpublished internal reports.
The two runners-up were Paul Nordengen and Louiza Duncker of the CSIR.
Through his research Paul has made a significant contribution to the road transport industry over an extended period, specifically in the areas of network asset management (bridge management), heavy vehicle transport through his work on overload control, abnormal loads and performance based standards as well as capacity building.
Louiza Duncker was recognised as a runner-up for the outstanding contribution she continues to make through her research and other work at the CSIR in the fields of water and sanitation provision, housing and community development, and the role of women in these areas. She has received wide acknowledgement for her work.
The JD Roberts Award

The annual JD Roberts Award is sponsored by Murray & Roberts and held in partnership with the CSIR.

Instituted by Murray & Roberts in the late 1970s in remembrance of one of the Group's founding fathers, Dr Douglas 'JD' Roberts, the award recognises and promotes competitive and environmentally sustainable solutions to human dilemmas and encourages scientific research into technology that will enhance the quality of life of all South Africans.

Douglas Roberts was a doyen of the construction industry in South Africa, well known for his entrepreneurial flair and passion for seeking and trying new techniques and ways of doing things. It is in this spirit that the JD Roberts Award takes place annually, recognising talent and research within the CSIR.