TRIUMPH OF THE HUMAN SPIRIT
The annual Murray & Roberts sports development awards highlight the triumph of humanity over adversity.
The 2012 Murray & Roberts Jack Cheetham Memorial Award for able-bodied sports development projects was won by the Paarl Canoe Club Development Programme, while the 2012 Letsema Award for people with disabilities went to Shumbashaba – Horses Helping People. Both projects have won R500 000 payable over five years.
The awards, held in conjunction with the South African Sport Confederation and Olympic Committee (SASCOC), recognise the character and ideals of Jack Cheetham, a former director of Murray & Roberts and captain of the South African cricket team in the 1950s, and reward those who contribute to the development of sport in South Africa.

Shumbashaba – Horses helping people winner of the 2012 Letsema Award

Paralympic stars, Sandra Khumalo and Hilton Langenhoven with Olympic gold medalists Matthew Brittain, Sizwe Ndlovu and James Thompson who were special guests at the 2012 event

Paarl Canoe Club Development Programme winner of the 2012 Jack Cheetham Award
Paarl Canoe Club Development Programme
The Paarl Canoe Club Development Programme has for many years been encouraging and enabling kayaking as a sport among previously disadvantaged youths in the Western Cape. The programme focuses on both development and high performance and has achieved significant results, dominating the South African National School sprints in recent years and producing domestic and international gold medal winners, including Luke Stowman who has been identified as a leading prospect for the 2016 and 2020 Olympic Games.

Coach Wayne August, an early beneficiary of the programme, has trained many of South Africa's national sprint and marathon champions and is a powerful role model to his younger protégées.
Shumbashaba – Horses Helping People
For more than ten years, this project has offered formerly disadvantaged people from the township of Diepsloot access to the therapeutic power of horses. Shumbashaba's community outreach programmes offer therapeutic riding for people with severe disabilities and equine-assisted growth and learning to heal and empower hundreds of South African children who struggle with poverty, limited education and unemployment and face crime, violence and drug and alcohol abuse daily.

Shumbashaba also sponsors the riding tuition of disadvantaged children, providing them with the opportunity to participate in equestrian competitions for riders with disabilities. The Shumbashaba coaches have represented South Africa in administrative and coaching roles and their expertise is passed on to staff who are empowered in the process.

Commenting on the awards, Group Chief Executive, Henry Laas said they provide an opportunity for Murray & Roberts to actively make a difference. "It's hard to believe that we are in our third decade of the awards. We are constantly inspired by the way in which these projects use sport as a vehicle to transform the lives of so many young South Africans."

The runner-up for the Jack Cheetham Award was the Sedibeng Korfball Region, while in the Letsema category, Rowing for the Physically Disabled and Judo Institute for Special Needs took second and third place respectively.

Runners-up in each category receive R150 000 over three years each, while the third place winners receive R75 000 over the same period.
About the Awards

The Jack Cheetham Memorial Award was initiated by Murray & Roberts 31 years ago in recognition of the special qualities of Jack Cheetham, a former director of the company and the inspirational captain of the South African cricket team in the 1950s who was able to instil in young people the belief that they could win. The award targets sports development projects, focusing on individuals or teams that have the potential to be champions.

The Murray & Roberts Letsema Award was first awarded in 2009 following the outstanding performance of athlete Hilton Langenhoven who captured the attention of the world at the 2008 Paralympics in Athens. This award recognises sports development projects for people with disabilities.

Rising star
Athenkosi Hlekani, a member of the Nemato Rowing Club which won the 2006 Jack Cheetham Award recently returned from a trip to Qatar where he attended a youth leadership camp at the invitation of the United Nations. Athi, 23, was one of only two young leaders from southern Africa invited to attend the camp in January.
Athi's life was transformed after he joined the Nemato Rowing Club and become their top rower. He was subsequently awarded a full sports bursary by the University of Johannesburg and he captains the university's rowing club.

Apart from being a great ambassador and role model for the Nemato project (renamed Nemato Change a Life), Athi is planning to return to Nemato and give something back to his community by taking up a leadership role at the project which has been expanded to include other sporting codes and a youth empowerment and education facility.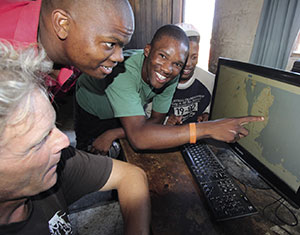 Talented Port Alfred rower Athenkosi Hlekani shows (l-r) Nemato Change A Life founders Jan Blom, Chuma Nyendwana and Ashley Backward where he will be going in Qatar
Jack Cheetham Award beneficiary hailed a hero
Masixole "Hassan" Mkrakra, 20, a member of the Tiger Titans Club which won the 2010 Jack Cheetham Award, was hailed a hero after he drowned trying to rescue a friend in December 2012.

Tiger Titans Cricket Club is a cricket club initiated by a 14-year-old school boy Ross McCreath, for young people from the impoverished Nolukanye township in Bathurst. Masixole, fondly known as Hassan by his friends was the first rural player to achieve his Eastern Province colours when he was selected for the Eastern Province Rural team in 2010 as wicket keeper and opening batsman.  In 2012, he accompanied Ross McCreath to address some of the biggest names in international cricket at Lords Cricket Ground in London, England.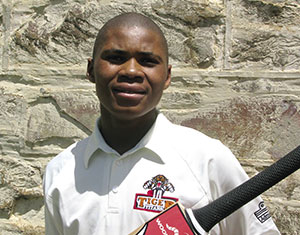 Murray & Roberts conveys its deepest sympathy to Hassan's family and the Tiger Titans Cricket Club.