Women in the Driving Seat

Tolcon Lehumo, formed after a women-empowered group joined Murray & Roberts, is South Africa's leading traditional tolling operator. It is also the most gender-empowered company in the country's transport, infrastructure and logistics sectors according to the judges of the ninth annual Top Women Awards, announced in August 2012.

Tolcon Lehumo, which operates the N3, N1 North, N17, Mariannhill and Oribi routes, empowers its people with a specific focus on women, many of whom live in rural communities.

Tocon Lehumo's CEO is female, as are two-thirds of all employees, more than half of management and the Board representatives and more than a quarter of the shareholders in a predominantly male sector. The company's focus on empowerment and upliftment has earned it a level 2 BBBEE rating.
Walk the Talk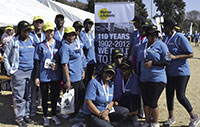 In July 2012, 450 Murray & Roberts employees from across the Group participated in the Discovery 702 Walk the Talk at Marks Park Sports Club in Emmarentia. They were amongst over 50 000 participants in the event. Proceeds from the walk are used for various Laureus Sport for Good Foundation projects across the country. Laureus is a universal movement that uses the power of sport to bring people together as a force for good.
Developing Talent
Murray & Roberts commenced its ninth Graduate Development Programme with 27 delegates in January.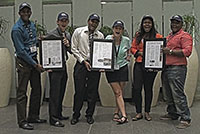 The programme facilitates the integration of new graduates into the Group's diverse operations to accelerate the development of these young professionals into meaningful and productive roles and foster an environment that encourages initiative, energy and performance.

The programme consists of three blocks of one week each where all delegates return to the training centre, share their experiences and take away new tools to enable further progress in their chosen careers. At induction, the 2013 delegates were challenged with the task of becoming reporters for the day, covering topics of key importance to Murray & Roberts, such as health & safety.

Murray & Roberts pensioner Mary Grestock celebrated the remarkable milestone of her 100th birthday at the Oyster Box in Durban on 30 December 2012. Mary was employed by former Murray & Roberts chairman Bill Bramwell in the 1950s to make linen and curtains for the caravans used on project sites. Mary lives in Durban and still cooks her own meals and enjoys sewing and knitting.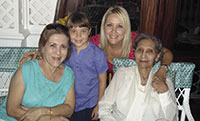 To your health
Murray & Roberts hosted a Wellness Day for employees at the Douglas Roberts Centre on 30 November.

After commemorating World Aids Day with the lighting of candles and singing of South Africa's National Anthem, employees were treated to a range of health and fitness activities. The programme, which included laughter therapy, smoothie showdowns and a demonstration by Virgin Active, showed just how much fun you can have while keeping fit and healthy.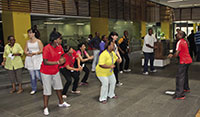 The programme was supported by health, beauty and lifestyle brands including Mangwanani, Sanofi Health, Face Box photography, ICAS, Envision Optometrist and Discovery Health.