A Zero Harm through Effective Leadership project was launched in 2012 to implement key recommendations from the health and safety culture assessment conducted by DuPont in 2010.
Murray & Roberts is taking safety very seriously – and its commitment is delivering encouraging results in safety performance.
The project prioritises five focus areas that form the basis of the first phase of this project which will be in operation over the next two years.
Strengthening and expansion of the STOP.THINK approach to Stop.Think.Act.24/7 in preventing injuries and failures in Group operations
Implementing a custom built leadership engagement programme
Aligning HSE structures across the Group and establishment of appropriate Centres of Excellence
Building lead indicators to proactively measure progress
Capacitating Murray & Roberts leadership in support of our purpose, vision and values
The project is owned by the Murray & Roberts Limited Board and coordinated by a team of senior line leaders and HSE executives from different operating platforms. A number of milestones have been achieved since the project was launched:
Review and expansion of the STOP.THINK programme
The STOP.THINK brand has been enhanced to include the ACT.24/7 dimensions and the new brand is Stop.Think.Act.24/7. "ACT" emphasises the importance of taking action to correct unsafe conditions and behaviours as well as recognising positive behaviour whilst "24.7" highlights the need to be safety aware at all times i.e. at work and at home.
On 20 November 2012, CE Henry Laas launched the new brand to 200 senior Murray & Roberts executives. They received a Stop.Think.Act.24/7 DVD and supporting material to assist in rolling out the programme at their sites. There was a company-wide roll out of Stop.Think.Act.24/7 in January and February to coincide with the re-induction of employees after the festive season.
STOP.THINK Visible Felt Leadership engagement programme
This programme will establish consistency in leadership interactions across the Group, to increase leadership visibility and to actively build a safety culture. A custom built visible felt leadership engagement programme has been developed with input from all operating platforms.
The first phase of training is focusing on 740 operational leaders, and will then be rolled out to the supervisory levels.
Effective Leadership Development
Alignment discussions have commenced for the evaluation and realignment of the Murray & Roberts Leadership Development Framework to capacitate the effective leadership work stream of the Zero Harm through Effective Leadership project.
A RECORD SAFETY PERFORMANCE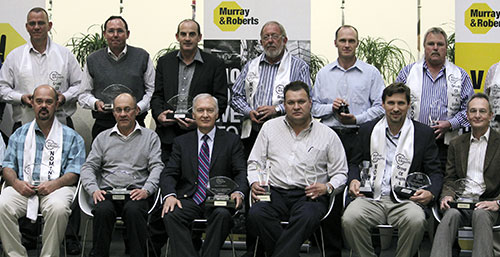 Group CE Health and Safety Recognition Awards

Murray & Roberts achieved a record lost time injury frequency rate (LTIFR) of 0.85 for the first six months of the 2013 financial year. It was also the first time ever that no fatality was recorded during any half year reporting period. Furthermore, as at the end of February 2013 the Group achieved 10 months without a fatal incident. This is a significant achievement and a first since the recording of our safety statistics.

"This exceptional performance was made possible by all Murray & Roberts employees and subcontractors," said CE Henry Laas. "On behalf of the Board, I want to thank you for your dedication and hard work towards the achievement of these results. You have demonstrated that Zero Harm is indeed possible at Murray & Roberts and it reinforces our belief that all incidents are preventable.

"This is an example of how we can together lift Murray & Roberts to greater heights. My personal short term safety goal is for Murray & Roberts to achieve zero fatalities in the current financial year to June 2013.
"I am mindful of the safety challenges facing us as evident in a number of high potential incidents still experienced by some of our operations but have full confidence and belief that we can overcome these and achieve zero fatalities in 2013. I urge you to support the Group safety improvement initiatives launched recently and to continue to improve health and safety at our operations," Laas told employees in January.