Young Jack Cheetham and Letsema Award winners are taking the world by storm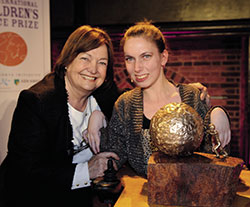 Chaeli Mycroft, inspirational founder of the Chaeli Sports & Recreation Club for children with disabilities and winner of the 2011 Murray & Roberts Letsema Award was recently awarded the 2012 Social Activism Award by Nobel Peace Laureates in Chicago. This follows her receipt of the International Children's Peace Prize from 1976 Nobel Peace Prize Laureate, Mairead Maguire in The Hague in November last year. Chaeli has also been invited to do a keynote address at the UNESCO conference in Paris in October and has made it into O Magazine's 2012 Power List as one of the 10 Women of the Decade.
Ross McCreath, winner of the 2010 Jack Cheetham Award for the development of the Tiger Titans Cricket Club for youths from the impoverished Nolukanye township outside Bathurst, was awarded first prize in the Health and Wellbeing category of the inaugural National Youth Development Agency Youth Awards in July.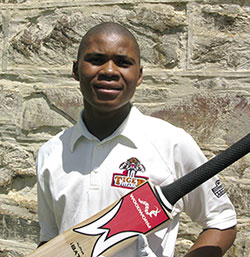 Masixole Mkrakra, a beneficiary of the Tiger Titans Club, addressed a Gala Dinner at Lords Cricket Ground in March. This followed an invitation to Ross who spoke at the same venue two years ago. Masixole was the first rural player to achieve his Eastern Province colours when he was selected for the Eastern Province Rural team in 2010 as wicket keeper and opening batsman. The dinner was organised by the Duke of Edinburgh's Award World Fellowship in celebration of the London 2012 Olympics. It was attended by HRH, Prince Edward, The Earl of Wessex and British sporting heroes.
Lawrence Ndlovu, a member of South Africa's lightweight fours rowing team that won a gold medal at the London Olympics, was one of the first successes to emerge from Rowing South Africa's (RowSA) schools transformation programme. The programme won the 2002 Jack Cheetham Award – and at the time Lawrence, who accepted the award with the RowSA team, was training for the 2004 Olympic Games in Athens. Lawrence, who sat at the stroke end of the boat in London, is no stranger to awards, but an Olympic gold must top them all.
Employer of Choice
Top Graduate employer
Murray & Roberts has been voted the Top Graduate Employer in the Engineering or Industrial Sector for 2012.
In a survey conducted by the South African Graduate Recruiters Association (SAGRA), 1 689 graduates were given the opportunity to vote for the company that they felt had the best Graduate Employment in individual sectors – and Murray & Roberts led the pack in its sector.
"We are proud of this achievement and are committed to continuously improving our graduate development programme, which focuses primarily on the softer skills that the graduates would not necessarily have been exposed to during their tenure at university," said Zelia Soares, leadership development executive. "Further, it helps with the transition from a learning environment to a working environment."
Best company to work for?
Murray & Roberts is participating in the Deloitte 2012 Best Company to Work for Survey.
The survey offers a unique opportunity to engage with employees across the Group in an objective manner, and will provide valuable insight into how our employees feel about these 10 dimensions:
Confidence in the organisation
Working relationship with manager
Overall job satisfaction
Sense of inclusion in the organisation
Operational effectiveness
Ethics and integrity in the organisation
Career development
Work-life balance
Performance and recognition
Remuneration
Results will be available on 4 October 2012, and will inform our employment strategies and priorities for the future. Participation will also allow us to benchmark ourselves against other participants in relevant size and industry categories.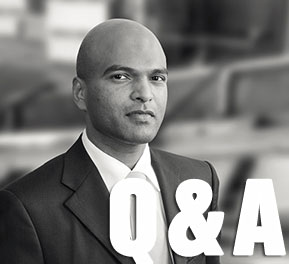 Jerome Govender (40)
Qualification: BSc (QS) MSc MBA

Jerome was appointed operating platform executive for the Construction Africa and Middle East operating platform and a director of Murray & Roberts Limited from 1 August 2012.
Jerome has been the chief executive of Bombela Concession Company (BCC) since 2007, having joined the Murray & Roberts corporate office in 2002. He was appointed commercial director of Murray & Roberts Construction and then general manager of Murray & Roberts Concessions.
Before he joined Murray & Roberts, Jerome was a director at the Department of Public Works and interim chief executive of the Construction Industry Development Board.
What are the milestones you are most proud of having achieved in your career so far?
So far, it would have to be leading Bombela Concession Company through the intense negotiations process with Provincial Government and our various subcontractors to agree on terms for delivering Gautrain's Phase One in time for the Soccer World Cup 2010; and then its subsequent delivery three days ahead of Kickoff. It was a great achievement for South Africa and the team at Bombela. I am also immensely proud of the fact that, although Gautrain has presented significant challenges for some contractors, Bombela Concession Company has been able to deliver significant value to its shareholders.
What are you looking forward to in your new role?
There are some great people in the Construction Africa and Middle East Platform who love what they do. They are working on some amazing projects. I am looking forward to working with them and collectively delivering value to our clients and to Murray & Roberts.
What are your main interests after-hours?
My wife and I have four month old twins – a boy and a girl – Adam and Leah. They are the apples of my eye. And so for now, when I am not working, I try to spend as much time with them as I can. It's amazing how they help take my mind off the pressures of the day.
Together to Zero Harm
In an ongoing effort to achieve its health and safety vision of 'Together to Zero Harm', Murray & Roberts has decided to expand and strengthen its STOP.THINK safety programme.
In the previous year, 12 employees lost their lives in work related incidents, whereas this year, we recorded with the utmost sadness, four fatalities. We shall not celebrate our safety performance until such time as we are able to report zero fatalities, but we must acknowledge the hard work that has gone into ingraining a safety culture in all of our operations. We believe the improvement in our safety performance is in no small degree due to the visible and committed involvement of senior management in achieving our ultimate objective of Zero Harm in the conduct of our business.
The new brand to be launched is STOP.THINK.ACT.24/7. 'ACT' emphasises the importance of taking action to correct unsafe conditions and behaviour, as well as recognising positive behaviour, whilst '24.7' highlights the need to be safety aware at all times at work and after-hours.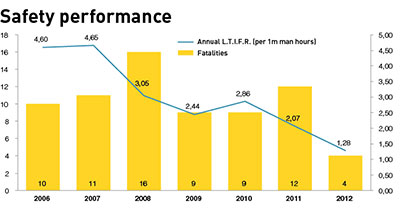 Appointments
Murray & Roberts Holdings LTD Board Appointments
Mahlape Sello will succeed Roy Andersen when he retires as non-executive chairman of Murray & Roberts in March 2013. Mahlape was appointed to the board as a non-executive director in 2009. She is chairperson of the social & ethics committee and a member of the audit and sustainability and nomination committees. Mahlape serves on the Johannesburg Bar Council and is a member of the South Africa Law Reform Commission.
Thenjiwe Chikane was appointed a non-executive director of Murray & Roberts on 15 June 2012. Thenjiwe is a member of the audit & sustainability committee and the risk management committee. She is a director at Nedbank Group, Nedbank Limited, Datacentrix Holdings and the Institute of Directors and a trustee of AfricaRice.