Murray & Roberts has a leading role in a range of projects to upgrade South Africa's road, rail and power networks. Gautrain and the Medupi and Kusile power stations bear testimony to the Group's significant contribution to the development of world class social infrastructure.
In June 2012 Medupi's critical Boiler 6 was hydraulically tested and, in August it was being prepared for its chemical clean, a second key milestone which is expected to occur in October. Following the chemical clean, Boiler 6 should be three months away from its first fire (a test firing of the boiler with oil, to be followed by the initial full fire with pulverised coal – the feedstock that will power Medupi in future).
As Boiler 6 undergoes its chemical clean, Boiler 5 is projected to undergo hydraulic testing. Meanwhile work on Boilers 3 and 4 is proceeding according to schedule.
With Murray & Roberts Projects' teams at Kusile obtaining partial access to the Mpumalanga site's Boiler 2 and full access expected by August, Murray & Roberts Projects is now working on six boiler units simultaneously – an unprecedented scale of operation. Meanwhile Genrec is maintaining monthly output of some 2 000 tons of fabricated steel per month, a rate that will be maintained throughout the 2013 financial year.
PROUD SAFETY RECORD
Despite the many potential hazards involved in such mega projects, Murray & Roberts Projects has passed the mark of three million hours worked without any lost time injuries at Medupi and Kusile and Genrec has achieved more than two million injury-free hours.
BUILDING LOCAL COMMUNITIES
Medupi and Kusile projects are having profound impacts on local communities and economies. At the two sites hundreds of millions of rands have been committed to local procurement, with BEE spend well ahead of targets. Efforts to increase spend with black women-owned businesses and SMEs are being prioritised.
Transfer of skills is another priority. At Medupi, 541 of 700 apprentices have already been trained while 167 of another 700 have so far received recognised artisan training at Kusile. The younger generation are also benefitting from Murray & Roberts' involvement in the power programme; every week a mobile science laboratory sponsored by Murray & Roberts and operated by TRAC, a national NGO, brings hands-on science education to hundreds of learners in the Lephalale and Delmas regions.
Gautrain's second operating commencement date was certified by the Independent Certifier on 6 June 2012 and the final link of the system between Park and Rosebank stations was opened on schedule on 7 June 2012.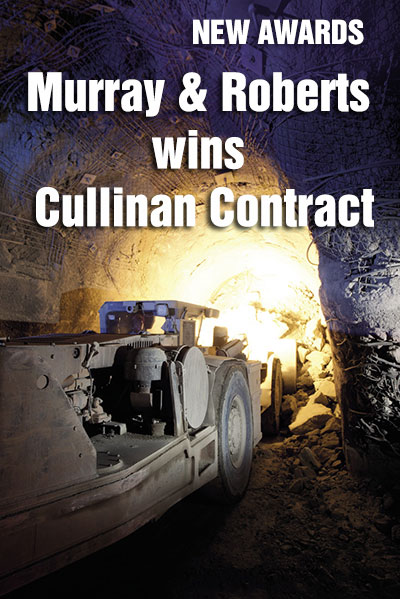 Murray & Roberts Cementation has been awarded the contract to deepen Shaft 1 and Shaft 3 at the Cullinan diamond mine in Gauteng, together with the associated infrastructure and planned level development to the Cullinan ore body.
The contract is part of a major expansion plan at Cullinan, which will take production from just under one million carats in 2011 to 2,4 million carats by 2019, incorporating two million carats from underground production and 0,4 million carats from a major tailings programme. The mine is currently producing about 9 200t/d from three mining blocks on two horizons at the mine.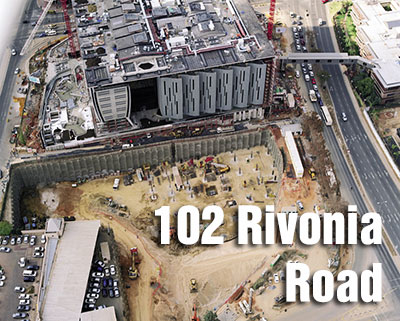 Murray & Roberts Buildings has been awarded the contract  to build Ernst & Young's new Johannesburg head office  at 102 Rivonia Road, a stone's throw away from the  Sandton Gautrain station. The building is expected to  be completed by December 2013.