As an important part of Murray & Rberts' future, Clough is positioning its business to capitalise on the boom in Australia's oil & gas market.
Clough CEO and managing director, Kevin Gallagher reminded delegates at the recent APPEA oil & gas conference in Adelaide that Australia produced its first gas in 1960 and its first oil in 1964, and has been exporting liquefied natural gas (LNG) in substantial quantities from the North West shelf since 1989.
"However the journey has only just begun for Australia, with unprecedented growth in LNG projects over recent years set to increase Australia's LNG export capacity fourfold by the end of the decade. At this time the country will rival Qatar as the largest LNG exporter in the world."
How is Gallagher preparing Clough to participate in this journey?
It's as simple as 4 + 2 + 3
4 + 2 + 3 describes the strategy that will drive Clough's future growth. It's a strategy that focuses on structuring the Australian-based construction and engineering business to optimise project delivery and growth across its four business lines of Engineering, Capital Projects, Jetties and Near Shore Marine, and Commissioning and Asset Support.
The strategy focuses Clough on two foundation market sectors. The skills of its business lines are readily transferable across both sectors. Firstly, Clough will continue to strengthen its position in the energy and chemicals market, delivering upstream, downstream, offshore and onshore oil, conventional gas, LNG and petrochemical projects. The business will also re-establish its brand in the mining and minerals market, targeting iron ore, coal, precious and other minerals and metals projects. Clough has over 30 years' experience in the delivery of minerals projects. This sector provides an additional channel to bolster long term growth.
Finally, Clough will target three regions: Western Australia and the Northern Territory, Queensland and Papua New Guinea. In the long term Clough may expand beyond this geographical focus, though in the near term these regions have more than enough work across its two market sectors to deliver strong growth and achieve Vision2017.
Pursuit of Excellence
Clough recently adopted the tagline Pursuit of Excellence to define key drivers in its strategy. Clough's pursuit of excellence philosophy includes:
Investment in its people to create a high performance culture.
Employing creative thinking and innovation to continuously improve the way it works.
Never backing away from a challenge and never settling for outcomes that are deemed to be less than excellent.
"We will support this culture of excellence with the best systems and processes that consistently achieve industry leading safety, environment, people and financial performance, while constantly striving to execute every project to the highest quality standard. Ultimately, the relentless pursuit of excellence will help achieve our vision and provide superior value to our shareholders," Gallagher recently told Clough staff.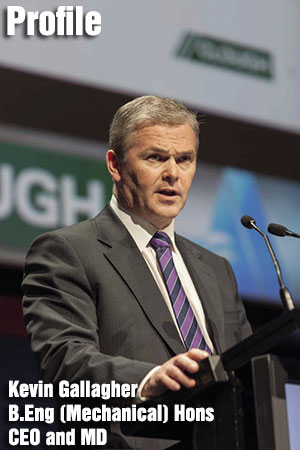 Since his appointment in November 2011, Kevin Gallagher has moved quickly to position Clough for new opportunities.
He has conducted a detailed strategic review of the business, providing clarity and streamlining operations to improve project delivery performance and profitability. His short term focus is on establishing the leadership team, systems and people capabilities to deliver on the company's extensive project portfolio and drive strong, profitable growth.
Gallagher is a senior executive with more than 20 years of experience in managing oil and gas operations in Australia, the USA and North and West Africa. A qualified mechanical engineer, he commenced his career as a drilling engineer with Mobil North Sea, before joining Woodside in 1998.
During his 13 year tenure with Woodside, Kevin led the drilling organisation through rapid growth, delivering several Australian and international development projects and exploration campaigns and setting drilling performance records whilst improving safety. He also led the Australian oil business unit.
Prior to joining Clough, Kevin was responsible for production on Australia's largest resource project, the North West Shelf, where he held the positions of executive vice president, North West Shelf Business Unit and CEO, North West Shelf Venture at Woodside.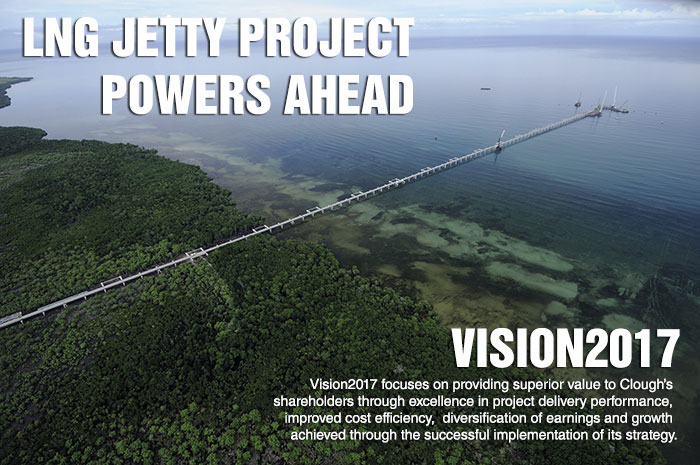 The PNG LNG Jetty project, located 20 kilometres northwest of Port Moresby on the coast of the Gulf of Papua, has achieved an impressive array of technology and engineering feats since the project commenced.
The scope of work for BAM Clough, which was awarded the contract by Chiyoda JGC Joint Venture in September 2010, includes the design and construction of the LNG and condensate offloading jetty, in addition to the fabrication and construction of the topsides.
The project has used an innovative design comprising 120 pipe modules fabricated at Clough's Sattahip Fabrication Yard in Thailand and precast concrete deck and headstock manufactured at BAM's Decorient Precast Yard in Indonesia. The jetty is being constructed using a purpose-built travelling cantilever bridge, designed and built by BAM Clough.
Work completed to date includes the 2,4 kilometre long approach trestle and the loading platform and substation pile caps. Piling has been completed for navigation aids and beacon piles and the sea water intake has been installed.
Current activities are focused on the placement of the headstocks, precast slabs and continuing installation of the pipe rack modules for the topsides. Activities will then revolve around completing the breasting and mooring dolphin piles, installation of the dolphin topsides, and fabrication of the catwalk structures in Malaysia and pipe spools for the loading and substation platform in Thailand.
The workforce currently numbers just under 400 people, with 330 working on-site in Papua New Guinea and the remainder spread between Brisbane and Thailand. The team is expected to wind down once civil works on the loading and substation platforms is completed in the next few months. Topside construction is scheduled for completion in March 2013 with the bulk of the work to be completed by the end of 2012.