Major projects
VRESAP
The Mpumalanga Pipeline Contractors joint venture, of which Murray & Roberts is the lead partner, has been awarded the R1,5 billion Vaal River Eastern Sub System Augmentation Project (Vresap).
The project is a 120 kilometre emergency water transfer scheme from the Vaal Dam to Bosjiespruit near Secunda, primarily for Eskom and Sasol.
The steel pipeline is 1,9 metres in diameter and will be supplied by the Vulindlela joint venture, which includes Murray & Roberts company, Hall Longmore. Approximately 6 600 steel pipes will be delivered to six sites during the period of construction and about 65 000 tons of steel will be used in the production process. The project will include road, rail and stream crossings as well as the construction of a structural steel bridge across the Waterval River.
Strict controls have been implemented on site to ensure that all aspects of health, safety and environmental management are addressed. Targets have been set for monitoring and compliance. Completion of the full project is scheduled for October 2007.
SASOL POLYPROPYLENE II
Murray & Roberts companies, Genrec Engineering and MEI, have reported good progress on a contract to supply and erect structural steel for the Sasol Polypropylene II
project. The contract is on schedule for completion in March this year, with the exception of sheeting and louvres which are due for completion in May.
The contract involves the manufacture and transport of 6 400 tons of structural steel. A heavily congested site and strict deadlines have been managed by a monitoring system developed by Genrec and 850 000 man-hours have been completed by MEI without a single lost time injury or environmental case.
Coalink
After three years of intense negotiation, Murray & Roberts, in partnership with Mitsui and Toshiba, has been awarded a five year R1 billion contract to supply new locomotives for the Coalink corridor between Ermelo and Richards Bay. The Coalink upgrade project is part of the Spoornet Main Line Locomotive Investment Programme and involves the supply of 110 class 19E locomotives.
Murray & Roberts company, The UCW Partnership (UCWP), will be responsible for the overall mechanical design, systems integration, fabrication and assembly of the locomotives, while Toshiba will design, develop and supply the electrical propulsion equipment. Toshiba engineers will work closely with the UCWP team here in South Africa during the design, build and commissioning phases of the project.
The locomotives will be delivered between November 2007 and March 2011 and the project will create about 500 new jobs for UCWP and its supply chain in South Africa.
The 19E locomotive encompasses many years of proven railway technology and the latest technologies available in the freight rolling stock field. UCWP has produced 2 227 locomotives since its establishment in 1957, 2 143 of which were supplied to Spoornet.
UCWP has also submitted a tender for the supply of locomotives for the Sishen/Saldanha iron ore Orex corridor. This tender is being adjudicated by Spoornet.
BEDFORD SQUARE

Murray & Roberts has been awarded the R520 million Bedford Square phase 3 multi-use residential, hospitality, retail and commercial project by Bedford Square Properties.

The project comprises 197 luxury apartments on four levels of parkade, a retail centre, a four level office block and a 160 room hotel.

The completion dates are phased over a period from June to September 2007. The project is currently proceeding well and is on schedule.

LOCH LOGAN

Murray & Roberts has been awarded the R393 million Loch Logan retail development at the picturesque Loch Logan Waterfront in Bloemfontein by the N Georgiou Trust.

The development consists of a new shopping mall and alterations and additions to an existing shopping centre.

The project is proceeding well but the scheduled completion date in February 2007 is likely to be extended after a slow start due to "dubious" bulk earthworks by direct contractors.
Middle EAST
Murray & Roberts has established a proud record of achievement in constructing some of the landmark projects that define the recent development of Dubai and the United Arab Emirates
With local partners, the Group has maintained a strong position in the market and continues to win significant projects in spite of strong global competition.
DUBAI INTERNATIONAL AIRPORT
In 2005, the Al Habtoor Murray & Roberts and Takenaka joint venture secured the contract to complete terminal 3, concourse 2 and the car park at the airport. The contract is valued at approximately $1 billion. Murray & Roberts is project leader with a 40% share.

Artist's impression of the Dubai International Airport (Inset: Construction underway)
The project is well underway and on track to achieve completion in 2007. Good progress is reported in the wet- trade works and initial finishing trades, while the main finishing trades are due to commence. Most of the material and equipment for the project is sourced internationally and installed by local subcontractors, requiring careful coordination and logistical support. At the end of December 2005, the project reported an injury frequency rate of 0,53, which is below the international standard.
GOLDCREST VIEWS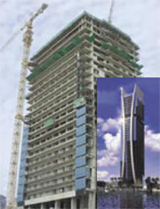 Construction underway at the
Goldcrest Views apartment block
(Inset: Artist's impression)
The Al Habtoor Murray & Roberts joint venture was awarded the $50 million Goldcrest Views project in Dubai in September 2004.
The 41 storey apartment block situated in the Jumeirah Lakes resort comprises a floor area of 74 000m2 and will be 147 metres tall when completed in 2007.






BAHRAIN WORLD TRADE CENTRE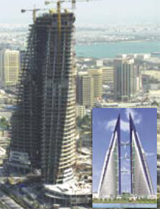 Construction underway at the
Bahrain World Trade Centre
(Inset: Artist's impression)
The $77 million contract to construct the Bahrain World Trade Centre was awarded to the Nass Murray & Roberts joint venture in June 2004.
The project is proceeding well with topping out of the 51 storey concrete twin towers due in February 2006 and a further 16 storeys of structural steel to be added to the spires in April. Three wind turbines between the towers will be "strand-jacked" into position in May and the turbines will be erected in June.
Cladding is well underway and interior design and lighting are currently being finalised in Hong Kong and Glasgow, respectively. The towers and mall will be available for third party fit-out contractors in June. Phased public access has already commenced, with access granted to parking areas.






DURRAT AL BAHRAIN BRIDGES
Artist's impression of the Durrat Al Bahrain project
In September 2004, the Nass Murray & Roberts joint venture was awarded a $55 million contract for the construction of 13 bridges linking various islands of the Durrat Al Bahrain project.
Situated south of the Island of Bahrain, the project is a major resort comprising islands that have been developed as reclaimed land and designed in fantasy shapes. The bridges require the manufacture of precast post-tensioned deck elements, each 16,2 metres long and 200 tons in weight. The deck units will be transported to the bridge sites on multi-axled trailers and placed using a large crawler crane. A feature of the deck design is the use of an impressed current cathodic system to protect the reinforcing from an aggressive marine environment. The substructure comprises two 1 200 milimetre diameter bored steel-cased concrete piles per span which are extended to form pier heads.
The Nass Murray & Roberts joint venture successfully completed the $65 million Hidd Port quay wall in Bahrain in 2004.
MINING IN PROGRESS
Murray & Roberts is on contract at TauTona Mine to sink a twin decline system from 120 Level (3 467 metres below surface) to 128 Level (3 700 metres below surface). This will allow mining of the carbon leader reef and extend the life of the mine by seven years.
Site establishment and mining operations commenced in 2004. Project completion is scheduled for January 2012.
At Impala No 20 Shaft, where Murray & Roberts Cementation is sinking and equipping a main downcast shaft, an upcast ventilation shaft, service infrastructure on surface and all ancillary excavations and access development necessary to establish the footprint for 185 ktpm of Merensky and UG2 reef production, completion remains on schedule for October 2008.
Murray & Roberts Cementation has been involved with the Kroondal Platinum Mine (KPM) since inception (1999) and undertakes all its underground mining operations, ensuring that basic mining principles are applied correctly.
Work is progressing well on the cluster decline development at Turffontein where Murray & Roberts Cementation's project includes a cluster of decline sinking and auxilliary development on the levels.
Work on the Turffontein contract started in 2002 and is expected to be completed early in 2007 after which Phase 3 is likely to commence. This will take the cluster declines from 35 Level down to 40 Level.
Murray & Roberts Cementation is undertaking a shaft and underground development project at Dwarsrivier. The mine is converting from an open pit to an underground operation and the project comprises three declines and some development work over a fixed term of about two years. This is the company's first contract in the chrome mining sector and it is currently ahead of its contractual obligations for Phase I.