News
Leadership changes
Stephen Pell resigned as managing director of Murray & Roberts Construction with effect from 31 December 2005, following a rearrangement of executive responsibility in the SADC construction activities.
Executive director, Sean Flanagan, who holds corporate responsibility for Murray & Roberts Construction has stepped in as interim CE of the company.
Sean maintains his corporate responsibility for Murray & Roberts Cementation and his leadership involvement in the Bombela joint venture for the Gautrain project. A formal selection process is underway to appoint a managing director for Murray & Roberts Construction.
In addition to his other responsibilities, Keith Smith assumes corporate responsibility for the Groupís construction operations in Botswana, Namibia and Tanzania.
NEW APPOINTMENTS
Bruce Neave joined Murray & Roberts in June 2005 as a project director with specific responsibility for the Dubai International Airport and submarine pipeline and infrastructure works in Malaysia.
Bruce is an Australian Chartered Civil Engineer with more than 30 yearsí experience in the management, construction and delivery of major civil engineering projects.
He has been project manager on a number of successful joint venture projects for Murray & Roberts in Southeast Asia over the past ten years and has also worked in China, Australia and Pakistan.
Andrew Fanton joined Murray & Roberts in October 2005 and will lead the Cape-based construction activities, reporting to Sean Flanagan.
Andrew was born in South Africa, schooled in Australia and has had expansive project management experience in the civils and building markets in the Middle East and South Africa.
Before joining Murray & Roberts, he was a project manager for the Dubai International Airport terminal 3 civil contract.
Tyron Botha joined Murray & Roberts in October 2005 and will champion a new Health & Safety initiative.
Tyron completed an MSc Chemical Engineering degree in 2003, with a focus on Environmental Process Engineering and the life cycle benefits of renewable sources of energy within agricultural sectors.
He began his career at a global environmental firm conducting quantitative risk assessments for large corporations in the oil & gas, manufacturing and chemical industries.
Murray & Roberts JD Roberts Award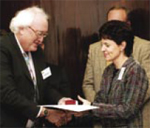 Murray & Roberts executive
director, KeithSmith, presents to
Dr Sharon Bierman
The 2005 JD Roberts Award was won by Dr Sharon Biermann. The award recognises Dr Biermannís research contribution to public sector infrastructure investment and development spending, focused on integrated land use, infrastructure planning, land suitability assessment, development prioritisation and spatial infrastructure economics.
Sharon Biermann is a geographer and leading expert in sustainable urban development. She has a PhD in Geography and has made a significant contribution to creating a better understanding of the challenges of low-cost and affordable housing in a rapidly urbanising South African environment.
She has won many awards for her work and was a finalist in the 2004 Woman of the Year award.
The annual JD Roberts Award is sponsored by Murray & Roberts and is held in partnership with the Council for Scientific and Industrial Research (CSIR). The award was instituted by Murray & Roberts in the late 1970s in remembrance of one of the Groupís founding fathers, Dr J D Douglas Roberts. It recognises and promotes competitive and environmentally sustainable solutions to human dilemmas and encourages scientific research into technology that will enhance the quality of life of all South Africans.
Douglas Roberts was a doyen of the construction industry in South Africa, well known for his entrepreneurial flair and passion for seeking and trying new techniques and ways of doing things. It is in this spirit that the JD Roberts Award takes place annually, recognising talent and research within the CSIR.