Cover story
BIG LEAGUE
As South Africa enters a period of unprecedented economic growth, Murray & Roberts has secured a leading position in the implementation of a host of major projects awarded in recent months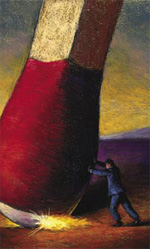 The commitment by the South African Government to invest in primary infrastructure has delivered new opportunity to Murray & Roberts and its partners. Gautrain, the demonstration nuclear power plant for PBMR, Vresap pipeline, the Coalink locomotives project and Eskom's expansion programme are major projects in which the Group is contracted to play a key role and which represent more than R100 billion of gross fixed capital formation over the next five years at least.
The Group's global prospects are also good, due largely to growing global demand for new sources of energy. CE Brian Bruce reported in the 2005 annual report: "For the first time in recent memory all our target markets are showing signs of sustainable growth potential."
Murray & Roberts is pursuing a number of major opportunities in the specialised global markets of deep-level mining, oil & gas and power & energy, while major engineering and construction projects in the Middle East, such as the Dubai International Airport, account for much of the Group's current order book outside Africa.
In anticipation of these domestic and global opportunities, Murray & Roberts has implemented a strategy of building critical mass, gearing up capacity and benchmarking global best practice in order to meet its commitment to sustainable earnings growth and value creation.
The acquisitions of Cementation and a 46% interest in Clough have strengthened the Group's position in the key global natural resource markets, while Concor and Oconbrick will expand its domestic capacity.
POWER TO TRANSFORM
Major projects have been of fundamental importance in the 104-year history of Murray & Roberts. The Group has been involved in some of the most significant infrastructural developments in Southern Africa – and each has had the power to transform. "You cannot come out of a major project and expect to go back into a cocoon," says Brian.
"After each major project, we have been valued differently, either because we have delivered world class performance or because the project has had the capacity to almost destroy us. Gautrain and the Dubai Airport both have the capacity to change us and we have to be prepared for that."
The international definition of a major project is one which exceeds the inherent capacity of an organisation to manage it alone. "We know from our history that major projects carry opportunity and risk and our ability to extract increased value from future activities will be influenced by the way clients, contractors, suppliers and labour adjust to the changed dynamics, and what we see as a temporary shortage of capacity."
Conditions have changed dramatically since the 1960s and 1970s when South Africa last saw such a strong pipeline of major projects. Those were the days of isolation, when South African engineers built an enviable reputation for getting things done, come hell or high water.
Low levels of investment in infrastructure during the past two decades have eroded capacity in the domestic construction industry. Professionals have tended to drift to other career options, clients of contractors have reduced internal capacity and many contractors have experienced financial difficulties.
"The result has been a proliferation of joint ventures between contractors and major projects have tended to be parcelled into small contracts to accommodate the capacity of the industry, but that increases the challenge of integrating a project," explains Brian.
In recent years, South African companies have globalised at a rapid rate, entering an environment where they can select projects from a range of alternatives which differ according to diversity of geography, technology, complexity and human capital. In the burgeoning resources market, where there is massive demand and limited global capacity to deliver the number of projects required, some contractors grab at every opportunity instead of factoring in the opportunity cost of doing a different project at lower risk. Success is increasingly a product of making the right choice.
Conversely, global contractors have built up enormous capacity to undertake major projects by themselves. Yet, in the United Kingdom, it has been found that 80% of all major projects fail to deliver within the required parameters. The Major Projects Association at Oxford University, with which Murray & Roberts is affiliated, has conducted research to determine the reasons for this trend.
MANAGING RISK
"Risk management will be at the top of the construction industry's global agenda for the next decade," says Brian. "We are seeing a lot of consolidation within the industry and the risks are increasing. At Murray & Roberts, we have set up a formal risk management process to assess each project."
An opportunity management system has been developed to control the project approval process. All projects tendered are evaluated against a number of criteria and flagged red, green or amber. A scorecard approach then determines which projects can proceed, which must be dropped and which can proceed only with rigorous monitoring. A steering committee monitors each project constantly.
To ensure consistent project delivery, the Group is implementing an enterprise resource planning financial management and consolidation system which is supported by standardised project management systems.
Human capital development is regarded by Murray & Roberts as a key element in the management of risk.
"In our experience it is difficult to solve problems through outsourcing – you have to have internal expertise. Where we have been in control of a project, it has typically succeeded. In cases where projects have been in crisis and we have relied on others for specific expertise, they have sometimes failed to deliver because of differing priorities," says Brian.
"Project leaders who understand the industry and nature of projects can make the difference between failure and success. The outcome of a project has often been turned around simply by changing leadership."
A number of new executive appointments across the Group and an active recruitment programme to attract expatriate South African construction executives are designed to build domestic implementation capacity. In South Africa, the Group has renewed its training and development activities to address skills shortages.
Ultimately, effective risk management requires executive leadership capable of overseeing the full impact of enterprise-wide risk.
"For the first time in recent memory all our target markets are showing signs of sustainable growth potential."
PARTNERSHIPS
Murray & Roberts has a good track record of successful partnerships. However, there are times when it may not have the opportunity to select its partners in a project, as a result of client or BEE requirements.
"We look for certain basic characteristics in a partner, such as knowledge of a local market or culture, even if this severely restricts the pool of partners from which we can choose. Only then can we proceed to the other dynamics of a project."
Brian says he is confident about the choice of partner for the Pebble Bed Modular Reactor and Gautrain projects, although he concedes that errors were made with the empowerment partner for Gautrain. "We did not apply the same rigour to the dynamics of our BEE partner and that is being corrected now."
The building and maintenance of strong relationships with major clients in key growth sectors is reflected in the Group's order book, where much of the work secured is repeat business. Even so, Murray & Roberts evaluates the risk status of all its clients on an ongoing basis. "Some clients fail to understand the partnership return on a major project. We will walk away from a project if we consider a client to be high-risk."
ACQUISITIONS
Construction
Concor
The acquisition of 100% of Concor was concluded in December 2005, conditional upon approval by the Competition Commission.
All other regulatory requirements have been fulfilled.
Murray & Roberts executive director Keith Smith will assume corporate responsibility for Concor once the transaction has been completed.
Construction materials
Oconbrick Manufacturing
Murray & Roberts has acquired an 80% shareholding in leading brickmaker, Oconbrick Manufacturing for a consideration of R96 million.
The company is the third largest supplier in its market and, together with Harvey Roofing, forms the core of the Group's strategy to serve the developing affordable housing market in South Africa.
Oconbrick produces more than 300 million bricks per annum from two plants at a single location in Gauteng.
The company produces stock and face bricks, the latter of which are commonly referred to as semi-face bricks.
The clay brick market represents 56% of the masonry market in South Africa (the remaining 44% consists of concrete bricks and blocks), of which 65% are stock clay bricks and 35% are clay face bricks.