Acquisitions
CLOUGH GETS BUSY
Murray & Roberts has increased its investment in Clough to 46%, confirming its commitment to the listed Australian engineering contractor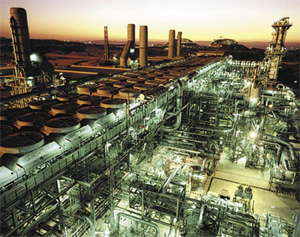 Woodside Expansion Phase 4
The decision to acquire a strategic interest in Clough Limited was in line with a strategy adopted by Murray & Roberts in 2002 to leverage its expertise and experience in the extraction and beneficiation of natural resources by expanding across the southern hemisphere.
"A search was launched for appropriate partners and Clough was identified as a suitable candidate in Australia," says Norbert Jorek, Murray & Roberts executive director and a director of Clough.
Clough was an ideal acquisition target because of the leading position it had established over 25 years in the offshore oil & gas market, particularly in Western Australia.
"The investment brings unique and complementary skills to Murray & Roberts and it offers Clough access to the oil & gas markets in southern Africa and the Middle East. It enables Murray & Roberts to combine its expertise in mining and minerals with the skills and resources of Clough in Australia to pursue opportunities with major mining houses there and in Southeast Asia."
This has already delivered results, with Clough and Murray & Roberts participating in a joint venture to become the EPCM (engineering, procurement and construction manager) for Boddrington Gold Mine in Western Australia – currently the single largest gold mining project in the world.
The relationship with Clough also relieves Murray & Roberts of the complexities of finding local partners in foreign projects. Clough, as the local presence, has people on the ground and experience in construction management in Western Australia. It also understands the local challenges of industrial relations.
Clough has experienced problems with an EPIC (engineer, procure, install and commission) oil & gas project in the Bass Straits where the client has drawn-down two on-demand performance bonds to the value of A$39,8 million against alleged damages, resulting in a cash flow deficit for Clough. Murray & Roberts identified this risk in due diligence and its increased investment has helped to stabilise the company as it seeks a solution by arbitration.
"We now have a stronger influence and in recent times there has been a noticeable increase in the level of interaction," says Norbert. This, in turn, has resulted in the joint pursuit of new opportunities in Africa, Australasia and the Middle East, he says. The largest of these is the A$150 million Maari offshore oil & gas project in New Zealand.
Murray & Roberts has provided support to Clough in the upgrade of its systems management and the benefits are already being felt at the Maari project.
If anyone doubted that Murray & Roberts' buy-in to Clough was a good investment, then those doubts are answered by Clough's annual revenues for the current financial year of A$1 billion – approximately R4,5 billion, which represents slightly less than 45% of the current annual turnover of Murray & Roberts.
BY EAMONN RYAN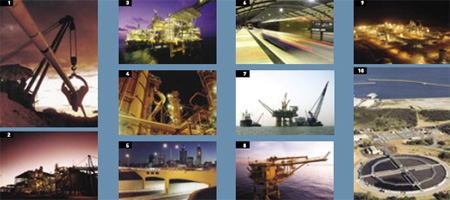 1 Midwest Pipeline 2 Phosphoric Acid Plant 3 BayuUndan Completions 4 PNG Oil Refinery 5 Graham Farmer Freeway 6 Brisbane Northern Busway 7 Hazira 8 UCU Alliance 9 Sawam 10 Woodman Point Environmental