Sustainability
ENERGY EFFICIENCY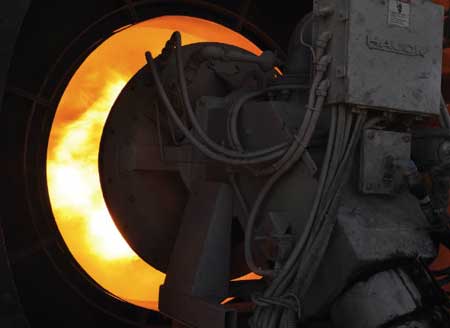 New Oil-fired burners have improved energy efficiency
Plant upgrades at Much Asphalt production sites have resulted in significant improvements in energy efficiency and reduced the company's carbon footprint.
Much Asphalt has, for the past decade, monitored its energy usage at all of its production sites with a calculator that determines specific energy consumption in kilowatt hour per ton of asphalt produced.
The Specific Energy Calculator, which enables Much Asphalt to benchmark itself against global asphalt producers, identified the company's dependence on fuel oils in its heating and drying processes (fuel oils represent 75% of the total energy bill). The calculator also pinpointed less efficient sites, with some running at 8,5 litres/ton of asphalt produced (compared to the average of 7,3 litres).
Two of these sites are among the higher production sites in the company and were selected to undergo an upgrade programme, including the installation of two new oil-fired burners imported from the USA that give the operator full control over the necessary parameters to ensure efficient combustion. Since their installation, the two sites have recorded a 22% improvement in fuel usage efficiency and a total saving of 7% for the company.
The effect of this improvement on the carbon footprint has also been noticeable. A saving of 7% over the past financial year has resulted in 1,03 million litres less fuel used, which is equal to 1,44 kg CO2/ton less emissions than in the previous year (a 5% reduction).

1,03 million litres less fuel used = 1,44 kg CO 2/ton less emissions

The cumulative average fuel consumption in Much Asphalt reduced from 7,35 litres/ton of asphalt produced in 2010 to 6,86 litres/ton in 2011.
INDUSTRY PERSECTIVE
The Big Picture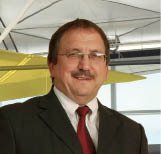 Much Asphalt CE Phillip Hechter shares his views on the bitumen shortages that are stalling road construction in South Africa
It is a well known fact that the increase in public sector investment in the development of South Africa's infrastructure has resulted in substantial growth in demand for construction materials.
One of these materials is bitumen which is used to produce asphalt for road construction and is a critical component in the government's national programme to construct and maintain roads and airport runways (approximately 90% of local bitumen supply is used in government funded road and runway projects). However, in spite of its strategic importance, the road construction sector has been plagued by continuous interruptions in supply since the increases in public sector infrastructure investment commenced in 2007.
As the largest commercial supplier of hot and cold asphalt products to the road construction sector in southern African, and a key participant in the Government's road development programme, bitumen is the lifeblood of Much Asphalt. And yet, our business has been experiencing supply shortages of about 20% on average and in some months as much as 35% of demand over the past five years. We have been forced to divert scarce supplies to plants that are supplying the Gauteng Freeway Improvement Programme, to the detriment of our customers with less critical projects.
This crisis has been compounded by factors for which there appear to be no clear short-term resolutions. Bitumen is supplied to the local industry by four oil refineries. The primary purpose of these refineries is to manufacture petrol and diesel fuel from the crude oil they import and the residue from the crude oil refining process is used to manufacture bitumen. Because bitumen supply represents a relatively small part of their business, there is a concern that it is not in the interest of the refineries to invest heavily in the upgrade of their bitumen manufacturing and distribution facilities. The consequence is that the facilities are shut down for maintenance with increasing frequency.
In recent weeks, the protracted strike in the petroleum industry has placed even greater pressure on the production and distribution of bitumen, with three of the local refineries supplying limited quantities of the product and one due to shut down for planned maintenance between August and October.
Shortages of 20% on average, increasing to 35% in some months, over the past five years
The bitumen shortages have far-reaching consequences: They result in delays in road infrastructure projects which, in turn, impact the economy and the businesses that participate in the road construction sector. Our business has lost many production shifts over the past 24 months as a result of bitumen shortages. The shortages increase the cost to taxpayers if contractors are able to negotiate contract extensions and all road users experience the impact of ongoing deterioration of the condition of South African roads.
In an effort to lessen the impact of bitumen shortages, Much Asphalt has had to take steps to diversify its source of bitumen, particularly to reduce its reliance on the refineries. We have the best interest of our customers at heart and will resolutely and aggressively seek alternative sources of this vitally important strategic material in order to ensure continuity of asphalt supplies to our clients.
New Appointments
| | |
| --- | --- |
| | Kevin Gallagher has succeeded John Smith as CEO of Clough, Australian-based engineering and construction company in which Murray & Roberts has a controlling interest. Gallagher brings 20 years of experience in oil and gas operations to the position, including 13 years of experience with Woodside Energy, where he led oil and gas operations in Australia, the USA and North and West Africa. He was previously executive vice president, North West Shelf Business Unit and CEO of North West Shelf Venture at Woodside. |
| | Frank Saieva (51) joined Murray & Roberts and was appointed to the executive committee on 1 July 2011. He has executive responsibility for the Engineering businesses in SADC, including the Power Programme. Frank has a Bachelor of Engineering (Mechanical) degree and joins Murray & Roberts from the Aveng Group, where he was MD of the Engineering and Projects Company. |
PETER ADAMS (62)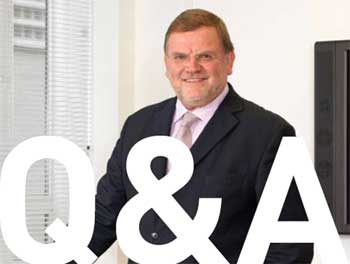 Qualification: FRICS (Fellow, Royal Institution of Chartered Surveyors) Position: Chairman of the individual businesses in the Cementation Mining Group which are coordinated from London; Chairman of the Cementation Joint Coordinating Committee
What are the most important milestones achieved since you started in this position:
Safety is at the forefront of everything we do and our journey to zero harm shapes the way we do business. The Cementation Mining Group has achieved record growth in terms of turnover and profit in recent years. The decision to combine the businesses has proved to be a sustainable business model, producing the desired effect of leveraging the Group's global position by developing relationships with long-term clients and establishing a footprint in some of the world's largest mines. The creation of the Cementation Joint Coordinating Committee (CJCC) has broadened the Group's counsel and constituency, contributing to improved communication within Cementation and the broader Murray & Roberts Group, and achieving greater support for important strategic decisions.
What are the key challenges in your area of responsibility:
One of our big challenges is securing resources for our projects and business and ensuring we have the right people in the right positions. Fortunately, we have some of the best leadership resources in the world running the individual businesses in the Cementation Mining Group and this tends to ensure that other key challenges such as risk management (including safety) are effectively addressed. Another big challenge is securing capital to support our future growth plans and the CJCC has been critical in securing buy-in from Murray & Roberts at important stages of our development.
What drives you:
I am driven by people in my area of responsibility experiencing success, and by being able to facilitate that success by understanding the challenges in the business and helping to find solutions.
What are your main interests afterhours:
My family – I travel a great deal and this makes me truly appreciate the time I spend with my family. Rugby – I am English and I support my national team but I also follow my son's professional career in rugby. He has played for top teams in England and France and will soon be joining the Rugby Club. (Rugby is a town in England credited as the birthplace of the sport.)
Who has influenced you most in your life:
My wife. She has always supported me in everything I have done and has helped me make difficult decisions about my career and on our future as a family. She never complains, and has followed me all over the world, including some less pleasant locations.
CEMENTATION
STRONGER TOGETHER
The Cementation Mining Group is leveraging its combined global capacity to access new markets and significant opportunities that the individual operations may not have been able to undertake.
The business is well positioned to benefit from ongoing global demand for natural resources, driven primarily by China.
The operations in South Africa, North America and Australia have all secured new contracts in the past year and continue to work on large long-term contracts. Cementation Sudamerica has pre-qualified for its first major shaft projects in Chile, and is well placed to participate in the shaft construction activity which is planned to commence during 2012, including two shaft sinking projects and a development contract for Chilean state mining organisation, Codelco at Chuquicamata, the world's largest copper mine.
Cementation is also considering acquisition or partnership opportunities to strengthen its presence in Australia and expand further afield into China and Southeast Asia.
Cementation's combined capacity is contributing to more effective safety processes and increased strength in engineering, raisedrilling and contracting.
GENREC/TOLCON
SAFETY FIRST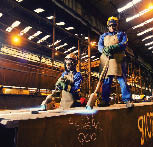 Genrec achieved two million man‑hours without a lost time injury on 12 August 2011. Genrec's previous LTI record was 1,2 million man‑hours in March 2010.
Tolcon celebrated its first LTI free quarter in August.
OPPORTUNITY CALLS
As the Dubai construction market flounders, significant new opportunities are opening up in the oil-producing countries of Abu Dhabi and Saudi Arabia, and in Qatar.

Murray & Roberts (Contractors) Middle East successfully handed over the R6 billion Zayed University project on schedule in July. The design build contract for Mubadala in Abu Dhabi involved construction of a complicated space-age roof.

Construction of the St Regis hotel, resort, and conference centre on Saadiyat Island is near completion and the operation is pursuing a number of other major opportunities in Abu Dhabi, including:

Abu Dhabi International Airport's New Midfield Terminal, in partnership with Hilalco-Wade Adams
Two major packages associated with the airport's expansion project, which include 36 km of roads and a major interchange
The Louvre Museum, one of three museums to be built on Saadiyat Island • A new Four Seasons Hotel and a large helicopter base in Al Ain
SOCCER WORLD CUP OFFERS OPPORTUNITY IN QATAR
Murray & Roberts in the Middle East has formed partnerships with other contractors and appointed a regional manager in Qatar to position itself for major opportunities associated with the 2022 FIFA World Cup in Qatar. The Group built the ultra modern Sports Training Complex Aspire which was successfully handed over for the Asian Games of 2006 and its experience in road and rail transport infrastructure in southern Africa is likely to prove invaluable. Key opportunities include the Qatar Public Works Authority's New Expressway Programme and the Doha Metro Rail System. Stadium projects will follow in three or four years.
GROWTH IN SAUDI ARABIA
Murray & Roberts has gained considerable experience in Saudi Arabia and currently has 20 senior project personnel working on a service tunnel contract for the Jeddah Airport expansion project and a major cultural centre in the Eastern Province. Plans are underway to develop existing operations by partnering with local contractors.