A NEW FORCE IN CONSTRUCTION
Murray & Roberts has merged its construction businesses, Murray & Roberts Construction and Concor, to form a super-construction company.
Based on its combined annual turnover of R6,5 billion, the merged entity, Murray & Roberts Construction, is one of the largest local construction companies in the African construction sector.
MERGER BENEFITS
• Stronger brand
• Shared services
• Effective core service offering
• Positioned for Africa
The two operating entities will function within the new company through seven operating divisions: Murray & Roberts Buildings, Murray & Roberts Western Cape, Murray & Roberts Plant, Concor Civils, Concor Engineering, Concor Mining and Concor Roads & Earthworks. These divisions will continue to grow their respective business segments, now boosted by the combined muscle of the previous companies' shared services.
Murray & Roberts Plant will support all the operating companies and in time, the central back office support functions, such as accounts, IT and payroll will also be consolidated.
To identify long-term and larger projects a Special Project Development division has been created and will function across all operating businesses to provide the marketing, tendering and engineering design skills that often exceeded the budgets of the former operating businesses.
Tolcon will operate as an independent company within Murray & Roberts Group but will receive appropriate support from Murray & Roberts Construction.
Construction News
Murray & Roberts Construction has entered into a joint venture with WBHO, Raubex and Halls Inglis as one of two recently appointed SANRAL consortia to put in a 'best and final offer' for the proposed Winelands Toll Road, which will see the upgrading of the N1 and N2 in what will be the biggest road contract ever undertaken in South Africa. The JV represents a strong construction grouping and will be supported by Concor Roads& Earthworks on this major project.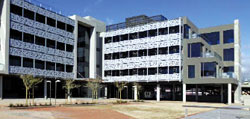 Engineering consultancy Aurecon's R130-million office building in Century City, Cape Town, is the first building in South Africa to achieve a five-star Green Star South Africa rating from the Green Building Council of South Africa. Murray & Roberts was the main contractor on the building project which was completed in July. The 7 000 m2 office block is also the first certified building in Cape Town and only the fifth in South Africa to achieve Green Star accreditation from the GBCSA. The previously rated buildings all achieved a four-star rating.
Nigel Harvey at the helm

Nigel Harvey
Newly appointed chairman of Murray & Roberts Construction, Nigel Harvey has assumed executive responsibility for the merged operation.
With a 30 year career in Murray & Roberts, Harvey was previously MD of Murray & Roberts (Contractors) Middle East. Before moving to Dubai, he was responsible for the building construction activities of Murray & Roberts in South Africa and Africa. He was appointed a director of Murray & Roberts Limited on 1 July and a non-executive director of Clough Limited in April 2010.
Commenting on the construction merger, Harvey says it will result in a stronger brand and a more effective core service offering, and will position Murray & Roberts to take advantage of business opportunities throughout Africa.
Future growth will be sought through acquisition. "We feel that now is the right time in the market to grow acquisitively and we will focus largely on expanding our roads and civils capacities in the Western and Eastern Cape."