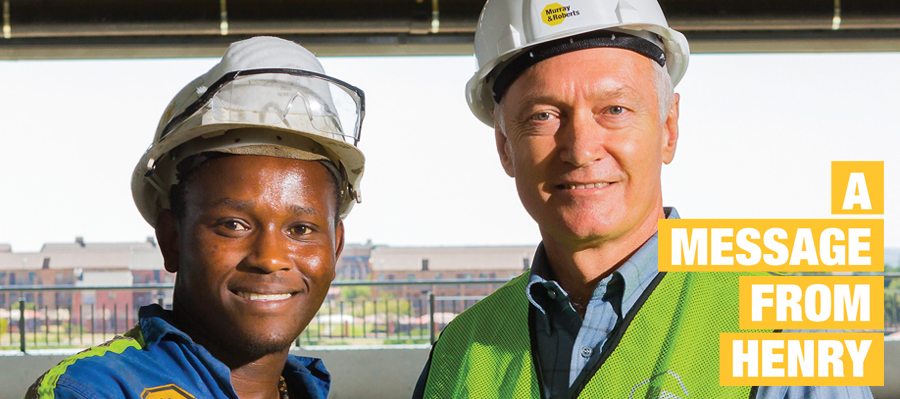 A MESSAGE FROM HENRY
Welcome to the fi rst edition of Robust for 2016! I trust you had arestful break during the December holiday period.

In my regular feature article in Robust, I generally update you about the most important news from across the Group over the past six months. In this issue of Robust, I decided to do things differently – I wish to dedicate my feature article to the employees of Murray & Roberts. Before I do that though, I would like to start off by making a brief comment about our current market conditions.

Murray & Roberts' business is largely dependent on the global natural resources sector. This is the sector we are focussing on, as we believe it presents the best long term opportunities for our Group. We also understand that the natural resources sector is cyclical, and we are currently fi nding ourselves in one of the worst cycle downturns in many years. The persistent weakness in the commodity cycle, low oil price and poor global and domestic economies, are limiting our business opportunities. The trading
environment remains very tough, and market analysts believe that this will continue for another 12 to 24 months.

As we fi rmly believe in our strategy, we will continue to implement our plans and weather this storm by minimising expenditure and improving business effi ciency. This is the focus for all our business platforms and we should also pursue every suitable business opportunity that the market presents to us.

Now for my dedication to the people of Murray & Roberts. It is our employees that make this company great – without your commitment and dedication, it would not be possible for us to become a leading diversifi ed project engineering, procurement and construction group.

In place of the normal feature article, I decided we should publish photos of some of our employees and share their thoughts on what it means to be a part of the Murray & Roberts family.

Thank you for your contribution and hard work during the past year and let's look forward to a safe, productive and profi table new year. Enjoy this edition of Robust Magazine.
HENRY LAAS
GROUP CHIEF EXECUTIVE