Back on Track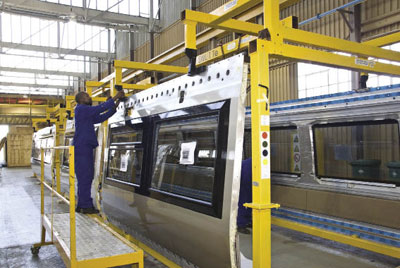 Union Carriage and Wagon (UCW), the primary manufacturer of South African rolling stock, has achieved an impressive turnaround in performance due to significant improvements in the efficiency of its manufacturing processes.
UCW was established in the 1950s and plays an important role in maintaining South Africa's rail transport requirements. It produces the bulk of the country's rail passenger and freight fleets and is best known for building the prestigious Blue Train in 1972 and assembling the Gautrain fleet of 96 rail cars. Murray & Roberts acquired ownership of the business in the early 1990s.
In spite of its importance to the domestic economy, UCW has been plagued by mixed fortunes over the years and was on the brink of ceasing operations a decade ago as Government spending on capital equipment and infrastructural development declined and a major international contract failed.
Overcoming historic challenges
Efficiency improvements at the UCW plant in Nigel have resulted in the company increasing the rate of its delivery of locomotives from one every 37 production days in January 2010 to two locomotives every five production days in January 2011. As a consequence, UCW has now delivered 51 of the 110 19E locomotives (compared to 11 in January 2010) and 32 of the 44 15E locomotives (compared to only three a year ago when the production line was closed and rebuilt).
Managing director, Gary Steinmetz, attributes the achievements to more effective systems, direct shop floor management practices, change point control, training, work instructions, task lists, intensive daily production coordination, logistic control and the implementation of a quality network in 2010 which have resulted in significant improvements in the production cycle.
"With this performance, we can face our clients with a sense of pride – we have delivered on the promises we made in January 2010, not only in terms of volume but also financial performance. Our next step will be to realise the full financial benefit from ongoing efficiency improvements," he says.
The UCW team also delivered the last of the 24 four-car train sets to the Gautrain depot in Midrand amid much fanfare in December 2010.
Gautrain's rolling stock is based on the Bombardier Electrostar series, used on commuter routes in the UK but customised to meet South African requirements. A core feature of the rail cars is their suitability for local assembly, which is made possible by the use of modular construction methodology. This delivers on Gautrain's socio‑economic objectives of skills transfer and job creation.
UCW employed 95 people from its local community and surrounding areas specifically for this project. 13 of the newly created jobs were filled by women and two by people with disabilities.
New Appointments

Henry Laas
Henry Laas assumed responsibility for the Engineering cluster in January 2011 and has also been appointed chairman of the Medupi and Kusile Project Steering Committees.
Henry is a member of the group executive committee as director of Murray & Roberts Limited and Murray & Roberts International Limited. For almost a decade, he has been MD of Murray & Roberts Cementation and its predecessor RUC Mining Contractors. He has been instrumental in the establishment of the Cementation Group as a global business and serves on the Cementation Joint Coordinating Committee (CJCC) and on the boards of its Australian and South American businesses. He will remain a member of these boards and the CJCC.

Chris Sheppard
Chris Sheppard has succeeded Henry as MD of Murray & Roberts Cementation. Chris joins the Group with an extensive operational background in the South African gold and platinum mining industry, having previously worked for AngloGold Ashanti, Anglo Platinum and Lonmin.

Richard Vaughan
Richard Vaughan was appointed MD of Murray & Roberts Concessions in September 2010. He joins Murray & Roberts from Goldman Sachs International and has over 10 years' experience in investment banking, including an advisory role in notable transactions such as MTN's acquisition of Investcom, Transnet's sale of the V&A Waterfront and Anglo American's empowerment of Kumba Resources.