Historic Projects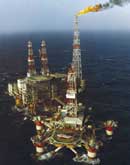 Our Legacy
A focus on major historic projects that have contributed to the reputation Murray & Roberts has developed over the years as a leading world class contractor.
The Mossgas offshore project near Mossel Bay was initiated in the mid 1980s to exploit offshore petrochemical gas deposits. Murray & Roberts, a partner in a subsidiary company, EMSO, was awarded contracts valued at R300 million for the feasibility study and then the conceptual design and project management phases.
The project was completed on time and to the original parameters and was handed over to Mossgas in 1991.
The project achieved a world record in the Guinness Book of Records for the longest length of 8" pipe laid in a 24 hour period.
The offshore project recorded major achievements in engineering, fabrication and installation, namely:
The longest vertical piles in the world which were fabricated and installed offshore in a single length. The piles were 132m long, 82" in diameter, with an average weight of 500 t.
At the time of procurement, the longest semi-submersible pumps ever designed and built in the world. The pumps were immersed 72m below sea level.
The longest directionally drilled beach crossing under the seabed in the world, measuring 1km in length. This was repeated three times to cater for the gas, condensate and effluent pipelines.
The world's first integrated drilling derrick and sub-assembly, engineered, transported and lifted into position in one piece.
The first use of an electromagnetic lifting and percussive tool for the installation of the vertical piles. This percussive tool was specially designed to prevent pile stick-up problems where frequency of the wave action was approaching the frequency of the pile.
The first time that an offshore jacket had been launched in such hostile waters, with constant swell and freak wave conditions.
The project also represented major achievements for South Africa:
The first offshore project in South Africa.
The first major project that was engineered and fabricated in South Africa with a predominance of South African input.
The first project where major structural steel nodes were engineered and fabricated in South Africa.
The biggest steel structure ever built and moved in South Africa. The total weight of the structure was 14 500 t.
South Africa's first concentrated research into offshore environmental conditions, thus establishing parameters for future reference.
Special steel produced for the first time in South Africa and now available for sale on world markets.