HENRY LAAS, MURRAY & ROBERTS GROUP CHIEF EXECUTIVE, HOSTS A TOWN HALL TALK

The inaugural Town Hall Talk was an opportunity for employees across the Group to meet with Henry to talk about various Group issues. There was much to discuss as the Group had accomplished and experienced a great deal during the financial year.
Topics included the challenging market and environment, who we are as a Group after the divestment from the Infrastructure & Building businesses, the major investment by A TON, a German investment fund and the Gr oup's sub-sector move on the JSE.
A large number of employees attended the event and a dial-in facility was offered to those who were not able to attend. A drop box was also provided for anonymous questions.
A number of points were emphasised during the talk: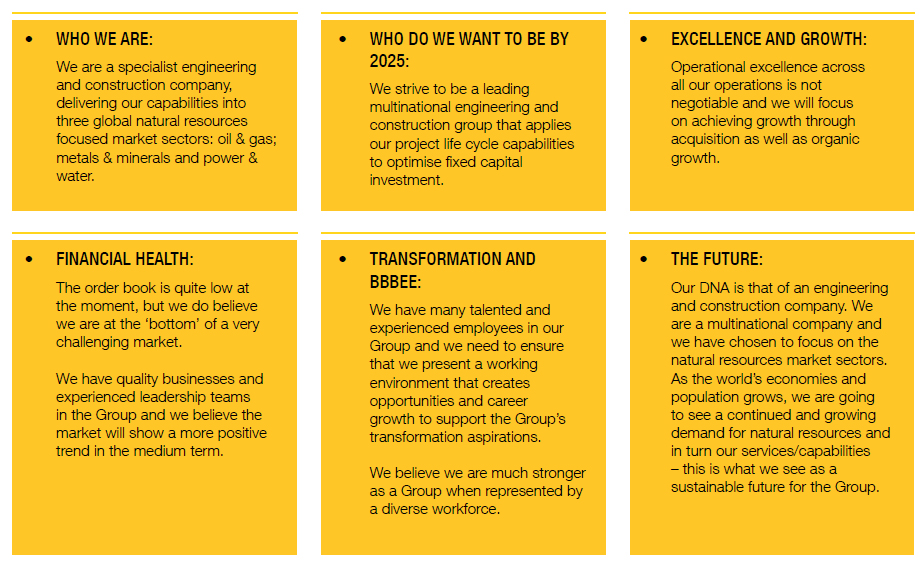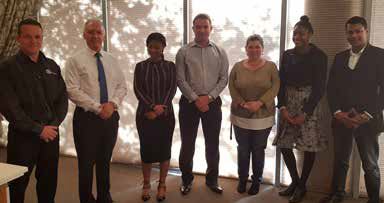 QUARTERLY BREAKFAST WITH HENRY AND DANIEL
Henry Laas, Murray & Roberts Group CEO and Daniël Grobler, Murray & Roberts Group CFO, hosted the first of their quarterly breakfasts during July. The quarterly breakfast is an opportunity for a small group of employees to spend time with Henry and Daniël over breakfast in discussion about topics that are relevant to the Group.

Engineered Excellence, along with our values, is a concept that supports the Group's vision to, by 2025, be a leading multinational engineering and construction group that applies our project life cycle capabilities to optimise fixed capital investment. Says Henry, "Whether we are developing our people or delivering our projects, it is always done to achieve an outcome of Excellence."

To stand a chance of being selected, employees were asked to give their thoughts on what Engineered Excellence means to them. Concludes Daniël, "The breakfast was a valuable experience and we enjoyed the time spent with our colleagues."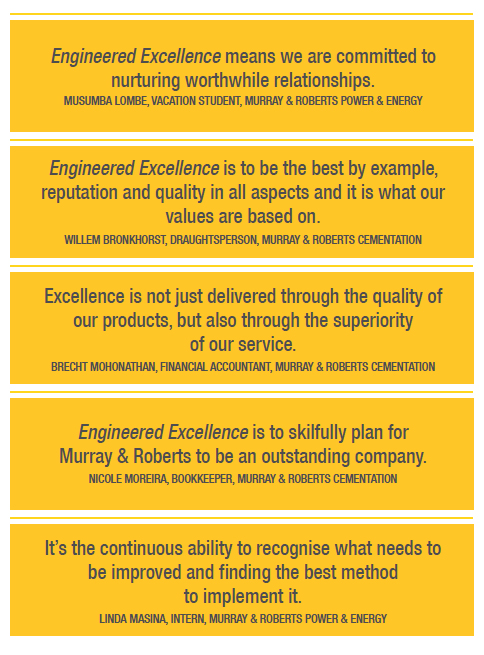 MURRAY & ROBERTS BURSAR REPRESENTS AT THE CONSTRUCTION MANAGEMENT SUMMIT



Ronnie Siphika, a bursary student with Murray & Roberts Power & Energy, participated as a speaker at the 6th South African Counsel for Project and Construction Management Professions Construction Management Summit in Durban.

Ronnie's participation in this year's summit was largely because of his involvement in a number of student organisations at Wits University. He delivered an outstanding presentation to an audience of over 230 construction professionals. It was a notable achievement as Ronnie was the first student ever to be invited to present at the summit.

His presentation emphasised the importance that the industry plays in developing potential leaders within the industry and how vital practical experience is to students in order to impart practical and business skills before they enter the workplace.

Ronnie obtained his undergraduate degree in BSc Construction Studies in 2016 and started as Murray & Roberts' bursar during his second year of study.

TEBOGO MATHEBULA, QUALITY CONTROL INSPECTOR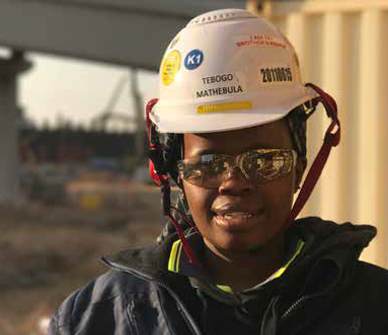 "The road from welder to quality inspector was not an easy one, but with the support of my colleagues and through the development programmes offered by Murray & Roberts, it has been a dream come true and proof that with hard work and dedication anything is possible." -
TEBOGO MATHEBULA, MURRAY & ROBERTS QUALITY CONTROL INSPECTOR

Tebogo Mathebula was employed by Murray & Roberts in February 2012 as a double coded welder.

She attended a number of training programmes offered by Murray & Roberts and applied what she had learnt back on site.

Her skills, determination and dedication to Engineered Excellence meant she was selected to be part of the Quality Control training programme with the South African Institute of Welders.

Tebogo successfully completed the programme and obtained her Quality Control Diploma.

She gained further experience on site, including how to perform inspection activities and being able to confirm the code compliance of a welding procedure.

In 2016 she successfully applied for the position of Quality Control Inspector.

Says Tebogo, "The road from welder to quality inspector was not an easy one but, with the support of my colleagues and through the development programmes offered by Murray & Roberts, it has been a dream come true and proof that with hard work and dedication anything is possible."

MAHLAPE SELLO RETIRES AS MURRAY & ROBERTS CHAIRMAN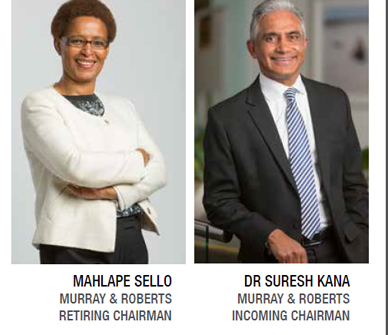 Mahlape Sello will retire as Murray & Roberts chairman at the 2017 annual general meeting.

Mahlape has served on the Murray & Roberts Board as an independent non-executive Director since 2009 and as chairman from 2013.

Says Mahlape, "My time at Murray & Roberts has been both challenging and deeply satisfying. I am indebted to my colleagues on the Board, who have been exemplary in their duty of care and their respective contributions to positioning the Group for sustainable growth and returns for all its stakeholders."

"My term as chairman has at the same time been a formative time for the Group and it is gratifying that my retirement coincides with Murray & Roberts coming of age in its strategic development." continues Mahlape. The Board has appointed Dr Suresh Kana independent nonexecutive chairman. Dr Kana has been a member of the Board
since July 2015.

Concludes Mahlape, "To the executive teams of the Group and the business platforms, and all the people of Murray & Roberts, it is ultimately your talent and dedication that has delivered the Group to this point where the New Strategic Future is a visible reality, notwithstanding the profound change that you have faced and the challenges you have met. I will watch the progress of the Group in the years ahead with much interest and great pride."