BUSINESS PLATFORMS - UNDERGROUND MINING

MURRAY & ROBERTS SECURES MULTI-BILLION KALAGADI MANGANESE CONTRACT MINING PROJECT
Murray & Roberts Cementation was awarded a R4.8 billion, 5-year contract mining project for Kalagadi Manganese in June.

Henry Laas, Group Chief Executive, says "This award will further bolster the recent growth in our global Underground Mining platform order book. This growth is encouraging, considering that the global commodity cycle is still depressed."

Murray & Roberts Cementation is the leading mining contracting company in Africa and has served the needs of the mining industry for more than a century – it offers a comprehensive range of capabilities and services covering the full spectrum of the mining value chain.

Daphne Mashile Nkosi, Executive Chairperson, Kalagadi Manganese comments, "We are excited to partner with Murray & Roberts to further develop our company and realise our production goals".

Kalagadi Manganese has been exploring for manganese in the Kalahari Basin. The three farms on which the company holds new order mining rights are believed to hold some 960 million tonnes of manganese ore.

"The global Underground Mining platform provides specialist engineering, construction and operational services in the underground mining sector. Most key commodities are represented in the platform's order book and current portfolio of projects. In the medium term an upturn is expected in the commodity cycle which will present significant growth potential to the global Underground Mining Platform," concludes Laas.

INNOVATIVE SOLUTIONS TO A TECHNICALLY CHALLENGING PROJECT
Cementation Canada has begun work at the Sifto Canada salt mine in Goderich, Ontario. The project, refurbishment of liners inside two of the mine's three shafts, counts as one of the most technically challenging projects in the company's history.

The concrete liners have sprung leaks, partly because of deterioration due to age as well as ground movement from mining. Cementation Canada presented an innovative solution to the problem.

"Technically, this is a very different project," says Roy Slack, President and Chief Executive Officer, Cementation Canada. "It's not like designing a shaft or shaft liner from scratch, we have to adapt to what's there."

First, a concrete foundation ring will be built into the rock behind the existing concrete liner and will extend 230mm into the shaft, which when complete will reduce the width of the shafts from 5m to 4.5m. After the foundation ring is complete, the new liner which is made of cylindrical steel liners, will be installed.

The steel liners are 38mm thick and each section is 3.1m high. Two sections of liner are welded together on the surface and then lowered into place with cranes. Each two sections welded together weigh 42 tonnes and must then be welded to the section below it.

Each shaft, from foundation ring to the bottom of the shaft, covers a distance of 248m, as they cover the distance, crews will remove the old concrete and replace it with a new 457mm thick liner.

"The salt mine will continue to operate during rehabilitation, and with water continually flowing into the shafts due to existing damage, repairs really have to be watertight." concludes Roy.

The rehabilitation project began in March and is expected to continue for four years.


EXCELLENCE AT MURRAY & ROBERTS CEMENTATION TRAINING ACADEMY

As testament to its philosophy of knowledge sharing in the industry, Murray & Roberts Cementation Training Academy has developed a National Certificate in Occupational Health, Safety and Environment, which has been accredited by the Mining Qualifications Authority. The Academy has also been endorsed by the British Safety Council to facilitate the delivery of the International Certificate in Occupational Health and Safety and also offers a number of additional safety related courses (pictured below) including
Murray & Roberts Cementation SHE Risk Management, Level 1 First Aid Training, Basic Fire Fighting, Incident Investigation and Working at Heights.

The Academy recently exhibited at the A-OSH Expo, Africa's premier occupational health and safety exhibition. Tony Pretorius, Risk Manager at the Academy, explains "We felt that A-OSH Expo 2015 was the perfect forum to introduce the Academy's courses to a wider base of customers. The ability to interact with almost 2 500 risk and safety professionals was an extremely valuable one."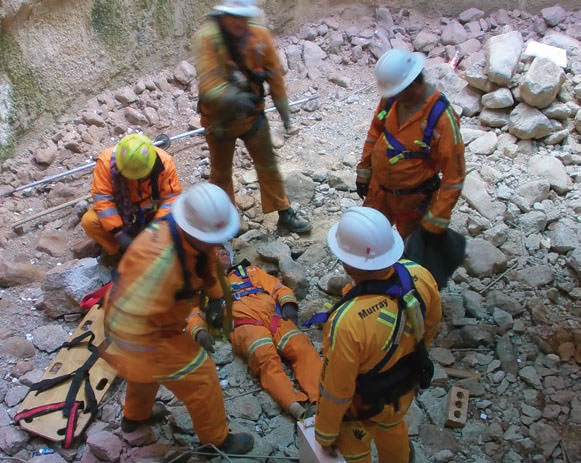 Pretorius says that learners need to be equipped with both theoretical and practical skills in order to appropriately and correctly fulfil their job function in a safe manner. "Unfortunately this is not always the case in the learning environment, where one often finds an insistence on driving theory at the expense of practice. We have therefore customised our learning material in a manner which balances both critical elements in a blended approach."
The Academy's courses are recognised in the industry as being world-class as they successfully apply the experience and lessons gained by Murray & Roberts Cementation across a number of mining applications. "The ability to share our knowledge and expertise in a learning environment and to provide learners with access to our extensive infrastructure, are huge differentiators in the market," concludes Pretorius.

MURRAY & ROBERTS CEMENTATION APPOINTS NEW MANAGING DIRECTOR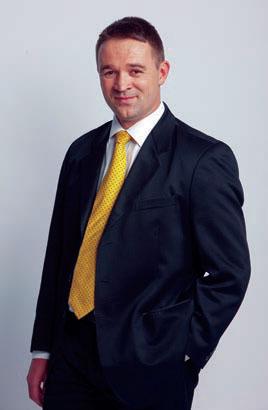 Daniël Grobler succeeds Chris Sheppard as Managing Director of Murray & Roberts Cementation with effect from 1 June 2015.

Daniël has been with the Group for five years, where he has fulfilled various financial and commercial leadership roles. Daniël played a key leadership role in the R2 billion Murray & Roberts rights issue and during the R4 billion acquisition of the outstanding shares in Clough that Murray & Roberts did not already own.

For the past two years Daniël has served on the boards of Murray & Roberts Cementation, Cementation Canada and RUC Cementation as the Underground Mining Platform Chief Financial Officer.

Daniël is a Chartered Accountant with experience in the mining, construction and telecommunications sectors having worked in South Africa, the United Kingdom and the
Netherlands.