Major Projects
Building SA
Gautrain
Murray & Roberts has a leading role in a range of projects to upgrade South Africa's road, rail and power networks. Gautrain and the Medupi and Kusile power stations bear testimony to the Group's significant contribution to the development of world class social infrastructure.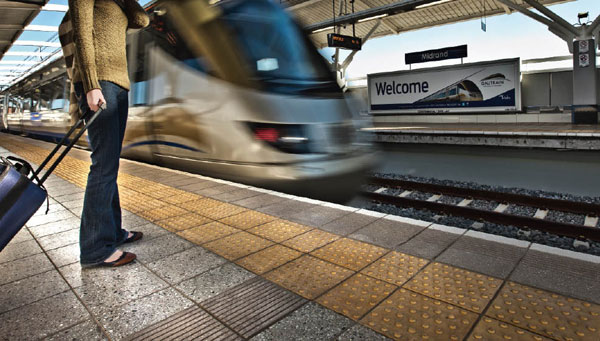 Following the successful opening of the Sandton - OR Tambo Airport Express for commercial service in time for the Soccer World Cup last year, the next phase of Gautrain opened on 2 August this year.
This section extends from Rosebank Station in Johannesburg to Hatfield Station in Tshwane and includes all stations in-between. The Gautrain bus services are also fully functional along this route.
Final phase to Park Station
The final southward section from Rosebank Station to Park Station in Johannesburg CBD will be opened later in the year to accommodate additional engineering works. This is a precautionary measure to ensure that the highest passenger safety standards are adhered to while engineering works are in progress to address water ingress.
Train services operate daily between 05:30 and 20:30 and trains run at 12 minute intervals during peak hours on week days, at 20 minute intervals during off-peak periods and at 30 minute intervals during weekends.
Training
The apprentice training programme at the Tlhalong Centre in Lephalale is achieving good results. The first intake of apprentices completed their trade tests and a 64% pass rate was achieved. The second intake of apprentices is preparing for testing. A total of 406 apprentices are currently in training at the training centre or at site.
3 Million passengers had used the Sandton - OR Tambo Express by July 2011
A public survey conducted in February 2011 indicates a positive public response to Gautrain. The opinion survey shows that:
Gautrain is seen as improving and transforming public transport
Gautrain's leadership is seen as world class
80% of respondents are likely to use Gautrain
Gautrain has a positive, distinctive and recognisable brand
Excerpt from speech to the Gauteng Legislature by Ismael Vadi, Gauteng MEC for Roads & Transport
www.gautrain.co.za
Medupi and Kusile Power Stations
Boiler projects
Hitachi and Murray & Roberts have modified their agreement for the completion of the Medupi and Kusile Boiler Projects. The variation agreement allows for the settlement of all previous disputes and paves the way for a more cooperative approach to the completion of the projects.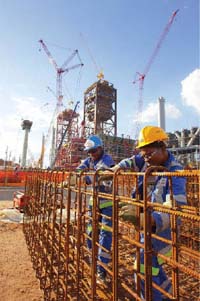 The first boiler unit at the Medupi site (Medupi 6) has been deemed critical to Eskom's needs and the timely completion of this first unit has become the central focus of the project. The erection of structural steelwork is progressing well though early design difficulties continue to slow progress. Critical to timely completion of Medupi 6 is the work carried out on the boiler pressure parts, particularly the water/steam and the fuel firing systems which require tens of thousands of high quality welds. This work is being carried out by a highly skilled team from South Africa supplemented by highly qualified foreign artisans. This blending of teams is designed to ensure that a transfer of skills takes place over time to compensate for the loss of high quality artisan skilled operatives who have left South Africa over the past 20 years.
"Being a welder is not only about fusing material. It requires a lot of intelligence and passion. As a person you must love and enjoy what you are doing. Although I am an apprentice right now soon I will qualify as an artisan. I would like to further my studies and become an engineer one day, and maybe even start my own welding company."
Hendrica Mogale, welder, first intake of trainees for the AATP at the Thlalong Centre in 2008 and a participant in the SA Institute of Welding Young Welder of the Year Competition.
Murray & Roberts is also making good progress on the second boiler at Medupi (Medupi 5). This unit is on the point of commencing the pressure parts erection work which opens up more work faces for Class A skilled operatives. The Kusile project is yet to commence erection work and the estimated start date is September 2011, once the civil engineering contractor has completed the foundations on the first unit.
To date, some 44 000 tonnes of structural steelwork has been fabricated by Murray & Roberts company Genrec and its sub-contractors and some 6 500 tonnes of ducting at the fabrication facilities at Medupi and Kusile.
HEALTH & SAFETY
Putting safety first Safety is one of the key drivers on the power projects and the civil joint venture achieved a major milestone of four million lost time injury (LTI) free man-hours on 27 July 2011. The Medupi project started in April 2008 and to date the joint venture has achieved one million LTI free man-hours sixteen times.

"This achievement would simply not be possible without the determination and dedication of each and every one of our people who believe in and continually strive to ensure a healthy and safe working environment," says Neil Watts, SHEQ executive, Murray & Roberts Projects.

The boiler project has reached over a million man hours worked without a lost time incident (LTI) on three occasions and the lost time injury frequency ratio currently stands at 0,9 per million man‑hours.

Know your status

An HIV counselling and testing (HCT) campaign was conducted on the Medupi site between November 2010 and March 2011. 1 775 employees, including management, were tested on site during this period and 100 counsellors were mobilised for the campaign. Murray & Roberts aims to provide treatment to employees who test positive for HIV, in line with the protocol determined by the Government. This ensures that patients can remain on treatment even if they leave the company.