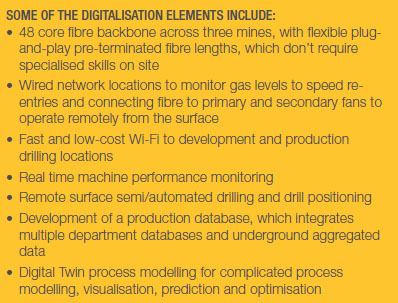 RUC MINING, BRINGING CERTAINTY AND INNOVATION
TO UNDERGROUND MINING

Innovation can be described as the process of translating an idea or invention into goods or services for which your clients will pay. Innovation is also a strategy to differentiate yourself from your competitors and, unless you are trying new things, you aren't learning. And if you aren't learning, you'll surely be left behind.

There is growing recognition that innovation is a key enabler of productivity and will provide a competitive advantage when the resources markets improves. Currently, mining companies are not investing in innovation on a large scale and current innovation initiatives in the sector are focused on "operating a bit faster" rather than being disruptive. Barriers to innovation include technological uncertainty, lack of skills and budget constraints.

For the Underground Mining platform, data and the ability to organise, manage and process it, is rapidly becoming a competitive differentiator. The digital mine is becoming a reality. RUC Mining has begun implementing a digitalisation strategy which aims to improve automation, streamline processes and enable more effective strategic decision-making and analysis.
Digitalisation results in an increase in lower-cost and safer tonnes, a reduction in the number of operators required and therefore site overhead costs, a higher utilisation percentage for equipment with more efficient mechanical maintenance and aggregated and integrated data from multiple sources, which is automatically and visually presented to allow better strategic decision making, all of which bring certainty to underground mining – the RUC Mining ethos.