The global mining and power sectors are experiencing a boom as demand for resources and energy continues unabated. In South Africa, Murray & Roberts has been awarded a leading role in major expansion projects in these sectors
ESKOM CAPACITY EXPANSION PROJECT
Murray & Roberts Engineering Solutions, with its partner ESBi of Ireland, will play a key part in the roll-out of Eskom's five-year expansion programme as one of three companies appointed as engineering partner to the national power supplier.
Two Eskom projects have already been completed and the next assignment, currently under negotiation, is to provide project control services on the Komati Return-To-Service project. Murray & Roberts is also pursuing construction, supply, fabrication and other turnkey opportunities.
Apart from Eskom, Murray & Roberts is pursuing Independent Power Producer (IPP) opportunities in South Africa and other design-build power projects in Botswana, Namibia and Mozambique.
PEBBLE BED MODULAR REACTOR
Power outages have become a common experience for many South Africans as the country's demand for electricity increases at a rate of 2.5% to 3% annually. This trend is placing pressure on existing power infrastructure and it highlights the need for sustainable, alternative sources of energy. The Pebble Bed Modular Reactor (PBMR), which has received the support of the South African Government, offers a cost effective energy alternative that will increase capacity by between 4 000 and 5 000 MW.
Murray & Roberts, in partnership with SNC Lavalin of Canada, is currently involved in the scope definition for the engineering, procurement and construction of the PBMR Demonstration Power Plant. The power plant will make use of advanced Generation lV technology and supply electricity into South Africa's national grid once in service. PBMR will play a crucial role in providing electrical power to communities that are not connected to the national grid. Construction is scheduled to commence in 2007.
SISHEN EXPANSION PROJECT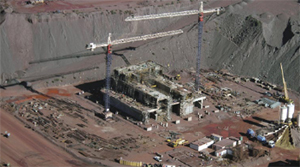 Sishen Expension Project
Kumba Resources' Sishen Expansion Project, in which Murray & Roberts has a major involvement, recently passed 39% completion and is on track to commence production in July 2007.
The brownfield project is designed to increase Sishen Iron Ore Mine's current production of 28 million tonnes per annum by an additional 10 million tonnes to meet growing global demand for iron ore. The project, which is located in the Northern Cape, is being managed for Kumba Resources by the SEP Joint Venture, a 50/50 partnership between Murray & Roberts Engineering Solutions and Bateman.
Murray & Roberts company, Concor, is responsible for bulk earthworks, excavations and extensive earth moving operations, and the major civil packages are being undertaken in a joint venture between Murray & Roberts Construction and Grinaker-LTA.
The project has set a new benchmark in construction safety performance. The on-site safety achievement has exceeded stringent targets set by both Murray & Roberts and Kumba and surpasses the performance set on all previous mega projects implemented by Murray & Roberts Engineering Solutions.
CEMENT
The South African cement production industry is preparing for growth in cement consumption from nine million tonnes per annum in 2000 to an estimated 16 million tonnes in 2010, as the anticipated investment in industrial development and government infrastructure projects becomes a reality.
The main cement production companies are monitoring this growth forecast closely. NPC and PPC have already implemented major capacity increase programmes involving upgrades and new installations, while Holcim is taking up capacity with current upgrades.
The growth in cement production presents an opportunity for Murray & Roberts to leverage its unique understanding of the industry as an implementation contractor.
In November 2005, Murray & Roberts won the contract to design and build a 1 500 tonnes per day new clinker plant for NPC in Port Shepstone, using FLSmidth technology. The plant is designed with an option to increase the capacity to 3 000 tpd.
This is a unitary project involving Murray & Roberts Engineering Solutions, Murray & Roberts Construction and Murray & Roberts MEI, with Genrec as structural steel supplier.
COAL
During the first half of 2006, global demand for thermal coal increased by 15% and led to an increase in spot prices. This prompted a decision to expand the Richards Bay Coal Terminal capacity to 86 million tonnes per annum. The terminal is owned by eight coal exporting companies of whom BHP Billiton (36%), Anglo Coal (27%) and Xstrata (21%) have the largest share of the capacity.
Murray & Roberts Engineering Solutions recently completed a feasibility study on behalf of Xstrata Coal South Africa (XCSA) for a new greenfields colliery in the Witbank coal-field region near Ogies and is continuing to provide ongoing detailed engineering design, procurement and implementation readiness project management services ahead of project approval, now targeted for October 2006. The greenfields Goedgevonden Colliery Project is to be implemented by XCSA and ARMCoal.
In addition to the Goedgevonden project, Engineering Solutions is providing EPCM project management services to XCSA on two other project opportunities close to Ogies, the Southstock 5-Seam project (now in implementation) and the Tweefontein Central Plant project (pre-feasibility stage recently completed).
Xstrata Coal is the world's largest producer of export thermal coal and has interests in 32 coal mines in Australia and South Africa and an exploration project in Canada.