LOOKING FORWARD WITH CONFIDENCE
We recently reached the end of our financial year and looking back, the past 12 months can be characterised as a year of remarkable challenge for the Group, but also one of spirit and tenacity.

It has been approximately 17 months since COVID-19 was declared a global pandemic by the World Health Organization, with the devastating impact of the pandemic
on livelihoods and businesses, including Murray & Roberts, experienced almost immediately and unrelentingly. However, Murray & Roberts and its people are resilient and
we are steadily working to right the bow of the ship. I am starting to believe that the planets are aligning for Murray & Roberts.
I would like to highlight a few themes, which I believe will play a particularly important role in achieving successful outcomes for the Group in the year ahead.

RESHAPING THE GROUP
Over the past few years, we worked to reshape the Group into a multinational engineering and construction group, with a substantial global footprint. Limited investment in the South African economy over many years has spurred this shift. Over the next three years, we expect almost all of the Group's revenue to be derived from our two international business platforms, which have established credible positions in regions and sectors with sustainable growth prospects. Broadening the Group's market focus over the last few years has served us well.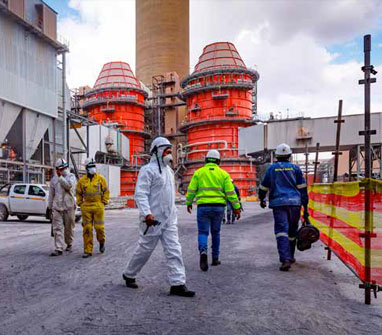 • The Energy, Resources & Infrastructure platform's order book reflects its thriving markets, with Australia leading in infrastructure.
• The multinational Mining platform has done well to protect its order book from deterioration due to the impact of COVID-19. The order book is relatively strong and the near-term project pipeline is robust and growing.
• The sub-Saharan focused Power, Industrial & Water platform continues to face significant challenges to its viability and sustainability. The platform will continue to focus on achieving
stability and sustainability in the next three years, in line with its business plan.

DELIVERING ON A RECORD ORDER BOOK
The consistent implementation of our strategy over the past few years culminated in significant order book growth over the past financial year, with the Group securing a record order book and
significant near orders.

However, project delivery carries inherent risk that increases as order books and project size grow. Given the execution risk associated with a substantial order book, platform leadership must
be focused on Engineered Excellence through disciplined tendering and project execution.

Our philosophy of Engineered Excellence means that nothing should happen by chance – we plan the outcomes we wish to achieve. To fully embrace this thinking, we must bring rigor and discipline to everything we do and remove chance from the results we want to achieve.

UNLOCKING TECHNOLOGY'S POTENTIAL
Murray & Roberts faces the uncertainty of rapid technological advancement to no lesser extent than any other business. We choose to embrace this as a manageable opportunity to remain a contractor and an employer of choice. Critically, our ability to compete depends on staying ahead of the technology curve, both in delivering our projects and attracting the brightest talent, especially among a younger generation of leaders and employees. Unlocking technology's potential to contribute to sustained success is now a heightened priority. We are excited about the role digital solutions will play in our Group as inevitable business enablers.

SAFE OUTCOMES FOR ALL
Achieving safe outcomes in everything that we do is a critical driver of our position as contractor and employer of choice. I am proud of the Group's safety performance, as it compares to some of the best in the world in our different market sectors. We have, however, in the past year noticed a deterioration in our safety performance. Zero Harm is also becoming more of an expectation and the possibility of achieving it is growing among our leaders, managers and employees. In the year ahead, we will continue to contribute to the maturity of our safety culture and work hard to improve our safety performance.

LOOKING FORWARD WITH CONFIDENCE
Even though the planets are aligning for Murray & Roberts, we know there is no room for complacency in delivering on our commitments to our people, clients, communities and shareholders.

Our strategic efforts, especially over the past five years, are starting to bear fruit and the Group is well positioned for strong growth in profitability in FY2022 and meaningful earnings growth in the medium term.