BUSINESS PLATFORM - ENERGY, RESOURCES & INDUSTRIAL

CLOUGH POWERS UP ON AUSTRALIA'S EAST COAST
Clough recently celebrated the award of two engineering, procurement and construction (EPC) projects on Australia's East Coast.

With the company's focus on renewable energy projects, these two awards are a significant contribution to both Clough and Australia's greener future.

In May this year, Clough, in consortium with its partner GE, was awarded the EPC scope for Tallawarra Stage B, Australia's first hydrogen and gas capable power station in
Yallah, New South Wales (NSW).

Tallawarra Stage B will be Australia's first net-zero emissions hydrogen and gas capable power plant, with direct carbon emissions from the project offset over its operational life.

Peter Bennett, Energy, Resources & Infrastructure platform CEO, said, "Clough works closely with its clients to future-proof their assets by focusing on sustainability indesign. We are very excited to be part of Australia's first hydrogen and gas capable power station."

At the peak of construction, the project is expected to create hundreds of jobs and inject AU$300 million to the local economy.Once commissioned, the 300+ megawatt
(MW) plant will start generating electricity for 150 000 homes with only 30 minutes' notice.

The project will address the need for fast-start flexible capacity to complement renewables coming into the system.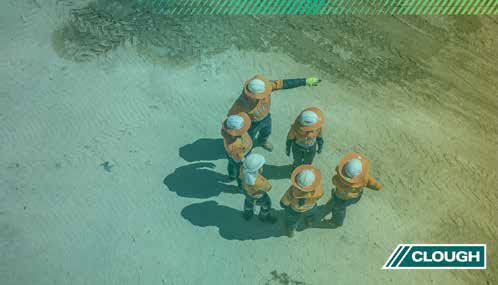 In June, the Clough Elecnor joint venture, SecureEnergy, was awarded the EPC contract for TransGrid's Project EnergyConnect.

Project EnergyConnect will build critical electricity transmission infrastructure, which will save NSW residents AU$180 million a year and create 1 500 new construction
jobs in regional NSW.

Peter said, "This is another significant milestone within the Australian energy-sector that will support the country's commitment to reducing emissions, bringing savings to
local households, creating jobs and a myriad of opportunities for regional businesses."

SecureEnergy is a 50/50 integrated joint venture between Clough and Elecnor. Elecnor is a leading international EPC contractor responsible for delivering some of the largest transmission lines in the world.

TransGrid's Project EnergyConnect is building backbone infrastructure for the future South West NSW Renewable Energy Zone, enabling connection of a further 4 950 MW of generation capacity.

"Together with our delivery partners, we have unrivalled capabilities that will support our commitment to sustainability, as well as the continued transition to new sources of energy in Australia and importantly, a reduction in CO2 emissions," Peter concluded.
BOOTH WELSHLAUNCH ENVIRONMENT 4.0
To reflect the global focus on sustainability and the UN climate change conference, COP26, being hosted in Glasgow in November this year, Booth Welsh launched its Environment 4.0 initiative as an extension of its technology offering.
The UN Sustainability Goals have been developed as a blueprint to a better and more sustainable future for all. They are becoming key drivers of both global governments and business strategy and are reflected in the net-zero aspirations of organisations and countries alongside commitments to reduce reliance on coal, and move towards renewable energy resources and a circular economy. This represents a significant market opportunity for Booth Welsh as businesses seek to reduce their environmental impact, as well as improve their business efficiency in a post-pandemic world.
Booth Welsh technology is utilised globally and has enabled clients to operate in a business-as-usual manner during the pandemic. They have also supported new clients with collaborative technology, and as clients look to reduce travel risk, costs and minimise their carbon footprint, uptake of this technology will grow. Booth Welsh has also delivered mixed reality solutions to a new global client in the maritime industry, supporting its critical remote specialist inspections.
Scotland and the UK Government are investing significant resources to encourage more sustainable ways of operating and Booth Welsh is well positioned to participate in developing funded solutions in this area.

WAITSIA GAS PROJECT
Earlier this year, Clough was awarded the engineering, procurement and construction scope for the Waitsia Stage 2 development in the northern Perth Basin, near the town of Dongara, approximately 350km north of Perth and 65km south of Geraldton in Western Australia.
The Waitsia gas field is ranked as one of the largest gas fields ever discovered onshore in Australia and is forecast to bring significant economic benefits to the Mid-West region. The project includes a new 250 TJ/day gas processing plant with a 20-year life cycle, that will convey gas via the nearby Dampier to Bunbury natural gas pipeline.
Clough, together with the Waitsia joint venture, Mitsui E&P Australia and Beach Energy, marked the occasion with a customary Smoking Ceremony and Welcome to Country, which was performed by the local traditional owners, the Yamatji nation. Clough recently awarded the bulk earthworks scope for the project to Garla Barna Civil & Mining (GBCM), a local Mid-West Indigenous business.
Peter Bennett, Energy, Resources & Infrastructure platform CEO, said, "Clough and the Waitsia joint venture are committed to delivering a high-performing project, while providing opportunities to the local community at every stage of the project." GBCM was established in 2019 as an emerging regional-based Aboriginal services contractor, offering project solutions in Western Australia. GBCM respects the land, the traditional owners and the Aboriginal culture in all the areas in which the company operates. Its intent is to maximise opportunities for Aboriginal people in the construction industry, creating hope and career paths for future generations.
Fred Taylor, GBCM director and shareholder, said, "GBCM is pleased that Clough has provided our company with this opportunity on a project that is being built on our traditional lands. We are excited to be working with Clough in the delivery of this venture and look forward to the engagement this project brings to the Mid-West and the Southern Yamatji people."
Clough's first Reconciliation Action Plan was endorsed by Reconciliation Australia in January 2020 and drives its commitment to create meaningful opportunities with Aboriginal and Torres Strait Islander peoples by providing employment, education and business opportunities.
John Galvin, Clough executive vice president Australia and Asia Pacific, concludes, "GBCM is a local construction business that demonstrates the capabilities needed to perform this scope of work and we look forward to partnering with them on this project.