Sustainability
Environment
MUCH ASPHALT REDUCES CARBON FOOTPRINT WITH NEW TECHNOLOGY
Much Asphalt's warm-mix asphalt plant
Murray & Roberts company, Much Asphalt, is gearing up for the South African National Roads Agency's Gauteng Freeway Improvement Project with new production plants at its Benoni and Pomona facilities that will supply an additional 300 tonnes and 250 tonnes per hour, respectively.
Both are twin drum configurations capable of handling a wide range of different mixes, including efficient use of recycled asphalt, an important requirement in the drive for sustainability of natural resources.
Of particular interest, however, is the plant built by Astec in Tennessee, USA, which is now being commissioned at Much Asphalt Benoni. This installation will allow Much Asphalt to employ foam technology for the manufacture of warmmix asphalt (WMA) for the first time in South Africa. Not only will this enable the company to substantially decrease its carbon footprint, but WMA provides several additional benefits in both asphalt production and paving.
WMA allows the asphalt manufacturer to reduce the temperature at which the material is mixed and placed on the road through the use of either chemical additives or foam technology.

Temperature reductions of up to 30°C are possible, with the obvious benefits of cutting fuel consumption and decreasing the production of greenhouse gases.
"We will be the first South African company to produce WMA using foam technology on a big scale," says Much Asphalt technical director Herman Marais. "Foam technology as a cold process has been around for some time, but has been used to manufacture bitumen stabilised base course material rather than asphalt."
All previous technologies for warm-mix production rely on chemical additives, special bitumen, special procedures or special bitumen delivery systems to reduce the viscosity of the binder at lower mixing and placing temperatures. The additives add significant cost per tonne of mix.
The Double Barrel Green System built for Much Asphalt by Astec eliminates the need for additives through the use of small quantities of water that come into contact with the hot bitumen, generating steam and in turn causing foaming of the bitumen. The volume of the bitumen is drastically increased and the viscosity of the binder is reduced, improving coating on the rock and enhancing its distribution in the mix. The lower viscosity of the binder allows lower than normal compaction temperatures.
BENEFITS
Temperature reductions of up to 30°C are possible, with the obvious benefits of cutting fuel consumption and decreasing the production of greenhouse gases. This will reduce energy costs and the carbon footprint at Much Asphalt's biggest and busiest plant, Marais points out.
In theory, an energy saving of 11% can be achieved with a 10°C reduction in heat. However energy savings of 30% to 35% have been reported due to the reduced heat losses during the mixing operation. Processes where the aggregate is not heated above boiling point of water have savings as high as 34% to 47%.
Operational benefits include an increase in plant production with no increase in the cost of the mix. This can be attributed largely to reduced temperature differentials. The greater the differential between the asphalt and ambient temperatures, the faster it cools off. With WMA this differential is low and therefore it cools more slowly. This allows a longer period for compaction to take place, improves density, and the asphalt can be stored for longer, hauled longer distances and used in colder temperatures.
HAND LAID ASPHALT
Much Asphalt offers best practice workshops on hand laid hot mix asphalt as a value adding service for emerging contractors and local and provincial authorities. "The aim is to establish a uniform, industry-wide standard for high quality hand laid asphalt," says Marais. "The WMA should benefit small hand asphalt projects as the constructability time-window for successful compaction will be extended due to the workability of the mix at lower temperatures. We are also busy with research in conjunction with the CSIR on the use of high recycled asphalt content mixes with the WMA technology that will be aimed at labour based township road upgrades."
INTERNATIONAL ACCEPTANCE
WMA has received much attention world wide as a technology that saves energy and improves conditions for workers and is now being widely adopted in Europe and the USA.
HOW ASPHALT TECHNOLOGY HAS CHANGED

Herman Marais
"Asphalt technology is very much like the fashion industry in that it keeps on repeating itself. We often return to asphalt mixes that were used a long time ago and 'reinvent' them to suit current conditions," explains Much Asphalt's technical director, Herman Marais.
"The warm mix asphalt (WMA) technology, for example, has been around before but was not properly understood and fell by the wayside because of poor performance in the stripping of the binder due to trapped moisture."
In addition to the new Double Barrel Green System for foam WMA production at Benoni, Much Asphalt has the technology to produce WMA using chemical additives at all its plants around South Africa. "We are currently investigating the best WMA technologies for each of our operations," says Marais.
"Major strides have also been made in recent years in modified binders and almost all the asphalt used on high traffic roads is made with modified binders today," he adds. One modified binder that has proven itself well in the past 20 years is bitumen rubber, a blend of penetration grade bitumen and rubber crumbs. The rubber crumbs are graded buffings of old truck tyre casings. The bitumen rubber has environmental benefits associated with recycling of truck tyres, which are generally a major environmental problem.
As a result of the success of the bitumen rubber binder on major freeways around South Africa, it is now being specified for most of the Gauteng Freeway Improvement Project as well as on the Johannesburg Development Agency bus routes.
IMPROVED CONDITIONS FOR WORKERS
Lowering the production temperature will drastically reduce emissions, fumes and odours at the plant and improve conditions for workers. Smoke and smells are eliminated because the light oils in bitumen never reach boiling point.
There is a longer safe window period between manufacturing and placing the asphalt on the road (because it is warm and not hot), which means it can be hauled longer distances. There is less wastage, less haste in getting the product to site and reduced need to set up mobile plants to produce asphalt on more remote sites.
Chemical additives are not used to lower the temperature of the asphalt, keeping the process free of potentially harmful pollutants.
There is also good news in this new development for emerging contractors who do small asphalt projects (driveways, sidewalks, skating tracks, small road repair and surfacing projects) by hand. The WMA is easier to work at lower temperatures and therefore safer and better suited to labour intensive projects.
What are you doing to reduce your carbon footprint? Join Much Asphalt in slowing down global warming and making our planet a greener place.
CSI
BUILDING SUSTAINABLE COMMUNITIES
The last few decades have seen rapid growth in the scale and scope of corporate social responsibility, thanks to an increasing awareness of the role companies play in the development of communities. Murray & Roberts recently launched a campaign to strengthen awareness and employee involvement in its CSI program.
Strategic social investment and responsible business practices are now imperative for companies: by uplifting poor communities today,
companies are safeguarding their markets for tomorrow; by investing in sustainable practices, they are ensuring the future survival of the communities in which they operate.
Murray & Roberts has a long track record as a good corporate citizen and, for over 50 years, the Group has recognised the link between business sustainability and the sustainable functioning of its social surroundings. Corporate Social Investment (CSI) has served as the conduit through which Murray & Roberts realises its goal of positively impacting on individuals and communities.
To increase awareness of its CSI program, Murray & Roberts recently launched a campaign called 'Building Sustainable Communities'. Using a combination of posters and weekly newsflashes, the campaign profiles the work that is being done in communities, through the Group's CSI program. The program prioritises the advancement of quality maths, science and technology education in schools. This is a deliberate strategy aimed not only at improving the quality of education, but more specifically to increase the pool of young people who
take up a career in engineering.
The campaign also highlights the work of the Murray & Roberts Child Welfare fund which has been supporting vulnerable children for more than 50 years.
FACT FILE

DID YOU KNOW?

• Murray & Roberts has supported community development in South Africa for over 50 years.
• We invest R20 million per annum in socio-economic development projects.
• Our CSI activity is strategic and sustainable – focusing on the development of the critical skills needed in construction and engineering.

WHAT IS CSI?

Corporate Social Investment (CSI) is the voluntary investment of time, goods and money by companies into projects that will produce measurable change in communities.
Posters to communicate the CSI awareness campaign
Many Murray & Roberts employees have expressed their interest in CSI activities by volunteering to become CSI champions. In this role, they become a channel between the corporate office and communities in which their entities operate. This enables increased awareness and communication of CSI activities and assists the CSI team to understand the needs of communities.
TERTIARY EDUCATION
SCHOOL SUPPORT
EARLY CHILDHOOD
DEVELOPMENT
ENVIRONMENT
EDUCATION
University of Stellenbosch
JET – North West Schools Development Project
HeadStart Early
Childhood Project
School Environment
Education Development
University of Witwatersrand
SAIMechE Technology Olympiad
Khululeka Community
Education
Food & Trees for Africa
University of Johannesburg
The Maths Centre
Ntataise ECD Network
South African Institute
for Aquatic Biodiversity
University of Pretoria
PROTEC – Tongaat
Penreach ECD
Eco-Access
FET College Construction
TRAC South Africa
Molteno Institute for
Language & L iteracy
Industry Partnership
Science Education Resource Initiative
Old Mutual MTN Science Centre – Gateway
MTN Science Centre – Cape Town
Sci-Bono Discovery Centre
The Lapdesk Company
UP with Science
Partnerships = Impact
Murray & Roberts believes that partnerships and collaboration enable it to maximise its impact on communities. By proactively engaging with NGOs, government, other companies, our
employees and stakeholders in development, we stimulate the multiplier effect and leverage our CSI budget to have an even greater effect on building sustainable communities in South Africa.
Murray & Roberts funds a variety of successful projects with the aim of improving the quality of mathematics, science and technology education.
Because numeracy and literacy are prerequisites to advanced education in maths, science and technology, Murray & Roberts also supports the training and advancement of early childhood development projects. Our business activities unavoidably impact on the communities in which we operate so our focus on environment education enables us to contribute to the sustainability of environments where we operate.
Murray & Roberts also supports several smaller projects including the Bedfordview Community Policing Forum & Tembisa Child Welfare.
In 2010 we remain committed to the national education and social economic development goals and will continue to proactively explore new partnerships in pursuit of good quality education that will lead to long term, sustainable empowerment.
WE ARE THE CHAMPIONS

DID YOU KNOW?

• The Murray & Roberts Child Welfare Fund is run entirely by employee volunteers.
• Murray & Roberts encourages employees to submit applications for funding on behalf of their communities.

Volunteering is an easy, inspiring way to make a difference to the development of the country. The spirit of volunteering is reflected in the values of ubuntu, where people are seen in
relation to others, as part of a larger community.

Employees are the human face of Murray & Roberts in the community. Staff engagement in building sustainable communities is actively supported. Employee involvement activities such as volunteering, payroll giving and staffmotivated funding are a way for us to support smaller organisations that may not necessarily fit with our formal CSI strategy. You can get involved in CSI at Murray & Roberts in a number of ways:

• You are the champions: CSI Champions act as ambassadors of Murray & Roberts in their communities and work to raise employees' understanding of the value of CSI. As CSI Champions, these employees will:
- Assist in identifying new projects for support
- Help the CSI team to support existing projects by participating in events
- Communicate the Group's CSI activities to internal and external stakeholders and clients
• Motivate for funding: Murray & Roberts employees are encouraged to submit applications for funding on behalf of their communities.
OUR CSI STRATEGY

Murray & Roberts has a long track record as a good corporate citizen. We are mindful of the role we can play in contributing to social and economic development in South Africa by building sustainable communities. This is the common theme that runs through our CSI activities.

CSI at Murray & Roberts builds sustainable communities in a number of ways:

• Through our CSI program which makes strategic investments in projects in three focus areas: mathematics, science and technology education; literacy and numeracy education in early
childhood development; and environment education.
• Through Murray & Roberts Child Welfare activities, supporting vulnerable children.
• Through our Letsema Sizwe Community Trust which promotes and enables the social upliftment of designated groups and communities within which Murray & Roberts operates.
• We also make use of other opportunities which arise from our projects, to make a difference in communities.
GET INVOLVED
If you would like to be more actively involved with CSI at Murray & Roberts email: csi@murrob.com.
People
MURRAY & ROBERTS CARES
For many, 2009 was a difficult year. Organisations and households across South Africa felt the financial pressure and stress created by the global recession.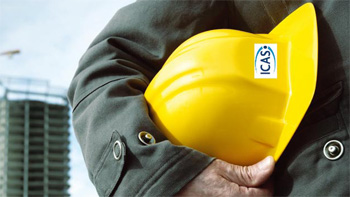 In February 2009, Murray & Roberts launched the Murray & Roberts Employee Wellness Program (EWP) to assist employees with these pressures and stresses in their personal and professional capacities. A significant number of employees have benefitted from the services provided by ICAS's professional staff. These services include 24 hour telephonic counselling, telephonic financial and legal assistance, face to face counselling with a therapist (available nationally), as well as health and wellness information – either online or telephonically.
ICAS gained valuable insight during the first year of service delivery which has informed an improved strategy to communicate the benefits of the EWP service to all Murray & Roberts employees. An ICAS representative will be visiting work sites within the next few months, so please be sure to attend the briefing sessions and engage with the ICAS representative to find out more about how ICAS can assist you and your family.
CONTACT ICAS AT:
Toll free number: 0800 212 772 Sms "please call me" service: 071 119 2463 Email: murrobwellness@icas.co.za eCare Website: http://murrob.healthinsite.net ICAS services are a free benefit provided to all employees and their dependents. Everything discussed with our professionals is confidential.
Developing our future leaders
The top 10 GDP graduates of 2009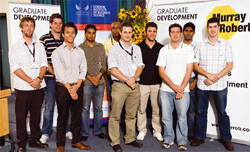 The Murray & Roberts Graduate Development Program (GDP) is an initiative developed to assist young graduates make the transition from a learning environment, where they have received the key to their future, to the working environment where experience is gained.

The focus of the GDP is on skills not necessarily available to learners at the various institutions but fundamental in creating a sound foundation to development in their chosen field.

The program is part of the Group's leadership pipeline approach to addressing human capacity and transformation issues. It aims to provide a steady pipeline of future leaders for the Group.

As it enters its sixth year, the GDP has an ex-bursary intake of 52 graduates, 29 of whom are black and 12 female.

The top 10 graduates of 2009 are Heindrich Albertyn, Christopher Bosman, Jeffrey Chan, Matthew Cross, Mazlan Govender, Michael Koen, Neeleshan Naidoo, Cebolenkosi Ndabandaba, Lloyd Price and Uys Steyl. They will soon depart on a trip to Cape Town where they will visit group companies and projects, including Much Asphalt, Cisco and the recently completed Green Point Stadium.
Awards
WINING AGAINST THE ODDS
SA Tug-of-War Adopt-a-School Project was awarded the 2009 Jack C heetham Award for contribution to sport and community development. (Left to right) Jackson Waweni, B urton B eukes, Johan Moller, Tumiza Nkanunu and Anton Botha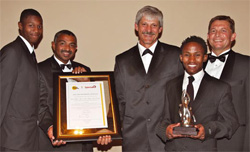 Murray & Roberts introduces new sports development award
The 2009 Murray & Roberts Jack Cheetham Memorial Award was presented to the South African Tug-of- War Adopt-a-School project at a gala dinner in Johannesburg on 20 October.
In partnership with the South African Sports Confederation and Olympic Committee (SASCOC) and Sowetan newspaper, Murray & Roberts selected the development program in recognition of its excellence and significant community impact.
In a surprise development, Murray & Roberts announced the launch of a new annual sports award, the Murray & Roberts Letsema Award, to recognise development projects for sports people with disabilities. The inaugural 2009 Letsema Award was presented to Judo for the Blind and Visually Impaired in recognition of its excellent achievement in the sport and development of visually impaired young sports men and women.
The winners of the two awards each receive prize money of R500 000, payable over five years. A runner up of each of the awards receives R150 000 over three years. These awards are funded by the Letsema Sizwe Broad-Based Community Trust, part of the broad-based BEE shareholder structure established by Murray & Roberts in 2006.
SA Tug-of-War Adopt-a-School project
The project represents the vision of the South African Tug-of-War Federation to transform and develop the sport at schools. Initiated in 2007, the project requires that senior clubs adopt one school annually in their geographic area and develop the sport at the schools. Schools in historically disadvantaged communities are the primary target.
To date, 30 schools in eight provinces are benefiting from the Adopt-a-School project, and plans to establish a core growth area in the ninth province, KwaZulu Natal, have been implemented. To ensure sustainability, the senior clubs remain responsible for the sport at adopted schools and junior participants are mentored by champion players and encouraged to join the senior clubs when they become eligible. This transfers the development at schools to senior levels and it expands the membership base of the sport.
Tug-of-War, a fast-growing sport in 54 countries, is recognised by the International Olympic Committee and is an official event at the International World Games. It teaches children the values of teamwork, discipline and good sportsmanship. At schools it is played in summer and serves as a basis to establish fitness for winter sports. Since the Tug-of-War Federation established the sport at the Gateway Home for intellectually impaired in Gauteng, a significant decline in disciplinary transgressions and general aggression has been reported.
The Adopt-a-School project is contributing significantly to growth in the sport, particularly in the rural areas. Uptake growth of 11% per annum over the past two years has exceeded the federation's expectations and the recent SA Junior Tug-of-War Championships recorded an all-time record of 183 teams participating in the event.
One of the early successes of the project has been the Suurbraak Primary School near Swellendam in the Western Cape. Based in the impoverished rural village of Suurbraak, the school has produced a steady stream of medal winners and a number of champions, including Jackson Waweni and Tumiza Nkanunu, the first black athletes to compete in the SA U/23 and SA U/19 teams (the latter won the Junior World Championships in 2008).
The Suurbraak program is managed by Burton Beukes, deputy principal of Suurbraak Primary School whose personal commitment to the sport has had a profound impact on the community. Suurbraak was the venue of the successful 2009 SA Junior Championships – testimony to the contribution this small village and its people have made to the sport.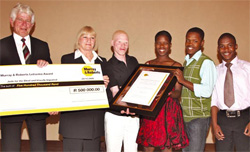 Judo for the Blind and Visually Impaired was awarded the inaugural 2009 Letsema Award for contribution to the development of sports men and women with disabilities. (Left to right) Michael & Lorraine Job, Roresang Lefusa, Nomhla Bhozo, Sipho Langa and Khanyisa Masebeni
Judo for the Blind and Visually I mpaired
In 2006, Mike and Lorraine Job introduced Judo to the Athlone School for the Blind in Cape Town. Judo is one of only a few competitive sports in which the blind and visually impaired can participate fully with sighted players without concessions and, from an early stage in their training, the Athlone pupils were encouraged to compete in ablebodied events.
By 2008, the number of players practising Judo at Athlone school had almost doubled to 68 and now stands at 78. 15 Athlone players represented the winning Western Province team at the first National Championship of the South African Sports Assocation for the Physically Disabled, which was initiated by Mike and Lorraine Job. Five of the Athlone players were selected to represent Western Province in the ablebodied team in their individual weight and age categories. Fourteen-year-old, Khanyisa Masebeni was selected to represent South Africa in the ablebodied national team that toured Japan. He won six out of eight preliminary bouts during the tournament and was awarded the Western Province Sports Award for the Sportsman of the Year with a Disability.
The club has continued to achieve exceptional growth and performance. This year, four of its players participated in the able-bodied national trials for the Youth Olympics qualifying tournament where Namphla Bhozo was placed second and Khanyisa Masebeni third. Five players participated in the South African National Judo Championships and three were selected to participate in the World Youth & Student Championships in the US, where they won a gold, a silver and a bronze medal.
Judo for the Blind and Visually Impaired has excelled because of Mike and Lorraine Job. Both are 6th degree Judo black belts and instructors who have provided 40 years of service and Olympic experience to the sport and are now committed to imparting their expertise to players with disabilities.
Judo promotes spatial awareness, agility and strength, it enhances performance in other sports and is an excellent form of self-defence. These factors help people with disabilities to build confidence in their physical ability and to leave behind an otherwise isolated and often sedentary existence. The program also offers them future career opportunities as coaches.
With additional funding, Mike and Lorraine Job will be able to extend their program to about 600 blind and visually impaired pupils at Athlone School and Pioneer School in Worcester as well as children with other disabilities, such as deafness or intellectual impairment.
The Jack Cheetham Memorial Award was initiated by Murray & Roberts 28 years ago in recognition of the special qualities of Jack Cheetham, a former director of the company and the inspirational captain of the South African cricket team in the 1950s who was able to instill in young people the belief that they could win. The award targets sports development projects, focusing on individuals or teams that have the potential to be champions.