News
Murray & Roberts creates a new major projects EPC contractor
Murray & Roberts has merged its engineering solutions and mechanical, engineering and instrumentation operations to form a larger scale engineer, procure and construct (EPC) contractor called Murray & Roberts Projects.
The new company will serve the industrial market with a focus on major industrial projects in the power, oil and gas, mineral beneficiation and water sectors in the SADC region.
With the mechanical contracts for the major power station projects, Medupi and Kusile, forming the core of its current work, Murray & Roberts Projects has an order book of approximately R8 billion in South Africa alone. The business is strongly positioned in the SADC region by its knowledge of local market conditions, such as pricing, procurement and black economic empowerment.
Cementation Canada sets a new mining record
Cementation Canada has set the North American record for the longest and largest diameter hole raisebored in hard rock at Goldcorp's Red Lake mine in Canada. It was completed in 2007 and is 694 metres in length and 5,52 metres in diameter. Murray & Roberts' mining contracting group has four of the largest raisebore machines in the Americas.
CHILEAN PROJECT MARKS START OF NEW MINING SYNERGY
In 2009, Murray & Roberts expanded its fledgling presence in Chile with the establishment of Cementation Sud America to supplement the established mining contracting operations of 50% owned local company TerraCem.
Murray & Roberts was recently selected as one of the preferred contractors for the shaft design packages at the Chuquicamata mine, in Chile – a development that marks the start of greater synergy between the Group's mining contracting operations in the established mining markets of South and Southern Africa, North America and South America, Australia and Southeast Asia.
Murray & Roberts Cementation business development director, Allan Widlake explains that the copper mines in Chile have reached the depth at which opencast operations are no longer economical and this requires the mines to start underground mining operations. As a result, Chilean State mining entity Codelco has decided to expand some of its larger operations, such as the Chuquicamata mine, into underground mines.
"We were selected because of our experience in the design, engineering and installation of large capacity hoisting systems. This includes the system at Phalaborwa mine, which has one of the largest hoisting systems installed for one of the largest mining capacity systems in South Africa for decades. The hoisting capacity at Chuquicamata will be five times that amount," he says.
While the project will be run by the group's Canada-based company, Cementation Canada, the South African operation will work together with its Canadian company to provide the people and resources for the project, using additional services from South Africa.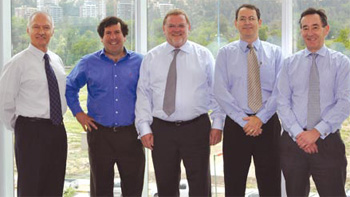 (L to R): Henry Laas (Murray & Roberts Cementation), Raul Dagnino (TerraService), Peter Adams (Murray & Roberts UK ), Roy Slack (Cementation Canada) and Richard Pope (Murray & Roberts UK )
SAFETY BY DESIGN
Krondal Platin um Mine has achieved an impressive safety record of three million fata lity-free shifts.
Almost unheard-of in the mining industry, this exceptional feat has been attained in just under three years, and is attributed to Kroondal's approach to safety as an integral, vital part of the entire business management process and the personal responsibility of each individual.
"Safety and associated safety systems should never be stand-alones," says Koos Oosthuizen, Murray & Roberts Cementation risk executive. "Safety is embedded in every aspect of the organisation and is a natural part of production. It is implicit in our entire business management system and infuses every activity from procurement to rockface and final production."
A number of tightly interwoven factors have led to a major shift in the way that safety is managed at Murray & Roberts Cementation. The "care" philosophy lies at the heart of the new approach. Care stands for Contribute, Add Value, Respect and Energise. It may seem abstract, but it helps employees to recognise the value and importance of each individual and his role in the work process.
"We've moved away from the remote impartial authority concept to more personalised behaviour that is integrated into our three-sided 'procedures/training/ coaching' principle," adds Oosthuizen. "Underlying this is the importance of knowing the individuals who work with and for you. This encourages everyone to become more personally involved in the lives and safety of others."
Complementing the drive to implement the best procedures and systems and to empower each individual is a communication process that promotes and sustains the safety ethic with regular 'safety flash' briefs, cartoon illustrations and considerable informal monitoring.
Information sharing, analysis of accidents, risk assessments and preventative measures form the foundation of Murray & Roberts Cementation's safety strategy
SAFETY CAMPAIGN

The Murray & Roberts STOP.THINK campaign encourages employees to think before they act and to execute work properly the first time. The active participation of management and the labour force in the STOP. THINK campaign, coupled with the active implementation of cardinal rules entrenches the ultimate goal of 'Zero Harm'. STOP.THINK is continually reinforced with personal two-way communication and interaction throughout the whole organisation and is supported by an open door policy. This is further strengthened by a policy of personal identification where each individual in the company wears a name tag to remove the barrier between management and worker.
In addition, the close involvement and interaction between the client, AQP (SA), organised labour and Murray & Roberts, and the clear understanding of each role players responsibility and accountability towards our goal of 'Zero Harm', has played a major role in the implementation of STOP.THINK.
NEW STRONGER BUILDING PRODUCTS BUSINESS EMERGES
Murray & Roberts has merged its building product manufacturing businesses to form Murray & Roberts Building Products.
In 2009, Technicrete and Ocon Brick decided to align their operations and explore opportunities to improve synergies and financial performance. After working closely together since September, a decision was taken to merge the operations into a single company.
The Technicrete and Ocon Brick brands both have a strong presence in the building products market and will retain their individual brands. Concrete products will continue to be sold under the Technicrete brand and clay products will continue to be sold under the Ocon Brick brand.
This development follows the decision in 2009 to separate Concor Technicrete from Concor and rebrand it as Technicrete.

RESIGNATION

Sean Flanagan has resigned as a director and employee of the Group, citing health concerns. Sean joined Murray & Roberts in 1991 and was appointed an executive director in 2004. For the past three years he has held principle executive responsibility for the Group's South African major projects portfolio, including Gautrain, Medupi power station civils contract and the successfully completed Green Point Stadium.