Major Projects
A NEW GENERATION
As the need for new electricity capacity in South Africa reaches a critical stage, Murray & Roberts is securing a key implementation role in the sector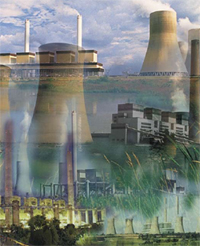 A number of Murray & Roberts companies have combined their strengths and capabilities and, together with selected international and local partners, are already involved in Eskom's massive power generation program in Southern Africa. In-house companies such as Murray & Roberts Construction (incorporating Gillis Mason), Genrec and Concor offer valuable experience gained from the previous power station build program decades ago.
The nuclear program could change the very nature of Murray & Roberts, with the Group's substantial engagement in nuclear and power generation.
Murray & Roberts has secured the construction contract with Hitachi for 12 boiler units of 750MW each – collectively valued at about R15 billion – on the Medupi and Bravo coal-fired power stations. Murray & Roberts is also a contender with various partners for the Medupi civil construction contract (about R2,5 billion) and the Ingula pumped storage construction contract (about R6,5 billion), with associated works valued at about R1 billion. All of these contracts are currently under adjudication by Eskom.
In addition, Murray & Roberts is pursuing an involvement in the DME peaking station at Coega in partnership with Italian turbine manufacturer Ansaldo Energia, and the Group is engaged in negotiations with its partners for the Mmamabula coal-fired power station (3 units of 815 MW) in Botswana for CIC Energy and International Power.
Less advanced at this stage, but potentially far bigger in scale is Eskom's nuclear program. Very much in its formative stages, this total program could amount to almost R1 trillion in capital expenditure. Murray & Roberts, with US partners Westinghouse (a world leader in nuclear technology) and Shaw Group, has submitted the Phase 1 tender for Eskom's proposed nuclear generation build program. The projected capital cost for Nuclear-1 is R100 billion to R120 billion with an option for a 20GW fleet. Eskom has five proposed sites for the additional 20 000MW nuclear power stations, including the PBMR expansion program to be built between 2008 and 2025. Murray & Roberts, with a partner, is the EPCM contractor for PBMR.
"That we were able to assemble the executive capacity to engage this fast track nuclear tender with the quality we did, and have the balance sheet capacity to support the risk of our significant role in the build program, if successful, is testament to what we have achieved as a Group," says CE, Brian Bruce.
Danny Quan, a senior executive of Murray & Roberts leading the business development of the Group's power sector engagement, says nuclear power generation has grown in importance globally as it is clean energy compared to traditional carbon-based sources, and because the latest generation of nuclear technology is far safer.
Eskom wants to replicate the Korean experience: by the fifth or sixth nuclear reactor, 85% of the build should be indigenous to South Africa.
He says that an exciting feature of Eskom's approach is that it wants to replicate the Korean experience: by the fifth or sixth nuclear reactor, 85% of the build should be indigenous to South Africa.
"That fits with our strategy of being a recipient of the transfer of technology. This is a South African bid with US technology and this is why we believe that we can be successful in our bid. This program could change the very nature of Murray & Roberts, with the Group's substantial engagement in nuclear and power generation.
"We are currently entering negotiations on the nuclear program with Eskom. Eskom would need to appoint a technology partner soon to finalise the design of this program and secure long-lead supply items. The first nuclear reactor should be commissioned in 2016, with additional capacity coming out every year thereafter," Quan says.
"Currently, all processes and equipment need to be imported, but with Government and private sector commitment, over time much of this could be serviced from and manufactured in South Africa. Manufacturing would have to comply with stringent nuclear safety and quality requirements, and thereafter as the global nuclear rollout continues, South African business may be able to participate in the export market – much as it has in the global automotive manufacturing industry and the conversion of gas to liquids."
Danny Quan expects this fleet option to be in the form of a public private partnership as Government will want the involvement of the private sector, together with its technology partners, in the construction and nuclear manufacturing programs.
"This may require Government to offer investment support to nuclear manufacturers and vendors to be part of a nuclear global resource framework."
Middle East
Ranked in the premier league of global contractors, Murray & Roberts showcases world class projects in Dubai
Trump Towers
A joint venture of Al Habtoor Engineering and Murray & Roberts has been selected as preferred bidder for the contract to build the Trump International Hotel & Tower on the Palm Jumeirah.
The development, which has an estimated cost of $600 million (R5,0 billion), will be made up of a 378-room five-star hotel and 397 residential apartments.
Arabian Forasol Foundations has commenced enabling works on the 61-storey structure, which will form the centrepiece of the Golden Mile on the Palm Jumeirah.
The project has been designed by Atkins, while BBGM has been appointed to complete the interiors of both the hotel and the apartments. Consultant Halcrow and Leslie Robertson from US-based engineering consultancy, LERA, are also involved in the project.
The design of the Trump International Hotel & Tower was changed in April 2006. Initially, the tower was to be shaped like an opening golden tulip, but is now set to feature a split-linked tower with an innovative open-core design that will minimise shadows.
The building will feature vertically mounted solar panels to generate energy, as well as pipes running through its external skin, which will heat water.
Each residence has access to five-star hotel services and amenities, including a gymnasium, spa and a fitness centre.
The development was launched in October 2005, as part of a joint venture between Nakheel and the Trump Organisation, whose president and chairman is Donald Trump.
Referring to the Palm Jumeirah, Trump said: "This is not just the best location in Dubai, it is the best location in the Middle East."
The project has been earmarked for completion in 2009.
Bruce Neave, project leader -
Dubai International Airport

Artist's impression of Trump International Hotel & Tower

Dubai International Airport

Murray & Roberts delivered Phase 1 completion of the $1,5 billion Dubai International Airport project at the end of December 2007, meeting accelerated schedule obligations. This followed an almost superhuman effort by the project team under the leadership of Bruce Neave.

The Group is currently negotiating approximately $2 billion of new work for Concourse 3 and has authorised the submission of proposals for two projects with a combined value of $3 billion in the Middle East.
PROJECT UPDATE
Gautrain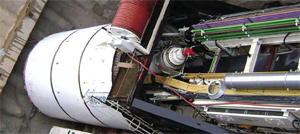 Imbokodo, the high-tech tunnel boring machine imported from
Germany, operates between Rosebank and Park Station
Since the commencement of the Gautrain Project in September 2006, the first year was spent finalising the civil engineering designs, Geotech Surveys and conducting initial works which included the removal of underground services from the future Gautrain construction sites.
2008 will be characterised by civil construction works, while the detailed designs for electrical and mechanical systems such as trackwork, electrical supply, overhead catenary, telecommunication, signaling, rolling stock and ticketing systems will be completed.
In 2007, the construction focus was largely on the Midrand Depot and southern section of the route between Park Station, Rosebank Station, Sandton Station, Mushroom Farm Park and OR Tambo International Airport. This year, construction of the northern section of the route between the Midrand Depot and Hatfield Station will be in full swing.
The northern construction works will include intensive pre-loading testing or testing for ground sinkage as a result of the dolomite rocks found in the north which make it difficult to construct safely on the ground structures for Gautrain. South Africa will also witness the construction of the first ever viaduct bridges for the train to travel on and an elevated station (in Centurion).
The viaducts will be constructed using world class launching girders to erect the 15 viaduct decks that will become visible at many locations along the route with a total length of about 10,5 kilometres of viaducts.
The high-tech tunnel boring machine, Imbokodo, acquired from Germany, will be used for a portion of the tunneling work (approximately 3 kilometres) in a southerly direction from Rosebank towards Park Station.
A highlight of 2008 will be the expected meeting of two tunnels that are being excavated from Marlboro Portal and Mushroom Farm Park. In total, nearly 10 kilometres of tunneling will be excavated during the year.
The first unit of rolling stock will complete its static and dynamic testing in the UK before the end of 2008, and the first shipment of rolling stock components will be assembled by Murray & Roberts subsidiary, Union Carriage & Wagon.
Impact of load shedding
Construction on the Gautrain Project has not come to a complete standstill due to the current spate of load shedding activities in Gauteng. Gautrain's 43 construction sites obtain power from 19 different substations to continue building over its 80 kilometres route between Johannesburg, Tshwane and Ekurhuleni.
Gautrain has been assured of continuous power supply to some of its critical areas of operation during load shedding.
As Gautrain spans a vast geographical area, different construction sites will be without electricity at different times, depending on the load shedding schedule.
Construction sites are also not completely reliant on electricity. Therefore, some form of construction will always be functional whenever there is a power outage.
However, an area of special concern is Rosebank. Imbokodo, Gautrain's tunnel boring machine operates on electricity and a constant supply of electricity is needed to operate this machine 24 hours a day. Ongoing load shedding in this area will directly affect Imbokodo's operations.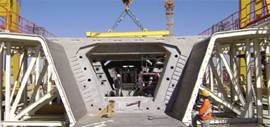 15 viaduct decks will become visible at many locations along
the Gautrain route
A matter of concern
In a recent report on the status of major projects, group CE Brian Bruce cautioned that the Gautrain Project had experienced many delays brought about by the late handover of land and the right-of-way, extended environmental impact approval processes and major scope changes.
"Even with all program float donated by Bombela, completion of Phase 1 in time for the 2010 World Cup will require acceleration by the client," he said.
NEW PROSPECTS
Commercial buildings
Murray & Roberts is negotiating some major building projects, including the ABSA head office in Johannesburg and Cape Town's 47 floor Portside Tower, both valued at about R800 milion. The latter will be the tallest building in Africa after the Carlton Centre, built by Murray & Roberts in the late 1960s.
Piping
Murray & Roberts is confident that Hall Longmore will secure the order to supply most, if not all, of the specialist pipe for Transnet's multiproduct fuel pipeline between Durban and Johannesburg at a value of more than R1 billion.
Roads & Earthworks
There are a number of major roads and earthworks contracts under tender and construction, with Concor now well established as a leader in this sector. One worth mentioning is the upgrade and widening of the N2 through pristine natural forest either side of Storms River Bridge in the Cape. This bridge was built by Concor in 1954 and strengthened in 1988.
Managing Project Risk
The Engineering & Construction Risk Institute recently held its inaugural South African Project Risk Forum and Workshop in Johannesburg.
The Engineering & Construction Risk Institute recently held its inaugural South African Project Risk Forum and Workshop in Johannesburg. The Engineering & Construction Risk Institute (ECRI) was established in 2005 as an initiative of the World Economic Forum and is now an independent legal entity based in the United States. ECRI was created by some of the world's leading engineering & construction (E&C) contractors, including Murray & Roberts, to provide focus on the awareness, identification and management of risk in the global E&C Industry.
The inaugural meeting, which was planned by Murray & Roberts, addressed the challenges and opportunities of the South African construction boom.
Speaking at the meeting, Rod Kyle, London based ECRI president and MD explained: "Our mission is to lead transformation of the E&C industry through its sponsors – in the whole area of project, portfolio and enterprise risk management.
"ECRI selected South Africa for its first outreach conference in Africa for several reasons; as Africa's economic giant and engine room, there is an unprecedented level of engineering and construction taking place across a wide spectrum of industrial sectors – from basic infrastructure and power generation, through to petroleum & chemicals, and mining and minerals.
"South Africa also has the continent's most mature E&C industry, with four of the countries' largest E&C companies on-board as sponsors of ECRI; Bateman Engineering, Group Five, Murray & Roberts and The Aveng Group," Rod concluded.
Achievments
Significant BE progress
Much Asphalt has improved its rating in the Department of Trade & Industry's BBBEE scorecard, rising from a Level 8 contributor in 2006 to a Level 3 contributor at the end of 2007. Clients can now claim 110% BEE procurement recognition.
In the direct empowerment category of the BBBEE codes, Much meets the criteria for a Level 2 contributor in equity ownership based on its status as a wholly owned subsidiary of Murray & Roberts, which currently has 25,42% black ownership.
In HR development and employment equity, Much scores Level 6 in skills development. 83% of staff comprise previously disadvantaged groups, with management representation at 60%.
Much is ranked at Level 2 for indirect empowerment, with 90% for preferential procurement and 100% for enterprise development.
The company also scored 100% for socio-economic development, with facilities around the country involved in various social upgrading programs.
Canadian top 100 employer
Murray & Roberts company, Cementation Canada has recently been named one of Canada's Top 100 Employers in an annual competition conducted by Mediacorp Canada, a company that specialises in human resource tracking.
Cementation Canada is responsible for the North American mining market.
This is the second year in a row that the company has received this accolade.
Mediacorp reviewed almost 72 000 Canadian employers for the 2008 list, using criteria such as physical workplace; work atmosphere; health, financial & family benefits; vacation & time off; communications; performance management; and training & skills development.
New appointments
Dave Athey was appointed MD of Murray & Roberts Engineering Solutions from 1 October 2007. Dave joined the Group at Murray & Roberts Cementation in 2005 where he was responsible for contract mining operations. He has extensive experience in engineering services and process equipment in the industrial and quarrying sector and was previously MD of Ingersoll Rand in South Africa.
Malose Chaba was appointed CE of the Group's Engineering Contracting business cluster, comprising Murray & Roberts Engineering Solutions, Murray & Roberts MEI and Wade Walker, from 1 October 2007. Malose will also lead the Group's engagement of the developing power generation market in South Africa.
Jerome Arendse was appointed MD of Murray & Roberts MEI from 1 February 2008. Jerome has enhanced his mechanical and civil engineering and project management tertiary education with extensive practical and management experience over more than 20 years in structural steel fabrication and mechanical construction in the power sector and more recently as MD of infrastructure operations company Tolcon.
Simon Mordecai-Jones, has transferred to a key role in the high-level corporate executive team being assembled for Group involvement in the long-term thermal and nuclear power generation construction program. Simon was previously MD of Murray & Roberts MEI.