CSI
Shaping our future now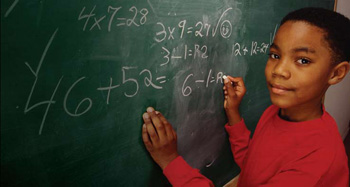 Murray & Roberts aligns corporate social investment with its business strategy, supporting mathematics, science and technology education, numerical education in early childhood development and environmental education. Robust explores three CSI projects undertaken by the Group
Maths, Science and Technology in Engineering
Developed by the Maths Centre for Primary School Teachers (Maths Centre), this initiative aims to inspire primary and high school learners to pursue a career in engineering through an integrated program of maths, science and technology performance. The program comprises four components:
Mini Technology Olympiads
These will be undertaken in Gauteng and will be conducted and monitored by the Maths Centre which has designed a program to ensure that the tasks and technological processes of the mini olympiads are understood and to enable previously disadvantaged learners to enter the mini olympiads and the Technology Olympiad, a Murray & Roberts project in association with SAIMechE.
Murray & Roberts Maths Centre Technology Lab
The Maths Centre has designed a program of workshops, seminars and lectures for teachers to begin to understand the exciting world of technology. The new curriculum is process oriented. Maths and science can be integrated into these technological concepts.
Together with the Sci-Bono science centre in Newtown, Johannesburg, where Murray & Roberts has sponsored the Building Africa display, the Maths Centre's program will enhance the learning and understanding of maths, science and technology as well as the engineering principles applied in using gears, levers, pulleys, sound, electricity, conveyer belts, robots and bridges and using computer as an interactive tool to design technology models and make personalised models.
Maths Centre MST in Engineering Kit
The new Revised National Curriculum and Technology has been used to identify technological concepts that teachers and learners find difficult, science concepts that connect to engineering in many fields and maths concepts that are essential to learning science and technology. The kit contains 15 activities for each discipline, attractively packaged in a tool box for each phase of the curriculum. The items used are easily available.
Engineering Ambassadors Program
This program aims to encourage engineers to become ambassadors and role models for schools as part of their learnership program. The Maths Centre has compiled a guide for their involvement in schools, including visits and talks, demonstration of engineering activities and challenges, visits to engineering industry sites and career displays.
NBI Education Quality Improvement Partnerships
The National Business Initiative (NBI) and the Department of Education have joined forces to implement the Education Quality Improvement Partnerships (EQUIP) program in schools.
Murray & Roberts has provided support to the program for over four years, assisting with its implementation and additional support in maths in five schools in the Gauteng Province, namely Phumlani, Sijabulile, Alafang, Fumana and Buhlebuzile, all secondary schools in Thokoza and Katlehong.
"Through the EQUI P program, business supports schools in a way that is responsive to their own development goals… Parallel to teacher development, the program includes the development of the whole school, so that teachers return to a conducive and supportive environment."
Naledi Pandor, Minister of Education, at the graduation ceremony for EQUIP maths and science teachers.
Murray & Roberts agreed to provide further support for the implementation of the program in five participating secondary schools, namely Umquele and Oracle Ponelopele in Ivory Park and Bokomoso, Ikusasa and Jiyane in Tembisa.
The program aims to improve the educational performance of schools and learners and Murray & Roberts will support the following elements of the program:
providing training and support in school management, governance and curriculum delivery in line with an initial baseline study and school development plans;
co-operating with the Maths Centre to support and assist implementation of the Technology Olympiad project in the participating schools.
The Biodiversity Environmental Education Project
Biodiversity loss and ecosystem degradation is a major threat to livelihoods in rural communities. The Biodiversity Environmental Education Project (BEEP) identifies priority areas of potential biodiversity loss and offers community leaders and educators the knowledge and skills to address the problem.
The BEEP has been implemented by the Conservation Leadership Group, a working group of the Endangered Wildlife Trust and a leading conservation training and environmental education group for previously disadvantaged youth.
The BEEP has two primary elements:
training workshops on biodiversity for community leaders and school educators at disadvantaged schools, and
the Mini Summit, an annual regional symposium in each province where communities or learners present, and receive recognition for, their involvement in biodiversity conservation issues.
Based on the successful implementation of the project for two years in KwaZulu Natal, an effective blue print has been developed, enabling the Conservation Leadership Group to expand the project into other provinces.