Operations
MARKET LEADERS
Business operations in the Murray & Roberts construction materials & services cluster are reaping the benefits of a restructuring programme that positioned them for the current upsurge in infrastructure investment
The business operations in this sector have again delivered exemplary performances again in the financial year to 30 June 2007, contributing one third of group revenues and over 50% of operating profits, as gross fixed investment in their Southern African and Middle East markets continues to grow.
STEEL PRODUCTS
Murray & Roberts offers proven capability in the full cycle of steel production and application. Murray & Roberts Steel is the mainstay of the construction materials & services cluster, offering a comprehensive range of reinforcing steel products.
Five years ago, Murray & Roberts embarked on a strategy to leverage the value chain in the steel sector and position the Group for significant growth in domestic and international markets. The timing could not have been better. A major capital investment programme implemented by Rob Noonan, managing director of Murray & Roberts Steel, has doubled primary steel production capacity in the domestic market and created significant new capacity in selected international markets. Key features of the programme have been automation of production processes to improve productivity, and strengthening of human capacity.
Sufficient capacity has been developed in the domestic market to meet the demands of major 2010 projects, while maintaining ongoing business and market engagement. The business has established a dedicated bar yard facility in Olifantsfontein to deliver approximately 90 000 tons of steel to the Gautrain project.
On the international front, Murray & Roberts has acquired new capacity in Mauritius and will become the primary manufacturer and distributor of reinforcing steel products on the island, extending the Group's market position in the Indian Ocean Islands.
Expansion plans in the UAE are nearing finalisation and are expected to quadruple the volume of rebar and mesh Murray & Roberts supplies to the burgeoning Middle East steel market to approximately 270 000 tons per annum.
INFRASTRUCTURE MATERIALS
With its extensive range of products and services, supported by world class capability, Murray & Roberts is well positioned to service the exacting demands of its key infrastructure markets.
| | |
| --- | --- |
| Keith Smith (pictured above) relinquished executive responsibility for the construction materials & services cluster on 30 June 2007 to focus on SADC construction. Keith's entrepreneurial leadership has guided the transformation of the cluster into a globally benchmarked and market leading group of businesses focused on the primary materials of steel, concrete, asphalt and clay. | Andrew Langham (pictured below) has been appointed as Keith's successor. Jim Wood retired as MD of Rocla on 30 June 2007 but will continue to offer the Group his leadership capacity in a consulting role. Lee Cochrane, the former GM of Harvey Roofing, has been appointed MD of Rocla with effect from 1 July, and he has been succeeded at Harvey by Judy van Es. |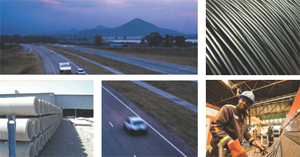 Rocla and Much Asphalt have underpinned the performance of the construction materials & services cluster in recent years, delivering good growth in their relatively mature concrete product and asphalt supply markets.
Rocla is Southern Africa's leading manufacturer of precast concrete products for infrastructure. The business has an extensive network of factories throughout South Africa, Namibia, Botswana and Mozambique.
Rocla's national presence and capacity has ensured a major role for the business supplying products to the Gautrain and Medupi power station projects.
Much Asphalt is a recognised industry leader positioned as the largest preferred supplier of premix asphalt in its markets. Much Asphalt grew market share during the year, under the leadership of Phillip Hechter, achieving record sales as infrastructure spending by the national, provincial and local government authorities continued to increase.
Much became the first commercial asphalt supplier in southern Africa to achieve accreditation with the South African National Accreditation Systems for quality assurance standards this year. The business will invest R6 million over the next three years in upgrading its plants to ensure compliance with international environmental standards.
BUILDING MATERIALS
Murray & Roberts has established a presence in building materials and engages the domestic housing market from the platform created by Concor Technicrete, Oconbrick and Harvey Roofing.
Concor Technicrete is the largest manufacturer of cement paving products in South Africa, producing paving blocks, roof tiles and masonry products for the commercial building and housing markets and concrete products for underground mining. The business will undertake a major upgrade of its facilities and capacity during the new financial year, including possible geographic expansion, to entrench its market leading position.
Oconbrick, a major domestic supplier of quality clay bricks, recently installed a new high speed production line that has increased volumes by 20% to 380 million bricks per annum. The operation plans to expand its distribution network from a 100 kilometre radius to 140 kilometres and has applied for new mining rights to access high quality clay reserves on land adjacent to its property which offers another 20 years of production. Harvey Roofing has benefited from growth in the rural housing market in South Africa and continues to increase its presence in this traditional market.
SERVICES
Based in Dubai, Johnson Arabia operates in the mobile crane industry in the Middle East under the leadership of Gerald Topfer. The business has tracked the growth profile of its market since it was launched with six hydraulic cranes in 2000. In partnership with the Kanoo Group, it now has a fleet of 122 hydraulic and crawler cranes and 350 access platforms in Dubai, and a fully-fledged business in Abu Dhabi. Plans to increase the fleet by 50% and expand into Qatar are well advanced.
Toll Road Concessionaires (Tolcon) currently operates the entire N3 toll route, the N2 North Coast toll road, the N2 South Coast toll road and has a 33% shareholding in Pt Operational Services which operates the N1/N4 Bakwena Platinum highway.
Tolrail, the new company established to undertake operations and maintenance work on the Gautrain project, commenced operations during the year providing resources to the Bombela Operations and Maintenance company.
PROSPECTS
The construction materials & services operations will continue to benefit from the expected growth in infrastructure investment in the period leading up to 2010 and beyond, particularly in the transport infrastructure, road refurbishment and power sectors.