Projects
Project updates
GAUTRAIN
PUT TO THE TEST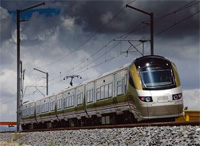 The first completed train-set on the Gautrain test track at the Midrand depot
The first completed Gautrain rail-car was tested by 150 dignatories on the three-kilometre test track at the Midrand depot in February. The guests, including Gauteng Premier Paul Mashitile, experienced Gautrain's world class features during the quick test run.
The assembly of the rail-car started at the Derby, United Kingdom, plant of Bombardier Transportation in November 2007. Less than a year later, the first completed four-car train set was handed over to Gautrain in Derby. In December 2008, the first shipment of two completed rail cars arrived at Durban Harbour and they were transported to the Gautrain depot on low-bed road trucks.
The Gautrain fleet will comprise 96 ELECTROSTAR-type rail cars that will be operated initially in four-car train sets. Fifteen of the rail cars, including 10 customised cars destined for the airport service, are being manufactured and completed at Bombardier Transportation's facility and will be shipped to South Africa over the next few months.
The body shells and some of the major components for the remaining 81 rail cars are simultaneously being "flat packed" into crates and shipped to South Africa for local assembly and completion by the UCW Partnership – a joint initiative between Murray & Roberts subsidiary, Union Carriage and Wagon, and a consortium led by the J&J Group. The first locally assembled four-car train set is expected to be completed in June 2009.
Branded in Gautrain's distinctive golden colour, the renowned ELECTROSTAR series has been customised to meet South African standards.
After delivery at the Gautrain depot, each train set will be subjected to a long and rigorous testing and commissioning process. This entails progressively more onerous tests on all systems and subsystems from brakes and power, to airconditioning and communications. Each train set will complete approximately 3 000 kilometres on the test track before being certified as operational.
The train service will be complemented by a dedicated bus fleet which will transport passengers in air-conditioned comfort between stations and surrounding suburbs and business nodes. The bus fleet will initially comprise 125 buses running on approximately 36 routes and covering some 26 000 bus kilometers daily.
Fact File

Construction of the infrastructure for Gautrain is progressing well and will be completed in two phases. The first phase has a duration of 45 months, from September 2006. It includes the network between the OR Tambo International Airport and Sandton and the stations at OR Tambo, Rhodesfield, Marlboro and Sandton, together with the Depot and Operations Control Centre located near Allandale Road in Midrand. The second phase, which is being constructed concurrently, will be completed after 54 months in 2011. It includes the remainder of the rail network and stations linking Sandton to Park Station in Johannesburg and the route from Midrand to Hatfield. For additional information, visit www.gautrain.com
CAPE TOWN PREPARES FOR 2010
GREEN POINT STADIUM

Murray & Roberts, in joint venture with WBHO is progressing on schedule with the Green Point Stadium.

Construction on the 68 000 seat stadium has been underway since award in March 2007 and is scheduled for completion at the end of 2009.

Erection of the cable tensioned steel and glazed roof is currently underway.

HOTELS

Murray & Roberts commenced construction of the Crystal Towers and Taj Palace hotels in 2008 and is scheduled to complete the projects in time for the 2010 Soccer World Cup.

Crystal Towers is a 180 room, five star hotel, with associated retail facilities, 90 luxury apartments and 7 000m² of office space located on a prime canal fronting site at Century City. Aimed primarily at the high end, short stay business traveller, the hotel will provide extensive conference facilities and meeting rooms, a state-of-theart business centre, fine dining restaurants, swimming pools and a health spa.

The Taj Palace is a 19 storey, 174 room, five star hotel in the cultural and historic heart of Cape Town's inner city. Construction will retain the facades of the old Reserve Bank, Board of Executors and Cape of Good Hope Bank buildings, while transforming the combined interior into a signature hotel. The development follows the successful Mandela Rhodes Place initiative developed by Eurocape. Guests will be offered a range of luxurious facilities, including a gym, a spa, a fine dining Indian restaurant and conference and business facilities.

NEW AWARD IN DUBAI DUBAI INTERANTIONAL AIRPORT - CONCOURSE 3

The Al Habtoor Murray & Roberts Takenaka Joint Venture has been awarded the contract for Concourse 3 at Dubai International Airport for the Department of Civil Aviation. The project value is AED5 billion, with Murray & Roberts as project leader and its 40% share valued at about R6 billion. The contract has commenced and is scheduled for completion within 29 months by end- April 2011.

The Joint Venture recently completed Concourse 2 and Terminal 3 which was successfully commissioned in October 2008, and previously constructed the Sheikh Rashid Terminal (Terminal 1) between 1998 and 2000.

Artists impression of the Green Point Stadium

Crystal Towers Hotel

Taj Palace Hotel