BUSINESS PLATFORMS - POWER & WATER

MURRAY & ROBERTS POWER & ENERGY AWARDED MBR TECHNOLOGY PROJECT
Murray & Roberts Power & Energy has been awarded a wastewater treatment project at Bakubung Platinum Mine.

The project scope includes basic and detailed engineering, procurement as well as mechanical and electrical, control and instrumentation works; civil construction, commissioning and hand over.

The project is significant for Murray & Roberts Power & Energy in that it has identified wastewater treatment as a growth opportunity for the business. The project also uses a relatively new technology called Membrane Bio Reactor (MBR) technology.

MBR technology is a wastewater treatment method utilising a selectively permeable membrane integrated with a biological process and is used extensively in wastewater treatment plants on an industrial and municipal scale.


MEDUPI PASSES BOILER FOUR HYDROSTATIC PRESSURE TEST
Pressure testing is conducted to check the integrity of the weld seams and screwed connections and includes three types of pressure tests. Hydrostatic testing using demineralised water; pneumatic testing using compressed nitrogen gas and compressed air testing using air compressors.

To pass the hydrostatic test, the re-heater and super heater systems are tested. The super heater hydro test is the largest pressure test conducted at Medupi with test pressure reaching 445 bar!

During the test, the boiler is filled with water and is circulated through the system. Pressure is then gradually raised over a few hours until test pressure is reached which must then be held for 30 minutes. For the first 20 minutes, the pressure is held with a pressure pump, however for the last 10 minutes once the valves are closed, the same pressure must held throughout the system without the use of a pump and with no less than 1% of total test pressure lost.
HUSAB PROJECT SWAKOPMUND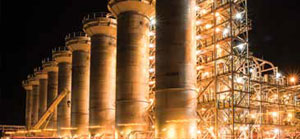 The Husab project is a Uranium Mine owned by Swakop Uranium. It is situated 60 km east of Swakopmund in the Namib-Naukluft National park.

The project is an opencast mining establishment that will undertake the full process for extracting uranium to a yellow cake form. Murray & Roberts Power & Energy has been awarded the electrical and instrumentation supply and install contract, forming part of the final processing system.

To date the project has installed 140 000 metres of electrical cable, 150 000 metres of instrumentation cable, 100 000 metres of network cable and 1 900 lighting units.